Whether you are an experienced mechanic or a garage attendant, it is without a doubt a daunting task attempting to figure out the best epoxy for your garage floor that will also fit your budget. It becomes a more significant challenge due to the numerous epoxy products available in the markets with the commercial installers you will have to choose from. When you are a first-time buyer, you can get frustrated with the whole process and may end up buying an epoxy unit that will not meet your intended purpose.
However, this should not be of great worry to you. In this guide, I have delved into the various types of epoxy products you can find in the market and provided a comprehensive guide on installing the epoxy products by yourself in your garage.
From this article, I aim to help clarify and eliminate the confusion about the epoxy. It comes with a sense of humor and pride as a mechanic when you can effectively choose the best epoxy for your garage and successfully install it to suit your needs.
Read on to find the best epoxy for the garage floor, and through the compressive buyers' guide, you will find elaborated factors that you will need to consider to help you make the best purchase decision.
Best Epoxy for Garage floor Reviews
1. Rust-Oleum 261845 EpoxyShield Garage Floor Coating
Rust-Oleum 261845 EpoxyShied floor Coating is a top floor coating product you will fancy having in your garage. Rust-Oleum is known for producing the most reliable, durable, effective, and well-trusted epoxy products for coating. What is unique with the Rust-Oleum products is the 2-part epoxy formula. The formula enhances the versatility of this product. You can use it on interior concrete surfaces such as workshops, basements, and, more importantly, your garage floors.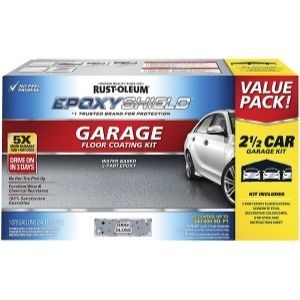 Moreover, with this product, you are not only getting an epoxy that is easy to clean and professional finishes, but you can also be assured of getting long-lasting protection against the stains and chemicals in your garage floors. Rust-Oleum 261845 is super adhesive on surfaces and can cover a great floor surface of up to 500 sq ft.
What's more? This unit gets characterized by a semi-gloss finish that offers a subtle shine on the floor surfaces. Thus, the product gives you the coating you need for your garage and adds to your workplace aesthetics.
Pros
Durable, versatile, and reliable coating for garage floors
2-part epoxy formula for improved versatility for use in interior surfaces
It gives professional finishes, and it is easy to clean
Provides long-lasting protection against the stains and chemicals in your garage
Semi-gloss finish to give a subtle shine on the floor surfaces
Cons
Appropriate for indoor use only
2. SUPERCOAT DecoEffects Atlantis Blue Epoxy Floor Coating
Supercoat Epoxy is another impressive product for floor coating. When you use this unit in your garage, most people will think it is a decoration that also adds to your floor's aesthetics. The unit comes in a decorative floor kit that contains epoxy coating, urethane glaze coat, flakes with respective particles, and non-slip additives. All these add to the product's effectiveness and make it more appealing to the eye for a more extraordinary workplace outlook.
The coverage of supercoat epoxy floor coating is quite impressive. The coating can go up to 400-500 square foot areas, making it relevant for the professional-grade floor system. Additionally, this unit comes in unique multi-color chips with holographic reflective particles scattered into a wet epoxy coating that will give your garage floor a new look.
Supercoat also boasts excellent adhesion to concrete. It will stick faster to your floor, and it's durable. You should not be disturbed with the odour produced immediately as it is installed as the product gets characterized with the lowest odor and VOC.
Pros
Low odor and VOC
Excellent adhesion to concrete
High coverage, 400-500 square foot area
Unique multi-color chips to add to the aesthetics of your garage floor
Cons
Useful for the indoor usage