Garage floors deal with the enormous weight of vehicles and the impact of heavy or mechanical DIY equipment. They also frequently take a hit from dropped objects and chemical or oil spills. All of these can take a toll on concrete, which can get corroded or crumble and crack.
So, you typically need to treat and protect the garage floor with a thick, durable coating such as epoxy. 
The best garage floor epoxy adds a solid, durable layer to the existing garage slab. This protective coating can increase the durability of your garage floor and protect it from hot tires, moisture, and physical damage.
Also Read:
What is garage floor epoxy? 
Garage floor epoxy is a resinous product with thermosetting properties that protects concrete floors by forming a robust, durable coat. 
The tough epoxy coating forms when you mix one-part polyamine hardener with one-part epoxide resin. The epoxide resin can be clear or colored, which determines the final shade of the epoxy-coated floor.  
For this reason, garage floor epoxies are generally two-part coatings, with the hardener acting as the catalyst when you mix the two components.  
The best garage floor epoxy can transform your floor by adding a robust layer of protection while sprucing it up with a touch of color.
A garage floor with a suitable epoxy coating is less prone to scratches and discoloration.
Best garage floor epoxy reviews 2023
Epoxy is one of the hardest and most durable finishes for garage floors. But choosing the right product can be a hassle, so we did the legwork and detailed a shortlist of the best garage floor epoxy to take the burden off your shoulders. 
Best garage floor epoxy at a glance 
This product from Colored Epoxies consists entirely of solid epoxy, so it dries to form an incredibly tough coat over your garage floor. Thanks to this solid-packed formula, the dried floor coating is up to 20 times sturdier than big box store options.
Since it comes in various colors, you can choose one that matches your existing décor for a uniform look. 
The water-based formula means the product has zero odor, so it will not irritate your lungs during the application or after.
If you prefer products made in the United States, this may be your best bet. It dries to form a high gloss elastomeric surface that resists impact and discoloration. This means hot tires will not affect your epoxied garage floor. 
Once you mix the two-part epoxy, you will need no additional product since the same product serves as the primer and the finish coat. This property can save you the cost of additional primers that you would otherwise have to buy when using other brands. 
Pros 
This heavy-duty industrial-grade product offers permanent resistance to peeling, cracking, and chipping. Its high gloss finish also resists pickup from hot tires, keeping your garage floor tidy. 

It is highly durable and strong.
It is VOHAP-free and emits zero volatile organic compounds (VOCs). 

The epoxy has no irritating odor. 

Your purchase includes three gallons guaranteeing ample coverage.
Cons 
It takes longer than other brands to dry. You must wait at least 24 hours before you can drive on it.
Buy on Amazon
Most seasoned users consider this product the best epoxy kit for a good reason. The coating is highly durable and stays in the same pristine condition for ages. 
It is a two-part garage floor epoxy product designed to harden once you mix them and hardens to form a robust, long-lasting protective coat.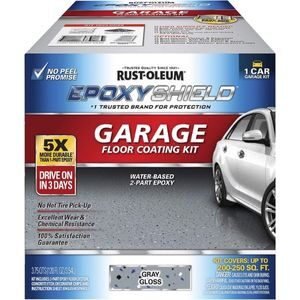 This epoxy from Rust-Oleum comes with decorative chips, enough to cover up to 250 square feet of the garage floor. 
Once you complete the process, give the floor three days before driving over it. Since some epoxy products allow you to drive over them in as little as one to two days, some users may find the three days a bit long. 
However, waiting longer before driving on your newly coated floor is recommended for any epoxy product for the best results. 
The epoxy is scuff- and chemical-resistant. So, once dry, the glossy garage floor will hold up well to vehicle fluids, scuff marks, and tire marks.
The professional, polished finish is easy to clean and maintain. Mere soap and water are enough to clean the surface, removing dirt and grime. 
The product is low VOC and low odor, so it will not irritate your lungs or put your health at risk. 
Pros
The coating is five times more durable than one-part epoxies 

It is safe for you and the environment, thanks to a low-VOC formula

It is chemical- and scratch resistant 

It is resistant to hot tire pickup.

The kit is reasonably priced. 
Cons
The multi-step application process may be time-consuming 

It takes relatively long to dry, requiring up to 24 hours to walk on it and three days to drive on the coated surface. 
Buy on Amazon
Here is another one-part product ideal for those who find mixing two chemicals to be a hassle. The one-gallon product allows you to skip the mixing process and proceed to coat the garage floor, which can mean completing the project in less time.
It comes in a smooth gray satin finish that matches most décors. Grey is relatively neutral, so it should go seamlessly with the other colors in your garage. 
The satin finish is smooth enough to create an elegant look while providing the needed grip for your car tires. 
It boasts advanced acrylic technology for durability and high performance. You can count on the coated floor to resist fading and staining, guaranteeing a lasting durable look. 
The formula is designed to work both indoors and outdoors, so you can use it on your garage floor and outside at the entrance. 
Cleaning the coated floor is stress-free, as you only need to use soap and water to get the grease, grime, and accumulated dirt off the surface. 
Customers find this garage floor epoxy product relatively inexpensive compared to other similar brands. 
Pros 
This product is UV-resistant and holds up well to adverse weather elements. 

It is made in the United States.

The gray shade is neutral and can blend in with several surface colors likely to be in your garage. 

The prices are competitive 
Cons
An improper application might result in blotchiness. 

Some users complain of their car tires damaging the floor even after waiting the recommended time before driving on it. 
Buy on Amazon
If mixing two separate chemicals to create the epoxy for your garage floor feels like a hassle, KILZ has a solution. The product comes in a 1-part epoxy acrylic paint that is ready to use, which can save you some project time.
Just a single gallon of this colored epoxy product can cover up to 500 square feet of your concrete floor.
Since it dries to the touch in just two hours, you can be sure to walk on the coated surface the same day you apply it. 
The coat is resistant to chemicals, so you will not have to worry about spillages you're your vehicle damaging the floor. 
Purchase this epoxy acrylic product in slate or silver gray, and use it to create a durable and easy-to-clean garage floor. 
Once dry, the coated surface won't fade, scuff, or crack easily, thanks to a durable epoxy-acrylic paint formula. Those hot tires screeching on the floor will not damage it. 
Being a water-based product makes this floor paint friendly to the environment and your family.  
Pros 
The one-part formula is easy to apply

It is fast-drying, allowing for recoating in four hours. 

The maker is a reputable, award-winning company.

The coated surface resists pickup from hot tires.

The satin finish is slip-resistant
Cons
Some users see premature peeling due to heat during the application or bad batches.  

You may have to apply multiple coats to achieve the desired garage floor protection.
Buy on Amazon
This garage floor coating product from Rust-Oleum is high in solids, making it highly durable when dry. The solvent-based epoxy comes in a kit with the different parts you must mix to create the coating.
Unlike most garage floor epoxies in this write-up, this product contains toxic chemical ingredients. So you need to wear the appropriate protection when handling this epoxy. 
As a tradeoff, the results of this chemical product last much longer. This durability makes the Rust-Oleum EpoxyShield ideal for busy garages used for activities other than just sheltering vehicles. 
You should be happy to know that the coating offers superior resistance to heavy wear, chemicals, and stagnant water. Thanks to the product's industrial-grade performance, you can also expect no hot tire pickup on your coated garage floor. 
Pros
The semi-gloss finish looks amazing on any garage floor 
You get the option of adding color chips to enhance the appearance of your garage floor when you use this industrial-grade epoxy. 

It is highly durable and long-lasting. 

It provides superior resistance to scratches, chemical spills, stagnant water, and hot tire picks. 

The purchase comes with straightforward instructions for use. 
Cons
The product contains toxic chemicals, making it higher in VOCs than water-based options. 
Buy on Amazon
The Supercoat Deco effects epoxy is your best bet if you prefer a well-decorated garage floor. The epoxy coating comes with decorative flakes with reflective particles that you can add to create a beautifully accented garage floor.
It creates a beautiful garage floor with nonslip properties, thanks to nonslip multicolor chips added to the urethane glaze coat. 
The product is high coverage. Your purchase will be enough to cover a garage floor measuring 400 to 500 square feet. This makes it ideal for people with big garages.
Since this epoxy is water-based, it is low in volatile organic compounds and odor. You can apply it without wearing a respirator, and it will not irritate your lungs or make you ill. 
Its professional-grade system ensures excellent adhesion to your concrete garage floor. This quality can go a long way in ensuring the product lasts a long time. 
Pros 
Unique multicolor chips help enhance the look. 

It is a professional-grade product, guaranteeing quality and longevity 

It offers eight color combinations for your garage floor.
Cons 
Some users say the product only partially covers the area suggested by the manufacturer. Instead of 400-500 square feet, most customers only get about 250 square feet of coverage. 
Buy on Amazon
Best Garage Floor Epoxy Buyers' Guide 2023
Factors to consider when buying garage floor epoxy coatings 
With several types of garage floor coatings on the market, you might be spoilt for choice, even with a shortlist like this. 
You still need a way to cut through the final list to make your final pick. How do you do it? This section provides the factors you should consider to help you arrive at your final choice of garage floor epoxy coating. 
This is a universal consideration that you will likely make each time you are shopping for something. At the end of the day, you can only spend on something within your budget. 
So start by checking the price of the item against your allocated budget to see if you can purchase it. 
If you end up with multiple products that can work for you, you may use the price as the final determining factor to decide which one to take. 
Go for the epoxy with the most bang for your buck. Thankfully, most of the products reviewed here are competitively priced, so it should be relatively easy to find something to purchase for your garage floor. 
Caveat: the cheapest item is not necessarily the most cost-effective. Instead, spending slightly more money on a product with the highest rating might actually save you money in the long run. Often, such a product offers lasting value, so you won't have to keep spending money on maintenance or redoing the work. 
For instance, a pure epoxy coating comprising more solids in its formula may last up to five or more times longer than a blend of epoxy and paint, which are generally cheaper. 
So, while you consider the cost, ensure you look it up against the following other factors. 
Installation requirements 
Various garage floor epoxy coatings have varying installation requirements. One-part epoxy products are the most straightforward to install. 
However, the standard epoxy type that comes in two separate parts must be mixed first before you can apply it to the garage floor. This requirement generally makes the process longer than a one-part product installation.
Additionally, some products require multiple layers, often two, to achieve the desired coverage and strength. Naturally, a product installed in multiple layers will take longer than one applied in one go. 
The epoxy products that require layering will need a few hours of drying time between each coat. While the products that require just a single coat will be quicker to install, the epoxies requiring two coats typically deliver more long-lasting results.
More importantly, most epoxies require professional installation to achieve the coverage and desired quality. If you do not possess the skill set needed to install such epoxies, it is best to hire a professional to do the work. 
You don't want to skimp on professional installation only to end up with a finish that won't last. Be sure to find a company with properly trained professionals and the right equipment to install your garage floor epoxy for the very best results. 
The best garage floor epoxy should be just as aesthetic as it is practical. This is why some brands include decorative flakes and chips to add to the epoxy to make your coated floor pop.
You can choose between clear and colored epoxies. For those who prefer vibrancy, the colored options should be your preference, allowing you to choose something that matches or complements the rest of your décor. 
How your garage floor looks is especially crucial if you use the space as an extension of your living space. You may use the space for entertainment, exercise, or as a workshop. Whatever you do in there will likely determine how you want the floor coating to look. 
A good color choice or decorative pellets can significantly improve the aesthetics of your garage floor and make the place look inviting. 
As already mentioned, the intended use of your garage determines how you want it to look. 
You will likely want your garage floor to look more beautiful and inviting if you use the space as an extension of your living space. As opposed to a garage used purely for storing your vehicle, you will want a beautiful garage floor if you spend more time in the garage.
So, consider how you use the space when deciding between various garage floor coatings. 
Ideally, a simple sealer will work if you only want something to protect the floor and make it resistant to peeling and cracking.
However, if you perform DIY activities involving the use of motorized tools in the garage, an abrasion-resistant and waterproof epoxy will be crucial. 
Epoxies come in clear and colored options. If you prefer colored epoxies, ask yourself how many floor colors are available with a specific brand. 
Giving careful consideration to how a specific floor coating color will complement the rest of your garage décor can go a long way. This sort of legwork will help you choose a color option that makes your garage floor look better than others.
Once you have a mental picture of the look you want, it should be easier to scour the market for it. 
Consider everything, from the cabinetry to the vehicle color. You likely have garage wall organizers like Slatwall panels. These usually come in specific colors, which you may need to consider when deciding how you want your floor to look. 
The right garage floor coating color can tie everything together and create a beautiful, uniform look.
Epoxy products sold as paints tend to cover as much as 500 square feet when the floor surface is smooth. 
On the other hand, pure epoxies cover a few square feet per gallon. However, they provide greater durability and tend to protect the floor better. So, while you look at the number of square feet a product covers, also pay attention to the other important factors.
This is the measure of how long the coating will last on your garage floor before requiring a makeover. 
The less durable the epoxy product is, the more frequently you'll have to repeat the project. Some low-quality products wear out in as few as two years, while a good-quality epoxy can last a decade or longer before showing signs of cracking.
However expensive a durable product may be, it is going to be much cheaper in the long run. Such products also require less maintenance, adding to their overall low long-term cost. 
After choosing a durable product, ensure you clean it regularly and give it the recommended maintenance to prolong its service life.  
Resistance to household chemicals
Always go for a chemical-resistant epoxy. This information should be available on the product label. 
Any garage floor will inevitably have vehicle fluids and various other chemicals spilling on it. Unless the coating can stand up to these automotive fluids and household chemicals, your floor may get damaged sooner than desired. 
So, the only way to ensure you enjoy the full-service life of your garage floor coating is to install a product that can resist and withstand fluids like gas, oil, cleaning products, and engine coolant. 
All of these can damage a garage floor's finish. But as long as you find a coating with excellent chemical resistance, there will be little to worry about. 
Limitations on when the floor coating can be applied
Various garage floor coatings must be applied under specific temperature ranges to set and cure properly. 
When planning the installation of your garage floor coating, it is essential to consider if the product you intend to use must be applied in specific temperature conditions.
For instance, garage floor epoxy requires a minimum temperature of between 50 and 55° Fahrenheit. 
So, when using such a product, consider which time of the year has the recommended temperatures and plan the application then. 
Impact on the environment
Your chosen epoxy product can be eco-friendly or more harmful to the environment, depending on its chemical ingredients. 
Water-based epoxies are the most eco-friendly, and the market has plenty of such products to choose from. However, non-water-based options tend to be more durable but have a greater environmental impact. 
When choosing your garage floor coating, read the label or check with the manufacturer to establish its levels of volatile organic compounds. A product with a high-VOC profile will have a relatively high toxicity level and must be handled carefully. 
VOCs are toxic fumes that can irritate the lungs when inhaled. Some might also affect the eyes, so you will need to wear eye protection and a respirator when handling such products. 
They may also require special cleaning products and chemicals to clean off the tools used to apply them. 
On the other hand, water-based products clean easily with soap and water. They are also low in odor and VOCs, so it should be safe to handle them without wearing a respirator or eye protection.  
Ultimately, you will need some assurance of the value you are getting out of the product you buy. Manufacturers typically cover their products with warranties to safeguard you from losses occurring, especially as a result of manufacturing defects. 
Ideally, you want to go for epoxy products with longer warranty periods the makers of such products are usually confident in their quality.
A longer warranty period can give you peace of mind and the assurance of durability. If a product claims to be the best, it should have a strong warranty to back that claim.
A video showing how to epoxy coat your garage floor
Best Garage Floor Epoxy- Frequently Asked Questions 
Q1. How long will a garage floor epoxy last?
Garage floor epoxy can last anywhere between two and ten years depending on additives present in the product, drop impact, quality of maintenance, and the levels of foot traffic the floor experiences.
Q2. Is it worth putting epoxy on the garage floor?
Yes, garage floor epoxies significantly boost the appearance and durability of the floor. While you may spend only about $1,100 to $3,500 on the floor, the impact it may have on the home value can be much higher than that. This makes it a worthwhile investment. 
Conclusion 
Garage floors are typically covered in concrete, which is considerably strong. However, adding a coat of epoxy can protect the floor and make it incredibly durable. 
Epoxy coatings also come in a wide range of finishes and colors, allowing you to spruce up your garage. This quality makes epoxy a smart way to enhance garage aesthetics and quality in one go. 
If you are considering an epoxy coating for your busy garage, we hope this review and detailed user guide helps make your work more manageable and enjoyable.