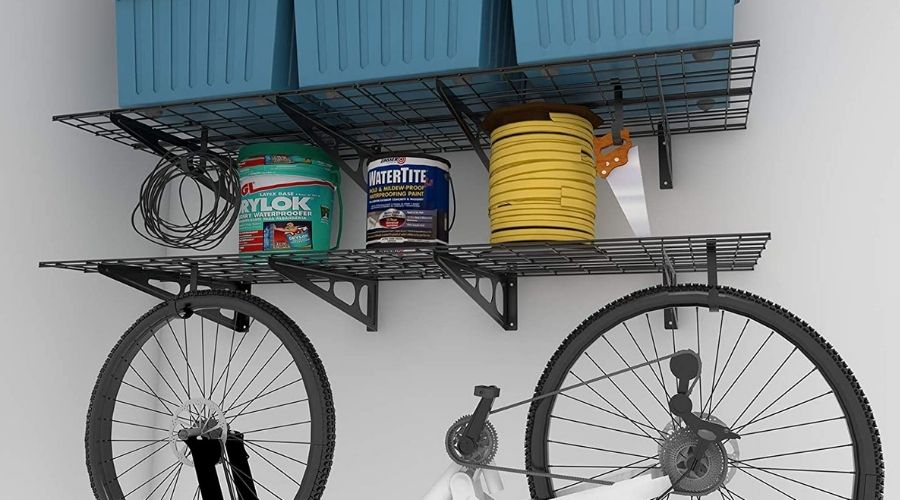 For most homeowners, the garage is more than just a shelter for cars.  It is the place to keep lawn equipment, sports gear, seasonal items, and home improvement tools and accessories. It is also where you carry out most DIY activities, making it the storage location for all of the gear and equipment. 
With all of that assortment in one place, it can easily get messy. There is only so much that you can put inside miscellaneous storage boxes. The rest of the items require the best garage wall system to make them easily accessible while keeping the garage space clean and orderly. 
Also Read:
Best garage wall system reviews 2022
After days of research and scratching beneath the surface, we have put together a shortlist of the best garage wall systems to de-clutter your garage space. 
Our analysis considered the ease of use and assembly for each of the systems in this review. We also evaluated the versatility, storage capacity, suitability, and value of the different systems to rank them among the best on the market. 
We have also specified the specific applications where each system excels. So read along to find the best garage wall system for various garage storage needs. 
These garage wall shelves offer ample storage space and have hooks for added utility. And they come in a neutral black color that blends in with any garage wall color. 
These storage racks are designed for easy one-person installation and come with all the hardware required for their installation. These include the installation template for mounting holes and bubble level for getting a perfectly horizontal alignment.
The Fleximounts two-pack of shelves are made of sturdy alloy steel for durability. Once properly installed, you can count on them to stay firmly in place and serve you for years. 
The pieces come in six different sizes for versatility. This wide range of sizes makes them suitable for various garage spaces, so you can be sure to find a perfect fit irrespective of your garage size and design. 
The company's best-selling 400-pound option has a high storage capacity, ideal for supporting heavy tools and articles.
Since the purchase includes sturdy hooks, you can use the rack for storing a wide range of things, including tool bags and bikes. 
Pros 
The purchase includes all the mounting hardware, so you do not have to spend money on separate purchases.  

Fleximounts typically test all of their mounting hardware to guarantee their superior performance. 
The holders are made of heavy gauge steel to guarantee safety

The sturdy construction can load up to 800 pounds of weight.

The buckle design with Velcro helps keep the brackets from bending or falling.  
Cons 
These brackets can only be mounted on concrete walls and wood and not on metal walls. 

The hook ships separately from the wall shelving, so they may arrive on different days. This might be a slight inconvenience.
Buy on Amazon
If you are looking for something that will take the least time to install, this pegboard organizer from Wall Control may be perfect for you.
Thanks to an intuitive, straightforward design, it takes only 30 minutes to install. The purchase comes with an elegant tool board and accessories for easy and straightforward installation. It is also designed in away to allow for customization to meet your specific storage needs. 
This metal pegboard from Wall Control is over 10 times sturdier than a conventional pegboard. This ensures you can load it will take several heavy tools without worrying about damaging it. 
According to users, this pegboard is perfect in nearly all aspects. It works equally well for large and small garage spaces. 
However, if you have a lot of tools lying around, there could be no better way to de-clutter your garage than with this pegboard organizer. This aspect makes it particularly suitable for smaller garage spaces that need a lot of de-cluttering for accessories. 
Pros 
The kit comes with everything you need to mount the panels and organize your tools. These include mounting hardware and the required attachments. 

It provides ample storage space of up to 10.5 square feet. 

The panel is available in up to 30 different colors to choose from. 

Some customers find it more professional than wooden pegboards.
Cons 
Some customers complain about receiving the product with damaged parts. '
Buy on Amazon
This holder is a perfect storage solution for someone who likes to spend some time tidying up the lawn with long-handled tools.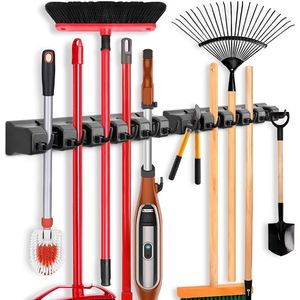 It comes with 5 ball slots for hanging long-bar tools and 6 black hooks for various objects. As such, you just need this one wall-mounted organizer for all your shovels, brooms, mops, rakes, trowels, spatula, and more. 
The strong, sturdy construction helps ensure you can keep all your cleaning tools on this holder for years without issues. 
The purchase comes with the screws you need for setup and the slots where they go. This helps simplify installation to start organizing most of your home's tools.
The design includes special spring clips with a rolling rubber ball to secure the tools and ensure they won't fall out even if they are heavy or wet. 
This Imillet mop and broom holder boasts a heavy-duty construction, with each rolling ball that can hold up to 6.5 pounds of weight. Thanks to the high-quality materials and sturdy construction, the holder can keep everything securely in place without breaking.
Pros 
The holder is inexpensive. 

It is designed to be easy to install via a DIY approach. 

The package comes with detailed installation instructions to walk you through the process. It does an excellent job of eliminating guesswork. 
Cons 
The holder is unsuitable for large farm tools like rake or hoe.
Buy on Amazon
The Bonnlo garage storage cabinet comes with user-friendly castors that you can lock to prevent movement and unlock to move the unit around the garage. This feature makes it versatile and safe to use.
The rubber wheels on this storage unit are removable and industrial grade, so they are highly durable and work smoothly even with a full load on. 
The braking system is conveniently located where the foot can reach and press them down.  
This storage cabinet from Bonnlo boasts a robust steel construction that is long-lasting and capable of withstanding years of constant use. The tall body offers ample storage space with locking doors for security.
The unit has 4 adjustable shelves for flexibility, so you can arrange it in a manner that best suits your storage needs.
The doors are made of stainless steel, and the body is powder-coated steel to offer maximum rustproofing and guarantee longevity. 
Your purchased kit includes wall brackets that you can use to mount the storage to the wall for added stability. This option provides added flexibility, so you can choose how best you want to sue the cabinet. 
Pros 
The cabinet has robust metal construction for durability.

Lockable doors and keys allow you to keep your valuable items safe from unauthorized access. 

Pre-installed locks and handles help make the installation work easier. 

The company offers free replacement for missing or damaged parts and installation problems.

It is great value for the money
Cons 
The shipment may be bulky due to inner and outer dual carton packaging and metal corner protectors.
Buy on Amazon
Here is a heavy-duty utility rack designed specifically for heavy gardening tools like shovels and hoes.  The material consists of powder-coated steel finished in durable epoxy coating for long-lasting use.
The unique design features wall hooks and hangers in a 48-inch steel garage storage system that makes your larger tools for home and yard more accessible. It is also adjustable to allow for convenient storage of various items.
The space-efficient wall set is made of sturdy metal capable of holding up to 800 pounds of weight. It also has a plastic twin available at a lower price but strong enough to carry lighter-weight equipment and tools.
The kit comes with all the fasteners and anchors that you need for its installation. This makes the setup process quicker and more convenient.
The rack is designed for multipurpose use. You can use it for hanging a wide range of tools, equipment, gear, machinery, and other stuff, including golf backpacks. This means a single installation can solve all your storage needs. 
Pros  
The company offers replacements or refunds with no questions asked whenever you are unhappy with your purchase.

The unit includes two hook sizes for holding tools and equipment securely

The rack is versatile 

It offers a high storage capacity
Cons 
The metallic rack costs more than the plastic racks
Buy on Amazon
If you want a garage wall system that is easy to install and sturdy, the Gladiator garage wall system may be ideal for you. 
The panels are designed for easy installation, specifically targeting DIYers. They feature a tongue-and-groove design that locks the panels together for a quick, effortless installation. You can mount them to a drywall material or bare wood studs.
The design matches various wall types, allowing for more personalized customization to meet your individual style. 
The Gladiator panels are made of heavy-duty composite for durability and lasting strength. Each panel has a nice grey finish that makes it attractive and compatible with various garage interior designs and themes. 
The composite material is rot-resistant, so you can depend on it for a long time.
The system features hooks, shelves, bins, buckets, and other accessories, making it versatile enough to accommodate a wide range of items in your garage.
Pros 
A 10 year warranty backs the purchase. 

It comes with multiple accessories, making it highly versatile 

The wall unit holds up to 50 pounds of weight per square foot

The panels have an attractive finish.  
You can use the panels as a rail system or Slatwall system

The material resists heat and moisture 

It allows for easy installation 
Cons:
The product has limited color options

They lack a lifetime warranty. 
Buy on Amazon
Best Wall Garage System Buyers' Guide 2022
What to consider when deciding on the best garage wall system 
While various garage wall systems are available to choose from, the best will be one that best meets your specific needs. 
You can determine the best garage door opener for your needs by considering a few specific factors. 
This section looks at the various factors to pay attention to when choosing a garage wall system for your home.  
Your budget
How much are you willing to spend on your garage wall system investment? For instance, a durable steel cabinet may offer quality and added security features for your valuables. However, such a wall unit will be more expensive than a system of wall panels.
Alternatively, a Slatwall will offer clean aesthetics that may create a sleek, beautiful atmosphere inside your garage. However, these clean finishes come with a higher price tag attached. If you choose these aesthetics, prepare to pay more than you would spend on a pegboard panel.
The amount of storage you need 
How much storage you need on your garage wall will directly determine the system that can work for you. 
As you go shopping, you will realize that various garage wall systems have different storage capacities that will directly determine the number of items they can carry.
If you have many things to organize in your garage, you may want a system that offers more storage space to accommodate what you have in your garage and meet your storage needs. 
To identify the best storage for you, start by taking stock of everything currently cluttering your garage space. The garage wall has plenty of space that you can accommodate a lot of stuff with the right wall system. 
However, you can only determine that system once you know how much storage your things require. 
The load capacity you need
The load capacity, in this case, encompasses the weight and sizes of the items that need storing. For example, if you are going to add a wall system to your garage, you want it to be able to handle the weight of your tools or items. 
For instance, a plastic pegboard may be suitable for lighter hand tools like putty knives and hand trowels. However, larger and heavier tools like hammers and wrenches may require something sturdier. You may want to swap the plastic for a metal pegboard in the latter case. 
Again, if you are storing something larger like a lawnmower or sports gear, a pegboard may not be appropriate due to its limited load capacity. You will want to leave it for the lighter or smaller hand and yard tools and consider a larger wall shelf or rack for larger items like bikes.
Garage size
A large two-car garage may have lots of wall space to customize for your storage needs. This may not be the case for a smaller, one-car garage. 
Regardless of the wall systems you prefer, you must plan within the limits of the space available in your garage.  
The types of items you're storing
The nature and types of items stored in your garage are closely related to the storage capacity. For instance, a pegboard may not be the ideal garage wall system for storing rakes and long-handled brooms or hoes. 
Neither is it the right storage system for bikes nor golfing gear. So, when deciding on the storage system, consider all the items you have in your garage in terms of their shapes and sizes. This should guide your selection and help you decide more accurately. 
If you have toolboxes or paint cans lying around the garage floor, overhead shelves may make more sense, transferring that load from the ground to the ceiling. While at it, you also want to pay attention to the strength and storage capacity of such shelves. 
For heavier items like paint cans, you want something sturdy, preferably made of steel alloy. The shelves also need to have a well-thought-out installation system to secure them to the garage wall and ceiling. 
This consideration helps guarantee the safety of your items and that of the people using the garage. 
Things like bicycles offer a significant level of flexibility in terms of their storage options. You can go for overhead storage, wall racks, or dedicated bike racks. 
With a clear picture of what you want to store in the garage, narrowing it down to your best options becomes a breeze. 
Hanging accessories available with the system 
Some garage wall systems offer a wide range of hanging accessories in different sizes for the same system. This is something particularly common with pegboard systems. You can find numerous different sizes and types of hanging accessories that will take care of all your storage needs in one solution.
Slatwall panels also offer various accessories, but they may be limited in type. The specific nature of Slatwall tends to allow for a limited range of things you can hang on the accessories, so you may be forced to install an additional storage system for other items. 
If you intend to keep golf equipment, fishing rods, paper towels, and lightweight sports equipment, a Slatwall may support the racks you need. However, if your family has several bikes to keep in the garage, you may need something else. 
A storage rack and wall shelf can be versatile enough with hooks and pegs to allow for hanging a wide range of things, from sporting equipment to bags and tools. 
Whenever possible, you should consider going for a wall system that offers a one-stop solution for your storage needs. This can save you on space and cost.  
Durability
Plastic pegboards may be cheaper upfront, but they are nothing compared to metallic pegboards that last for decades. 
When buying your storage system, the projected longevity of that system should be a prime consideration. 
Going for a system that will age quickly may mean having to redo the installation work from time to time. 
Instead of spending less money on a system that will age quickly, we recommend investing in a sturdy option that will last a lifetime. It is best to install the system once and forget about it. 
Metal wall shelves and steel cabinets excel in that area. Once installed properly, you can be sure to have them around for the entire lifetime of the garage. Such a durable system is time-saving and cost-saving in the long run. 
Flexibility
Some systems allow you to customize the storage to meet your needs. Others are fixed, and you can only utilize the space and design available for you. 
For instance, a wall-mounted broom holder or rack may not offer much flexibility in its design or utility. Often, you will only be able to hang tools that can fit in the ball slots or hooks available on the rack. 
However, a pegboard or Slatwall can allow for unlimited customization options. You can generally plan out the storage in whichever way you want it to meet your needs. 
So, if you have an assortment of hand tools and equipment that needs storing, you may consider a pegboard. It will allow you to organize it your way and place everything in a more accessible way to simplify your work. 
A video showing how to organize your garage wall system
Conclusion 
Whether you have one car or a fleet, orderly and clean garage space can provide more wiggle room and keep your items and family safe when using the garage. 
Since most people use the garage for all sorts of DIY activities and storage, it is essential to find a way to keep the space clutter-free. An appropriate garage wall system can turn things around in your garage, keeping everything organized and helping you achieve the safety and utility you need. 
We hope you find this detailed review and user guide helpful in creating a clean and orderly garage.