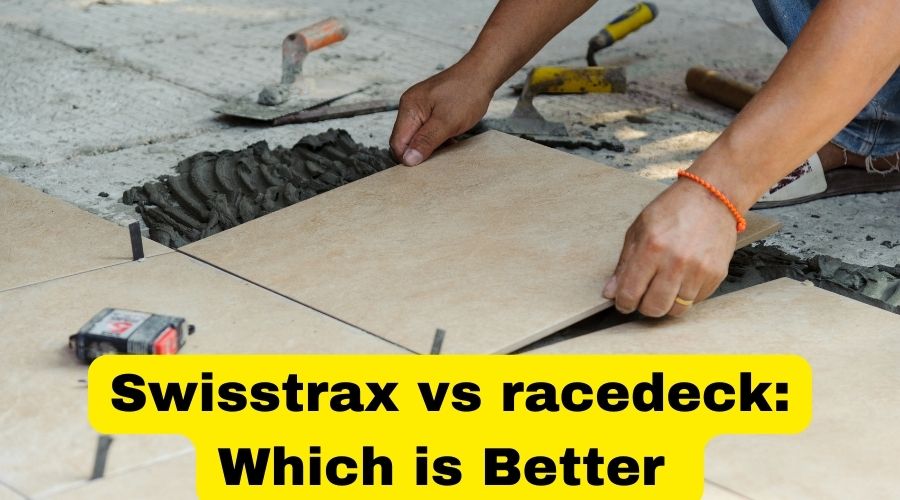 Are you thinking of giving your garage a facelift? The floor is one central area that will require a great deal of deliberation. Nothing catches the eye quite like a burnished interlocking tile floor.
This is where some of the most in-demand brands, Racedeck and Swisstrax, dominate. You might feel stumped when deciding which of the two brands to choose. Worry not. Together we will take a look into Swisstrax vs. racedeck and delve into the merits and drawbacks of each brand.
Tag along!
Also Read:
What is Swisstrax? 
There exists a broad assortment of brands providing garage flooring solutions. Even so, you'd be wise to settle for the best of the bunch.
Swisstrax, a swiss brand that provides exemplary modular flooring, embodies the top spot, making it tower over other related brands.
Having been developed in Switzerland, it conducted its operations there for more than 25 years before introducing its noble product to the USA market. Its genius lies in the ingenious interlocking technology employed in manufacturing its product.
This brand's groundbreaking success is attributable to the uniqueness and quality of its interlocking tiles. This propelled its product into becoming a favorite within the garage flooring and automotive sector. 
Now producing about 20 different styles of interlocking tiles, swisstrax moved its manufacturing operations from Switzerland to Dalton, Georgia. Swisstrax tiles are also lauded for their exceptional functionality and performance that backs their captivating look.
You might then wonder, what are swisstrax tiles made of? They are brilliantly engineered with polypropylene copolymer material. The end product tends to clean easily with a shop vac or high-pressure hose. 
What is Racedeck 
Racedeck is a prestigious brand that has solidly established itself as a top-level company in the world of garage flooring systems. Similar to swisstrax, it also excels in producing phenomenal interlocking floor tiles.
Snap Lock industries, the parent company of the Racedeck brand, has been in business for about 40 years. However, tile production under the Racedeck name has been ongoing for over 20 years. This brand prides itself in pioneering the current modular garage flooring industry.
Racedeck produces about nine classic styles to make it more competitive and offers considerable choices to suit any garage setting. Interestingly, Racedeck tiles are easy to install with no special tools needed.
You can upgrade your garage into a striking space within hours. Additionally, you will not have to deal with toxic fumes or messes, as with coatings. Even better, you can choose custom colors and designs, allowing you to modify your garage as you wish.
Headquartered in Salt Lake City, Utah, Racedeck produces tough garage floors. The tile floors are made from the best quality copolymers and check all the boxes for versatility, durability, color, and design. 
Swisstrax vs Racedeck
The flooring of any space holds substantial weight as it can influence your feelings about a room. This also goes for garages, making your flooring decision quite pertinent.
Whether you are laying down new flooring or updating your old garage floor, a common denominator ought to be quality. What other brands epitomize quality better than Swisstrax and Racedeck? After all, it's the reason why they are undisputedly some of the biggest names in the garage flooring industry.
Even so, an in-depth insight into Swisstrax vs. Racedeck is relevant for distinguishing purposes. Together, we'll take a closer look at the strengths and weaknesses inherent to each of these esteemed brands. 
To help you get a handle on the topic at hand, it is essential to first delve into the differences between Swisstrax and Racedeck floor tiles.
We have expatiated these differences further below under the following categories;
1. Manufacturing technology
The interlocking technology varies for both brands. Swisstrax, for instance, has kicked it up a notch with their interlocking technology, whereby they adopt a patented rib and tile design that snaps together like Lego.
In a more cerebral context, Swisstrax utilizes twenty pegs and loops (5 on each side) to join tiles together. This makes the installation of these unique tiles a cakewalk. Additionally, removing the tiles and correcting your mistake is easier if you happen to mess up during installation.
On the other hand, Racedeck utilizes a distinctive patented technology known as Power-Lock. Through this technology, Racedeck tiles have 16 pegs and loops (4 on each side), which snap with others forming a solid interlocking floor.
2. Standard thickness and sizing
Another difference that counts between the two is in terms of size and thickness. You will find Racedeck interlocking tiles in a standard 12″ x 12″ size and ½" thickness. 
This works to your advantage since this standard size allows you to swap any flooring tile in Racedeck's collection with another. Besides, they also offer a special RaceDeck XL flooring tile provided only in free-flow and diamond styles. This extra-large (XL) tile tends to be suitable for large spaces.
This particular tile is exclusive with a size of 18″ x 18″ and ½" thickness. Despite the difference in size, you can also interchange it with the 12″ tile. This is the definition of a modular design, meaning you can interchange all Racedeck tiles.
On the flip side, Swisstrax tiles come in a standard 13″ x 13″ size and ½" thick. However, they have an in-demand tile called the Ribtrax, which varies with the standard tile. 
It measures 15.75″ x 15.75″ x ¾", making it thicker than other tiles by ¼." This means that a smooth transition between adjacent tiles is impossible to achieve. You, therefore, cannot interchange with other tiles in the Swisstrax lineup. 
Additionally, it features a six-peg and loop design which varies from other standard swisstrax tiles, which have a five-peg and loop connection. This also hinders it from snapping with other tiles. The variation in size by 2.75″ brings in nonuniformity when laying tiles.
3. Design, style, and colors
Being the premium flooring brands they are, let's take a moment for a nod to the differences in design used to manufacture tiles of both companies. Racedeck uses the conventional diamond plate tread design to produce their tiles, known as Diamond. Racedeck also offers about nine styles, while Swisstrax offers above 20 types of tiles.  
Swisstrax chose to up the ante on the diamond tread design and uses the Diamondtrax design. They also provide the Floortrax, a smooth version of their tile, while Racedeck does not. When it comes to styles and colors, Swisstrax offers some of the following highlighted tiles;
The Ribtrax – comes in gray and black.

The Classic – comes in white, black, and gray.

The coin tile – comes in gray, black, and silver.

The diamond plate – comes in black and silver.
Here are some of the favorite colors and styles of Racedeck interlocking tiles, which include;
Checker – a flag design that is checkered and comes in various colors.

Diamond – a typical diamond plate design that comes in various colors.

Solid – a solid color tile that comes in various colors.

Diamond, CircleTrac, Tuffshield, and Free-Flow
4. Installation
Thankfully, the unique interlocking system of tiles from both brands makes installation easy. To put this into perspective, installing Swisstrax tiles involves a few simple steps.
First, you ought to clean and do meticulous prepping of the surface where you intend to lay the tiles. Then you'll need to apply a layer of Swisstrax adhesive that helps fix the tiles in place. You'll then need to wait for the adhesive to dry, after which you can lay down the tiles together.
Conversely, the installation of Racedeck tiles is pretty straightforward. If you possess basic DIY skills, you are good to go. You will not require any special tools or adhesive to lay down these tiles; they simply interlock with each other. 
Arrange the pegs and loops so connecting one tile and another is easy. Here's a rewarding tip. It would help if you started working from one corner (the back one) and locked it as you proceed. 
Also, if you wish to customize Racedeck tiles to complement your garage space, you can employ a jigsaw, table saw, or utility knife to cut the panels. When the need to remove them arises, you can use a putty knife.
5. Durability 
Garage flooring has to be resilient to withstand daily abuse from multitudinous agents. Whether it is human traffic, sunlight, pressure from automotive, or water, it is essential that you lay material that can stand firm against such agents.
The substructure of Swisstrax panels bears a series of cutouts that promote water drainage and air circulation underneath the tiles. This is a great feature that takes care of mold and mildew issues that arise due to wet concrete. 
These Swisstrax tiles are water-resistant to boot. This makes them an ideal option if you reside in high-humidity regions. If you also live in sunny areas, Swisstrax panels are still a viable option since they are U.V resistant.
Racedeck panels also have cutouts that are a bit larger than those of Swisstrax tiles. They also feature the essential waterproof trait that makes them quite durable. Note that the durability of the Racedeck tile depends on the type of tile you choose.
Durability can also be evaluated via the pounds a panel can support. Thankfully, both Racedeck and Swisstrax panels can tolerate up to 80,000 pounds. Their brilliantly designed substructure enables them not to curl/give in under the heavy weight of cars.
Racedeck utilizes their patented diamond design in their substructure which accounts for the intact integrity of their tiles. Swisstrax utilizes a 4-point injection design that promotes even weight distribution throughout the tile. 
6. Warranty
Technically, brands that provide warranty covers for their products stamp their confidence on the quality of the product. This also goes for these two brands of interest.
Racedeck provides a 20-year warranty, while Swisstrax provides a 15-year warranty. This warranty covers problems associated with Ultra Violet resistance, manufacturer error, and resistance from chemical and oil stains.
Even better, Swisstrax sweetens the pot by offering a warranty that has no additional fees for restocking or proration. It also grants you a 30-day satisfaction guarantee. If you are still indecisive about which of the two brands to settle for, you can always try out the free sample program provided by both brands.
7. Price
Cost tends to be one of the gravitational factors when deciding which of the two brands to settle for. Swisstrax stands as a more economical bargain compared to Racedeck. 
The price of Swisstrax products ranges from $3.00 per square foot and can scale up to $7.00 for special tiles. Prices of Racedeck tiles, on the other hand, range from $3.79 per sq. ft and $11.23 per sq. ft for the free-flow XL options. You can bet on both options to fit the bill despite the slight price variations.
8. Panel interchanging
It is desirable to work with tiles that allow you to explore your creativity and functionality to the optimum. This, however, is only possible if there is no limitation of panel mixing. 
Cultivating this further, a brand like Racedeck manufactures all its tiles in a way that allows interchanging. This can be credited to the similar thickness (1/2″) of all their tiles. This way, you can mix and match panels of various designs to your liking. You can get artistic and opt to lay draining tiles where your car sits and lay another style to surround the draining ones. 
Swisstrax, however, does not offer the same bonus. You can interchange most of their tiles except Ribtrax, their most popular tile. This can be attributed to the differences in size, the peg and loop system, and thickness compared to other panels in the Swisstrax family.
This tends to limit the choices of design and styles you'd want to lay. The only way you can become innovative with Swisstrax panels is with the multiple colors you can choose from. 
9. Resistance to stain and slippage
You'd agree that resilience is a powerful trait in garage flooring tiles. Such tiles will not cause you the frustration of having to replace them because of curling or even staining. 
Typically, spillages and leaks will occur in any garage space. Therefore, you will need a flooring material that will go the distance against such liquids. Fortunately, Swisstrax panels are resistant to all liquids. You should, however, avoid spillage of battery acid on these panels.
Racedeck also claims to have anti-stain panels. This is because they manufacture their products with high-impact copolymers. Therefore, oil or grease spills, scratches, and dirt will not harm Racedeck tiles. Additionally, these tiles can tolerate high temperatures scaling up to 1200F.
With regard to slippage, Swisstrax tiles are slip-resistant to promote user safety. The anti-slip feature is incorporated into the manufacturing process from the start. Racedeck panels tend to be stiffer and quite loud to walk upon.
How thick is RaceDeck flooring?
Racedeck, like most manufacturers, offer their interlocking tiles in a normal/standard 12″ x 12″ size and ½ "thickness. They also offer bigger tiles, 18″ x 18" x ½, "that go by the name Racedeck XL (extra large). With these XL panels, there will be lesser seams to deal with.
It is important to note that these bigger tiles only come in free-flow and diamond styles. However, the beauty of all Racedeck tiles is that they are interchangeable. This means you can mix and match any tile in the Racedeck family to achieve a dramatic appearance of your liking.
Interchanging or panel mixing is possible with Racedeck flooring due to the similar thickness of all their tiles (1/2 "). This enables gentle transitions from one tile to another, ensuring your floor's uniformity.  
How do you install Racedeck flooring?
The deluxe nature of Racedeck flooring speaks to the indelible mark it has created in the market. You can bet on Racedeck tiles to satisfy the needs of your garage. You have probably heard that you can get over with installation in a matter of hours. But then, how do you install Racedeck flooring? Below is a stepwise guide;
Measure the length and width of your space using a measuring tape.

With the measurements determined, you can design your garage floor by browsing for digital designer sites. Here, you can set your garage dimensions and then customize the desired floor pattern. 
This step, though optional, allows you to visualize and appreciate your project's appearance before laying down the tiles. This way, you can make adjustments if need be and have a perfect work plan beforehand.
Start prepping your garage. Move items and equipment from your garage to free the floor. Then, get rid of dust or dirt from your existing concrete floor by sweeping.

Before getting to installation, line up the Racedeck panels at the garage door entrance remembering to leave room for the attachment of edging. This step helps keep the floor and edges inside the garage door upon closure of the garage door.

Establish the direction you want to lay the panels and arrange the tiles to ensure the loops face this direction. Lay the tiles in an L-shaped pattern, i.e., along the left wall (the longest side of the wall) and along the garage door opening. 
Bear in mind that the panels expand; therefore, ensure you leave room between the floor and any poles or walls. 
Using the online layout you had prepared earlier as a reference, continue installing your flooring while aiming to achieve full modules. Carry on with laying the tiles in this manner till you've covered almost the entire floor.

You might need to trim the panels (using a utility knife or table saw) for them to fit walls, stairs, etc. Here's a valuable hack, measure twice and trim once. Also, remember to leave a ½ – ¼" gap that will accommodate expansion.

Seal the process by installing ramp edges. 
How do you maintain interlocking tiles?
Interlocking tiles are well known for standing against the test of time and daily abuse in a remarkable way. The secret lies in the high-impact plastic polypropylene material used in molding these tiles. 
However, optimal durability is only achievable if you make efforts to sustain such tiles (Big Floors, RaceDeck, TrueLock, Swisstrax, etc.). Then, how do you maintain interlocking tiles?
The math boils down to cleaning. Cleaning will help maintain a perfect display of your environment and enhance the floor's longevity. It is up to you to decide whether you will adopt a daily or regular maintenance routine.
Either way, you should begin the routine by vacuuming or sweeping to remove surface sand, soil, debris, and grit. Of importance to note is that, unlike semi-porous surfaces, interlocking tiles get dirty by having dirt and grime sitting on the surface rather than within the surface. 
This means that the cleaning products and techniques used differ from typical methods. Here's what you can use;
A soft-bristled push broom – for getting rid of fine dirt, debris, and pebbles.

A shop vac with a brush attachment – also for sweeping to remove fine dust and dirt. A shop vac with the standard floor attachment can be a potential cause of damage to your tiles since dirt can be trapped between the attachment and the tile and become abrasive.

Ammonia-based non0sudsing floor cleaner (Parsons ammonia) – for removing scuff marks, grease, and other stubborn messes. Thankfully, this cleaner is streak-free and does not create a residue or film on your floor.
You can then use the dry maintenance method that involves spray cleaning. Here you can use a rotary machine that bears a suitable pad and spray buff liquid.
Alternatively, you can employ the wet maintenance method. You'll need a bucket of water and an appropriate cleaning solution (neutral pH between 7 – 8.5). You can then mop and scrub using a hand brush or a scrubber bearing soft nylon brushes.
Note you should use a degreasing agent if your interlocking tiles are exposed to oil or grease. Also, avoid applying excessive amounts of water/solution. Use a wet vacuum or mop to get rid of the solution, and then rinse with clean water and let the floor dry. 
Below are other tips to help you maintain interlocking tiles;
Ensure oil spills or other liquids are mopped immediately.

Avoid welding projects or use a welding blanket when welding.

Sharp equipment or heavy loads can damage these tiles.

Avoid using sudsing film-forming cleaners. 
How do you clean Racedeck flooring?
A garage tends to be a pretty frequented space within many households. In modern times, garages are solely used for parking automobiles. You will agree that they are now used to host an array of activities, from a workshop, storage space, and home gym to an entertainment space.
It is therefore given that your Racedeck flooring will get dirty. This is a common find that should not bother you. The real treat here is finding a way to keep your floors in mint condition. How do you clean Racedeck flooring?
Usually, sweeping or vacuuming your Racedeck flooring will suffice. However, you might need to use a wet mop in some instances. For instance, if you want to remove muddy footprints or eliminate black scuff marks caused by your car, it would be wise to arm yourself with a cleaning reagent.
Principally, Racedeck All Purpose Cleaner will do an amazing job cleaning away messes. Any appropriate floor cleaning agent will also do the job. All you need to do is mix 2 gallons of water with an ounce of concentrate. 
Use this solution to mop or scrub the dirty floor. Some Goof Off will come in handy if you are dealing with stubborn tire marks. Simply wipe off the marks. For other resistant marks like grease or road tar, you can pour a small amount of acetone or mineral spirit on a rag and use it to wipe the marks off.
Avoid pouring the acetone and mineral spirit directly onto the flooring. Also, avoid agents like Simple green since they form a tacky residue on your floor. After cleaning with solution, rinse the floor with clean water ensuring that you do not leave pools of water on the surface.
How do you clean under swisstrax?
If you own Swisstrax modular flooring, you'd agree that it accentuates the elegance of your garage, especially when it is clean. Luckily, this flooring will not turn you into a cleaning slave to maintain it in its pristine state.
When your Swisstrax flooring has dust, dirt, and debris buildup, it becomes an unsightly scene. An obvious way to restore its glorious shine is through cleaning. It would, however, be best if you cleaned the mess the right way. Thankfully, cleaning is easy and can be achieved by;
Eliminating surface dirt and dust

– a shop vac is the most preferred tool for quick and efficient cleanup. It removes particles trapped in the grooves between tiles and on the tile's surface. Use only a floor brush attachment with your shop vac to avoid abrading your tiles. 
Alternatively, long-handled dust mops or soft-bristled brooms will also do the trick. These two alternatives are excellent for removing loose dirt, dust, and other remnants of your project from the surface of your tiles.
Deep cleaning

– if the shop vac, brooms, and dust mops cannot do away with stubborn marks like tire and scuff marks, you may want to try deep cleaning.
Use a non-sudsing, ammonia-based formula to mop your tiles for gleaming, streak-free, and residue-free results. Alternatively, you can use waterless wash concentrate liquids to deal with the marks. 
Prepare by mixing two gallons of water with two tablespoons of concentrate. Also, remember to water down the concentrate before deep cleaning with the solution.
Deal with remaining scratches and stains

– You can employ a deck scrub brush bearing hard bristles for problematic marks. Then, after your floor is dry, use a rag or soft washcloth dampened with a heavy-duty degreaser to buff out remnant scratches.
Garage floor tile maintenance
It is in every garage owner's interest to enjoy maximum service from their garage tile floors for as long as possible. Also, while at it, you will want your tile floor to remain in good shape and maintain its imposing overall appearance.
Therefore, acquainting yourself with garage floor tile maintenance tips would be a judicious strike. Stains are one of the major pitfalls, especially for soft garage tiles or rolls. They can be pretty irksome to the eye. A key maintenance stratagem inclines towards preventing stains. 
While tiles prevent stains from accessing the subfloors, they will, in the process, take the blow instead. This goes especially for soft garage flooring tiles made of PVC (polyvinyl chloride).
Tar, oil, grease, tire marks, and dirt are common finds in garages. When you notice such stains (grease, oil, tar, and dirt), make an effort to wipe them away immediately. You can use degreasers, a power washer, or other potent solvents to do away with the stains. 
Expatiated further are some approved methods of eliminating and preventing stains, like using garage floor cleaners. Some products like Spray Nine, Super Clean, and Purple Power are ideal for grease, dirt, and tar.
However, tire marks may prove stubborn against the mentioned cleaning products. It is even worse for soft tile floors since it is impossible to get rid of them. Worry not; there's a remedy. 
You can replace the garage floor tiles, which is quite easy. You can remove the affected tile and snap a new one in place. 
The video below provides a comparative analysis between Swisstrax and Racedeck options.
Frequently Asked Questions -Swisstrax vs Racedeck
Q1. How much does Race-Deck cost per square foot?
Racedeck prides itself on offering a tile collection with an impressive diversity of styles. Therefore, the costs are influenced by the style and size of the tiles. On average, the price ranges from $3.79 per square foot to $11.23 per sq. ft for the free-flow XL options.
Q2. Can you power wash interlock?
You can use a pressure washer or a garden hose to clean interlock pavers. It would help if you did it with a lot of caution to avoid causing damage to your interlock. Inappropriate nozzle control causes joint sand removal. It would also be best to set a decent pressure that will keep your pavers intact but eliminate dirt and debris.
Q3. What should I put between interlock?
You will notice a gap between stones after installing interlocking patio stones or interlock pavers. This gap ought to be filled with polymeric sand, which is ideal for pavers. Also referred to as paver sand, jointing sand, or hardscape sand, it is made up of fine quartz particles.
Q4. Can you paint Swisstrax?
Swisstrax modular flooring comes in 17 contrasting colors. This gives you the luxury of customizing your flooring (by mixing and matching) to suit your preference. Given this, there will be no need for painting Swisstrax. It protects your painted subfloor (concrete) since it sits over the concrete floor.
Conclusion
Does the sight of your uneven, cracked, or stained garage floor make you feel jaded? The good news is you can give your flooring an overhaul in hours and enjoy it for the next 15 years or so.
Two of the most sought-after garage flooring brands, Swisstrax vs. Racedeck, are your best bet. You will get value for your money and enjoy more design options, easy and fast installation, and fewer maintenance routines. 
Despite the many similarities, each brand excels best in a particular situation. Racedeck, however, towers over Swisstrax due to the panel mixing feature. You can interchange all their tiles regardless of size, meaning you can get innovative with how you'd want your garage to appear. All the best!