Garages can be utilized for numerous activities besides vehicle maintenance and storage. A garage can function as a workshop, craft art room, gym, entertainment room, or storage space for household items depending on your lifestyle and interests. Garages are built with concrete floors, very little to no caulking, and drafty doors making them very cold. You need to be comfortable in every part of your home, and the garage is not an exception.
Whether you spend a lot of time or little time in your garage, you need a comfortable working space that will allow you to spend quality time on your projects. You need to have proper lighting, and since most garages are very cold, you need heating inside there to ensure you don't freeze. Heating your garage is a perfect way to ensure people who spend time in there and things stored in there are protected. Due to safety reasons, you may not connect your home heating system to the garage. Compared to electricity, the best economical option is a propane heater. However, most garage owners are unsure whether they can include these heaters in their garages and always ask, "Are Propane Heaters Safe in Garages?"
Propane heaters are safe as long as there is good ventilation for the exhaust pipe and enough flammable air to use as fuel. Propane heaters can provide heating to your garage that your other home heating system can't reach. These units will heat your garage faster and more effectively as they are more economical than an indoor electric heater. With the propane heater, you can work well on your projects and even turn your garage into a resting shed or a man cave because it will be warm and safe spending your time in there.
The safety when using the propane heaters in a garage requires that you consider several factors before selecting your propane heater and ensuring you are using it safely. When you have made the right choice of a propane heater and put it to the right use, they are safe in your garages.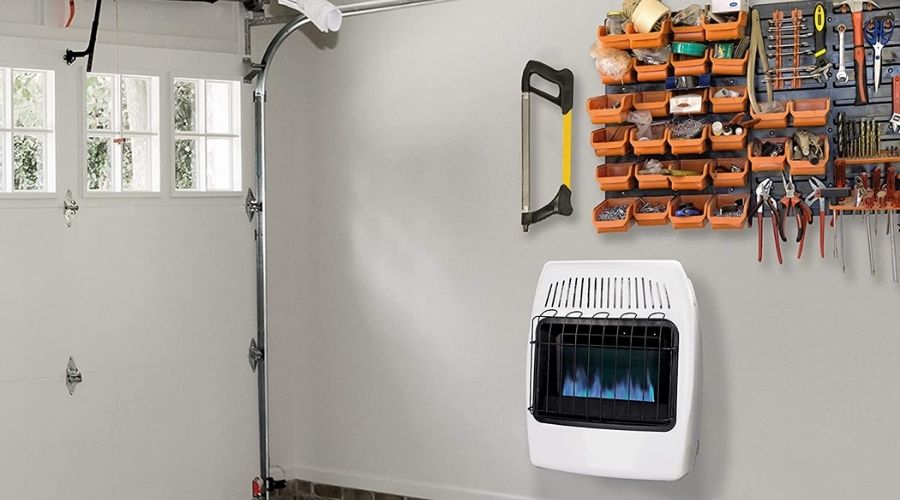 Tips to Consider when Selecting an Efficient Propane Heater for your Garage
Read the manufacturer's instructions before using your propane heater in your garage.

Ensure your propane heater has a low oxygen sensor, overheat protection, a high-temperature coated safety guard on the front, and has an automatic shut-off if it topples over.

Do not put anything on top of the propane heater.

Ensure the propane heater is producing blue flames, and if it is producing orange or yellow flames, you need to stop it and contact your service provider because that shows it is not working properly.

Carefully clean dust builds up using a vacuum cleaner hose attachment 

It would be best if you never sprayed aerosols, air fresheners, or hair sprays near a propane heater

You will need to install a carbon monoxide detector in your garage

Ensure you turn off the propane heater when you leave the garage and never leave it unattended

Ensure your propane heater is installed at a position not close to anything flammable or people's pathways, and if it is mounted on a wall, the wall should not be flammable.

Ensure your garage is inspected before installation of the propane heater and also annually inspected

You have to make sure all the garage pathways and exits are clear when the propane heater is used.
Types of Propane Heaters 
When shopping for a propane heater for your garage, you can choose three main propane heaters ; Forced air propane heaters, convention propane heaters, and wall-mounted blue flame propane heaters.
Forced Air Propane Heaters
They are perfect for heating garages as they give a huge amount of direct heat. A forced air propane heater presents you with the most economical means of heating your garage without stretching your budget. The heater comes in different ratings that you can choose from depending on the size of your garage. For instance, if your garage is small-sized of 1000 sq/Ft or less, you can buy a heater with ratings ranging from 45,000 to 75,000 BTUs per hour.
However, for bigger or commercial garages, you will need a more powerful propane heater at 60000 BTUs per hour or more, and this makes the forced-air propane heater an ideal system for your garage.
Examples of forced air propane heaters are; DeWALT Forced Air Heater, Mr. Heater Model, and Pro-Temp model. You can buy these powerful units at Amazon.com.
DeWALT Forced Air Heater
Have a wide variety of models

Have various liquid propane heaters ranging from 40000 Btu to 300000 Btu

They are suitable for any space size

It has a 10-foot hose and regulator with an adjustable angle; this gets you an airflow at whichever angle you want.

It has a superb built quality, a construction grade that keeps debris and dust away, prolonging the heater's lifespan.

Has standard safety shut-off switches in case of tip-over or overheating.
Mr. Heater Model
It has a jet black finish and bright red decals
It has a 10-foot hose pipe and a regulator
Has variable controls and safety shut off in case of overheating
Produces safe and clean burning heat
Can operate without electricity during the power outages
It's easy to install and energy efficient
Pro-temp model forced -air propane heater
This model is a bit pricy compared to the other models, but it is value for your money. They are small and weigh less compared to the other models. It is also easy to handle and move around due to its compact and lightweight.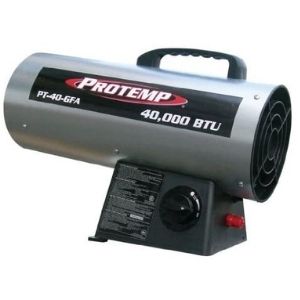 Pro-temp mode produces up to 40,000BTUs per hour and this makes it ideal to heat garages of up to 10,000sq/Ft. Besides, this unit has an extended run time of up to 11 hours on only 20lb propane tank. When the heat is too much or undesirable in a room, this model has an over heat shit off, an aspect that will make you confident even if you left your young one inside the room.
Convection propane heaters
They are a perfect choice for small-sized garages. They radiate heat in a 360 radius. They are best placed at the center of the garage space. The heaters have variable temperature gauges that make it easy to control the heat and range up to 200,000 BTU. 
Examples of convection propane heaters include;
Dyna-Glo 20,000 BTU Liquid Propane Blue Flame Vent Free Wall Heater
Dyna-Glo unit tops the most powerful propane heaters among the convection propane heaters. The model boasts an impressive variable heat range of between 16,000 to 20,000 BTU's/hr for up to 700sq. Ft garages. Its blue flame technology works by converting heat to warm the air the same way as the central heating system.
You can customize your heat settings from low to high using its integrated variable control knob within the BTU's range, depending on your location or the garage temperatures. You do not need electricity to operate this unit, making it an exemplary unit for use even when there are power outages. Has safety switches in case of a tip-over.
Mr. Heater Corporation Convection Heater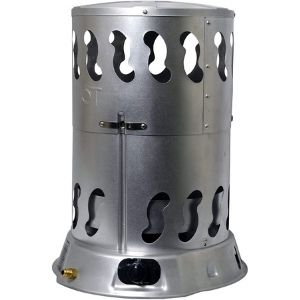 Yet another exclusive unit among the most powerful convention propane heater units. Mr. heater presents a BTU range of 30 000 to 80000 per hour made for use with the propane gas. This heat can be used in a 2000sg.FT garage and can operate with a 100lb propane tank for over 14 hours.
Safety is also guaranteed with this model in your garage, as it comes with a standing pilot for enhanced safety. In addition, you do not need electricity to operate this heater, and it is fully assembled and ready to use from the time of purchase.
Wall-Mounted Propane Heaters
These heaters are excellent if you have a smaller space in your garage. Have a maximum of 30,000 BTU and are perfect for smaller spaces. They are incredible in saving space while giving you all the benefits of a propane heater. They are as convenient as an electric heater. Excellent for heating a small area rather than the whole space. An example of wall-mounted propane heaters is the little buddy propane heater.
Little Buddy Propane Heater
It is small in size and has a 4,000 to 9,000 BTU.

It is ideal if you do not require too much heating 

It will keep a small area cozy and warm enough to relax or work

It has a fold-down handle, a small slide away fuel connection, and a small cylinder 

Despite the size, it has a built-in oxygen detector and an inbuilt tip over detection shut-off.
Frequently Asked Questions
Is Propane Better Than Kerosene?
 Kerosene and propane are excellent fuel choices and also readily available fuel. However, propane is highly preferred because it burns clean and does not smell; kerosene is burned using oil and has a smell. Kerosene is less expensive than propane.
How do you vent a propane heater?
You need to identify a good location to prop your vented propane heater, then drill the holes where you will mount the heater. Mark the spot where the propane hose will go, next run through the length of the hose in the hole.  Carefully place the heater on the brackets.
Do you need ventilation when using a propane heater?
You must have adequate ventilation when using a propane heater. The heaters can sometimes pose carbon monoxide problems when used in garages with no adequate or proper ventilation. These heaters require oxygen to breathe, making ventilation a priority before you install the propane heaters.
Can Propane Fumes Kill you?
The propane heaters can result in a build-up of gases that can be harmful when inhaled. When you breathe in these fumes, they can cause hypoxia which is a type of oxygen deprivation and can result in death. However, such instances can be avoided when you have good ventilation in your garage.
Does Mr. Heater give off carbon monoxide?
Mr. Heater forms one of the primary models among the best propane heaters for the garage. Both the Buddy heater and Mr. Heater brands equipped or fitted with a catalyst do not produce carbon monoxide gas. Such models can effectively get used indoors. However, you need a cracked window for more safety practices to allow fresh air supply in the room. That is, your room or garage must have proper ventilation.
Final Thought 
Propane gas is an excellent choice of heaters to keep your garages warmer and comfortable for you to spend time working in without relying on your main power connection. Propane is less expensive than electricity and is very safe as long as you follow instructions on what to do before installation. With constant inspection, having a carbon monoxide detector, and maintaining safety practices as they are in use, propane heaters are perfectly safe. I am certain that when you consider all the safety measures and tips, you will find Propane Heater an incredible and safe choice for your garage.
Other Related Articles
https://newgaragesource.com/best-garage-air-conditioner/
https://newgaragesource.com/best-garage-heater/
https://newgaragesource.com/can-you-cool-a-garage-with-a-portable-air-conditioner/