The taste of a frosty and refreshing beer after a seemingly endless workday is just what you need in the summer heat. It's even more satisfying if you're chilling with friends in the garage, reminiscing the old days and having a seep of a cold drink within your garage space without having to send someone or move to your house to grab one if your garage is detached.
If your garage lacks a beer fridge, endless trips to the kitchen to grab a few more drinks can dampen the party. Let's resolve that by helping you choose the best beer fridge for garage spaces and add a dose of spontaneity to your man cave.
Also Read:
What does garage ready mean on a refrigerator?
Just as the name implies, a garage-ready refrigerator is ready for use in the garage without requiring any adjustments. You may wonder what makes the garage so unique that it needs a special refrigerator other than your regular fridge. Cozying up your living space to make it more habitable is commonplace, but this isn't the case for most garage spaces.
The garage is often characterized by constantly fluctuating temperatures, making it incompatible with a regular fridge. It is prone to extreme temperatures due to factors ranging from direct exposure to sunlight and poor ventilation to storing potent appliances and lacking insulation. This inconsistency can harm the performance of a regular fridge, and that's where garage-ready refrigerators come to the rescue.
Despite how appealing garage-ready refrigerators may appear, it's important to note that it's not all about aesthetics. These refrigerators have unique features that enable them to withstand the fickle friend in your garage. So, what makes them so different from regular refrigerators? Let's find out.
What is the difference between a garage-ready fridge and a regular fridge?
The main difference between a garage-ready fridge and a regular one is the level of resilience. While the latter is more suitable for climate-controlled spaces, a garage-ready fridge is more resilient and can withstand the extreme temperatures in your garage. For instance, garage-ready refrigerators operate within a temperature range of 40F to 110F, which is wider than the temperature range of a regular fridge (approximately 34F to 40F).
Additionally, garage-ready fridges have multiple temperature sensors and more powerful compressors for optimal functionality even in freezing temperatures. Unlike regular fridges, they have an advanced cooling system and are made of resilient materials. Not to mention features such as thick insulation and additional door seals that help regulate the temperature within the fridge. Their compact designs, adjustable shelving, and aesthetic appeal are only a bonus.
Best Beer Fridge for Garage Reviews 2023
The Whytner beverage refrigerator is a great bargain featuring a state-of-the-art design. It stands out owing to its internal air-cooling fan and powerful compressor. This advanced cooling system guarantees consistent temperature that circulates evenly throughout the refrigerator, keeping your beer chilled at all times. The internal fan-forced compressor also minimizes humidity that would otherwise compromise beer taste.
It also features a mechanical temperature control system that regulates the compressor's operation. This feature guarantees an ideal internal temperature by maintaining it within the range of a high thirty-degree Fahrenheit to mid-sixty degrees Fahrenheit. With this fridge, you can store up to 120 beer cans of 12-oz capacity. It even has adjustable shelves to create space for beverage bottles of different sizes.
Despite the great potency and storage capacity, the Whytner beverage refrigerator graces you with a compact design that can fit in a limited garage space. Its handle is flush with the door's surface, making it even more space-saving. This recessed handle design further enhances its aesthetic appeal, comprising a sleek black cooler cabinet, glass door, and subtle LED lighting for easy viewing.
Pros
Unique air-cooling system comprising of fan-forced circulation and a potent compressor to maintain a consistent chill temperature
It has a mechanical temperature adjustment system
Five-tier and spacious enough to hold up to 120 beer cans
It features a compact and elegant design
It has reversible door hinges for convenient installation
It has a recessed handle that saves on space while enhancing aesthetics
Cons
The fan and powerful compressor can get noisy
It features a manual defrost system, meaning you have to periodically check for frost and manually remove it to avoid buildup, which can be tiresome.
Buy on Amazon
If you're searching for a versatile refrigerator for use in the garage and on the go, the ICECO portable refrigerator is for you. As the name implies, this unit offers mobility thanks to its compact yet robust design. The unit is built for the road, featuring a 40-degree anti-shake design, so you don't have to worry about disorienting your drinks while on off-road trips.
It features an adjustable cooling rate, allowing you to adjust the temperature from a minimum of -18℃ to a maximum of 10℃, depending on preference. This way, you can make the cooler more energy efficient by setting it at a minimal temperature. Thanks to the cooler's ECO mode feature, you can save some energy even at maximum temperature.
Its independent AC and DC output ports are handy if you need to recharge it. It also has a three-level battery protection system that triggers automatic shut-down whenever your car battery is low. Therefore, you don't have to worry about depleting your car's battery if you charge the fridge on the road.
Pros
It has two detachable baskets inside for efficient storage or restocking
It offers adequate insulation thanks to its metallic body and thick inner wall
Produces minimal noise
Highly versatile as it can be used in the garage, car, or house
It features a user-friendly and ergonomic design
Promotes garage safety through its independent DC and AC output system
Sturdy corner protectors and hinges for protection against impact damage
The compressor and parts are backed by a five and one-year warranty, respectively
Cons
The AC/DC port connection can be easily knocked out of place because the power outlet isn't well secured to the cooler
Buy on Amazon
Meet the NewAir Beer Froster, the ultimate go-to whenever you have unexpected guests in your home. Equipped with a cutting-edge temperature control system, this unit graces you with two unique modes for the utmost efficiency. Party mode, just as the name implies, is your trusted companion for keeping the fun going by guaranteeing icy cold drinks in less than an hour.
This mode keeps your beverages cool by maintaining a temperature of 23 degrees Fahrenheit for up to six hours. Turbo mode, on the other hand, comes in handy when you can't wait to have a taste of that frosty-cold beer on a hot day by cooling your drink within an hour. Both modes automatically turn off once cooling is complete and the fridge resets to the initial temperature.
With such a fast cooling rate and variable temperature control system, you might wonder whether you'll have to deal with constant ice buildup in the fridge. Fortunately, it features a heated glass door to counter this potential drawback. The heated glass door keeps the frost at bay and enhances aesthetics, adding vigor to your space. Moreover, the fridge guarantees storage space for up to 125 beer cans, so there's enough for everyone!
Pros
Highly adjustable temperature control system (23F – 72F)
Features two efficient modes: Turbo mode and Party mode for fast and prolonged cooling
It features a compact, portable, and sleek design
It has adjustable shelves that are detachable for easy cleaning
Has a heated glassdoor to avoid frost buildup
It has enough space to hold up to 125 beer cans
Cons
Buy on Amazon
This NewAir beverage fridge is a simple yet efficient unit, suitable for your garage, office, living space, or even outdoors. The unit has a compact yet timeless design to fit almost any modern space. It saves you the installation hassle since you have to plug the fridge into an outlet, and you're good to go.
Despite its compact size, this mini fridge is spacious, comprising four shelves and accommodating up to 126 beer cans. The shelves are adjustable, allowing you to cool drinks in bottles of different sizes, including wine and soda bottles. It also features a glass door with a double pane for maximum insulation and easy viewing.
Among this mini fridge's major outstanding features is its 7-custom settings feature. It graces you with a variety of settings to choose from depending on your needs, ranging from 37F to 64F. Also, thanks to its freestanding and relatively lightweight design, you can easily carry it wherever you need it.
Pros
Small footprint
Operates with minimal noise
It has seven custom temperature control settings (37F – 64F)
It features a recessed handle
Has reversible door hinges
It can hold up to 126 beer cans
It has removable and adjustable shelves
Cons
It can be prone to frost buildup if you don't practically remove the frost due to its manual defrost feature
Buy on Amazon
The HomeLabs Beverage Refrigerator is the definition of user-friendliness. For starters, it features a digital thermostat that is easy to use and lets you monitor and control the temperature, giving you precise control over its performance. It also has an adjustable temperature that helps keep your drinks at optimal temperature.
It also exhibits a minimalistic aesthetic that comprises a stainless steel frame and a double-glazed door. The glass door and its interior LED light reinforce user-friendliness by enabling you to view the interior easily, even at night. This space-friendly beer fridge can fit almost any garage, home, or office space.
It has a compact yet spacious design that accommodates up to 120 beer cans. It also prides itself on a reversible door and adjustable legs, enhancing its flexibility in limited spaces. The fridge also features an advanced cooling system that can cool down to 34F to keep your beer chill at all times.
Pros
It features an auto-defrost system
It has a digital thermostat for precise control
Adjustable temperature (34F to 50F)
Energy efficient due to its double-glazed door and adjustable temperature
It has an interior LED light
It features a compact design and has a reversible door
It has adjustable shelves and legs
Relatively quiet operation
Cons
Changing the orientation of the door can be tedious
Buy on Amazon
The Antarctic Star mini fridge is an ideal choice for anyone searching for a minimalistic fridge for storing a few favorite drinks in the garage for convenience. Its compact size lets it fit right into a corner of your garage to keep your drinks within arm's reach. This size also contributes to its versatility, as you can easily transfer it to your kitchen, lounge, or office.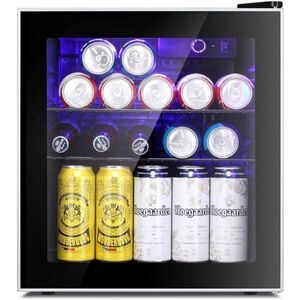 It also graces you with a thermostat with an easy-to-use temperature control knob with three adjustable settings. With this feature, you can adjust the temperature range from 40°F to 61°F to keep your beer at a preferred temperature. To top it off, it features a double-glazed door for visualization, insulation, and energy efficiency.
Despite its miniature size, the compressor is potent enough to guarantee optimal performance. In terms of flexibility, you can count on the unit's moveable shelves, reversible door, and adjustable feet. The mini fridge can accommodate up to 75 beer cans, and the adjustable shelves allow you to store bottles of varying sizes.
Pros
Reversible door
Adjustable temperature (40°F- 61°F)
Compact enough to fit in tight spaces
It has removable and adjustable shelves
Adjustable legs
It has a soft interior LED lighting
Double-glazed door for energy efficiency
Cons
The compressor sound can be irritating
Buy on Amazon
If you're looking for a multipurpose refrigerator to store various items in the garage, the Anukis compact refrigerator is for you. The fridge is compact yet large enough to hold multiple items ranging from beverages to foodstuff such as fruits. It includes three partitions of different sizes, two of which are glass partitions that can store about fifteen 18-oz cans.
Moreover, it has a freezer at the top that is also adequately spacious to reinforce its convenience. With this unit, you'll save money thanks to its energy-efficient design that fosters minimal power consumption and quiet operation. It also graces you with an adjustable temperature control, ranging from 32'F to 50'F for precise control.
Additionally, it features a freestanding design with adjustable feet for balance. Its compact size and compartments for storing different drinks and food items make this refrigerator ideal for anyone who occasionally uses the garage as a lounging space.
Pros
Highly versatile as you can store both food (frozen and fresh) and drinks
Energy efficient
It has an interior LED light
Adjustable feet and glass shelves
Up to seven temperature control levels
Operates with minimal noise
Compact but spacious
Cons
It has a manual defrost system which, despite being energy-efficient, can be time-consuming and tedious
Buy on Amazon
Consider this Midea refrigerator as a mini powerhouse. Compact as it is, it is potent and versatile enough to guarantee your convenience. It even includes a handy freezer compartment whenever you want your beer chilled to the bone. On the other hand, the cooler contains compartments of different sizes and designs, even on the door, giving you ample space to store snacks and beverages.
Despite its miniature size, it features a powerful compressor with minimal energy consumption for efficiency. It has an adjustable temperature, with settings ranging from 32'F to 35.6'F for the utmost convenience. This unit also stands out because of its space-saving features. In addition to its compact size, it features a reversible door that opens from either side for flexibility.
It also has a recessed door handle that helps save space and contributes to its aesthetic appeal. It has a sleek, minimalistic design and can blend in any garage, kitchen, office, or living space. The compact, lightweight, and freestanding design is also a plus for portability.
Pros
It features a compact design with ample capacity
It includes compartments of different sizes for versatility
It consists of a freezer and a cooler
Adjustable temperature
It features a reversible door
It has a recessed door handle
It consists of a rack for storing cans
Adjustable legs
Cons
The freezer isn't ideal for storing frozen food
It lacks interior lighting
Buy on Amazon
Advantages and Disadvantages of beer fridge in a garage
Advantages 
Gone are the days when garages only served as a carport or tool shed. Today, you could use your garage as a home gym, office, guest room, or lounging space. Either way, there are many ways to cozy up your garage space, and getting a beer fridge for the garage is one of them.
But why get a beer fridge for the garage when you can store beer in your regular fridge? Sounds like a luxury. On the contrary, with a beer fridge installed, your garage space becomes convenient and welcoming and makes a statement. With that said, here are some reasons why it's essential to get a beer fridge for your garage:
Convenience – A beer fridge is ideal for anyone who owns a detached garage or spends lots of time in the garage. Having it in the garage saves you the hassle of making several trips to the kitchen to grab a beer, mainly if your garage is detached.
Organization – In most homes, the kitchen refrigerator stores a wide range of food items, snacks, and beverages. A beer fridge will help you take some load off the kitchen refrigerator and create space for more food items by getting a beer refrigerator. You can conveniently organize your favorite drinks in one place rather than mixing everything up in your refrigerator.
Energy efficiency – Unlike full-sized refrigerators, most beer fridges are designed to save energy through their miniature size. Some even feature additional energy-saving features such as ECO mode, double-glazed doors for insulation, and energy-efficient compressors to help you reduce your electricity bills.
Temperature control – Beverages require cooler temperatures than food items to help maintain their taste and quality. Rarely will you come across a regular refrigerator with a temperature control that is chill enough to suit beverages such as beer. On the other hand, beer fridges allow you to adjust the temperatures to as low as 30'F to keep your drinks tasty and frosty at all times.
Aesthetics – If you use the garage as a lounging space, it won't hurt to spice it up a little with a sophisticated beer fridge. You could go for a sleek design that matches your space to add a touch of elegance and spark conversations with your guests.
Entertainment – Don't be a boring host. Take advantage of the convenience of a beer fridge to keep drinks within reach of your guests in the garage and keep them entertained. It encourages guests to make themselves comfortable and reach out for drinks without entering the house.
Disadvantages
Despite the convenience of installing refrigerators in a garage, certain drawbacks come with beer fridges in a garage space.
Some of these demerits include;
Refrigerators take on space you may require for your garage tools or equipment, especially when you have a small garage space.
Bee fridges will require extra energy to run, which may add to your energy bills
The garage-ready fridges are small and may not contain many drinks.
What to consider when buying the best beer fridge for garage: Buyers' Guide 
Based on the benefits above, there's no doubt that getting yourself a quality beer fridge for your garage is an ideal way to keep some frosty brews close at hand. However, you can be spoilt for choice with many designs in the market today. However, don't worry; we have compiled a list of the essential factors to consider when buying the best beer fridge for garage. These include:
Size and Capacity
Your specific needs and those of your garage should dictate the size and capacity of the beer fridge you choose. You don't want a beer fridge that eventually becomes a space hog in your garage. Therefore, be sure to look out for the dimensions of the beer fridge you choose to ensure it fits perfectly in your garage, especially if there's limited space.
Also, if you intend to store a significant amount of beer cans, be sure to check for the capacity of the beer fridge. A beer fridge with about seventy beer cans should suffice if you have occasional mini-parties or simple hangouts in the garage. However, if you're the ultimate party master or intend to throw parties or host large meetups in the garage, you'll want to opt for a beer fridge with a larger capacity for convenience.
Temperature control
Beverages tend to be more temperature sensitive than food items. Have you ever tasted a warm beer on a hot afternoon? It just doesn't hit the right spot like a chilled beer, making temperature control one of the prime factors to consider. A wide range of adjustable temperatures enables you to set the optimum temperature for your beer.
More importantly, the optimum cooling temperature varies from one type of beer to another. You can store various beer types with a wide range of cooling temperatures.
Energy Efficiency
Adding a beer fridge in your garage can affect your electricity bill if you don't choose the right one. An energy-efficient beer fridge has a powerful yet energy-saving compressor. Such fridges often operate with minimal noise, which is also a plus.
Additionally, consider beer fridges that feature ECO mode to help save on energy. Those with double-glazed doors are also ideal because they offer the maximum insulation. A beer fridge with an automated defrost system is also suitable because it prevents frost buildup, which would otherwise compromise the cooling system.
Cooling System
Refrigerators use two cooling systems; cooling by compressors and thermoelectric systems.
Before deciding what unit you want to buy, you must understand and determine what cooling system a specific beer fridge uses.
Often, small-size and capacity fridges use thermoelectric systems. These fridges are inexpensive. Conversely, large-size garage beer fridges, like regular home fridges, use compressors. Most of these units are a bit more pricey than the ones with thermoelectric cooling systems.
However, even though fridges with compressor cooling systems are relatively expensive, they are characterized by low running costs as they are highly energy efficient. Besides, the compressor fridge types are way cooler than the thermoelectric types. The implication is that you will get your drinks at the most preferred temperatures.
With thermoelectric coolers, the contents can only go up to 50°F. They are also less energy efficient, which means, they could be costly to run despite being inexpensive to buy.
Flexibility
If you have limited space in your garage, the flexibility or adjustability of a beer fridge is of the utmost importance. This entails adjustable shelving and reversible door hinges to enable the fridge to fit at almost any spot in the garage. Adjustable shelving is handy if you intend to store beer cans and bottles of different sizes because it allows you to adjust the shelves height accordingly.
Adjustable Shelving
Fridges in a garage are crucial in storing beer bottles and other beverages you and your visitors can use while working or catching up. As such, you want a refrigerator that will provide you with ample storage space. As a result, you must go for fridges with solid shelves that are adjustable and contain the number of beer cans and drinks you project to store.
Choosing a refrigerator with adjustable shelves guarantees you can store beers of all sizes. Also, the versatile shelving units guarantee that you can have bottles of whisky, wines, sodas, and other soft drinks stored in your garage fridge. So, check whether the shelving system on your refrigerator is adjustable.
Design
Even though this could be the least of your worries, sometimes it is essential to consider where the fridge you intend to buy will fit in your garage and the aesthetics or décor of your space.
Fridges come in different shapes and colors. You can choose a color that complements your garage walls to maintain the aesthetics. Also, consider where the refrigerator will sit before you go shopping and then choose the shape that will fit into the space without additional adjustments in the garage that might come at a cost.
When assessing your fridge for preferred design, decide whether you will acquire one with a glass door or not, including the risks associated with handling glasses in your garage space. Even though fridges with glass doors enable you and your visitors to see the drinks available, they can fog quickly and be subject to breakage if not handled cautiously.
Also, glass door fridges can limit the privacy of their contents if you do not prefer such exposure to your visitors or family members such as children. In such an instance, you may not prefer glass door fridges for your garage space.
Durability
Garages store hefty and robust equipment that can destroy your fridge with the slightest contact.
As a result, when buying a garage space fridge, you must go for a type that will be durable in terms of its construction material. Go for fridges made from robust and sturdy materials like steel.
Additional Features
These include simple yet convenient features that make the beer fridge more user-friendly. A transparent glass door, for instance, contributes to the aesthetics while enabling you to view your drinks easily from outside. Even better is a transparent glass door with a recessed handle in the bargain to help save space and reinforce the aesthetics.
Also, consider selecting a beer fridge with interior LED lighting for convenience. Some even include an additional freezer compartment, ideal for extra chilled brews. Those with a warranty should also be your go-to, just in case anything goes wrong. More importantly, consider working within a set budget to avoid making a dent in your pocket, as some beer fridges are costly.
Are garage-ready refrigerators worth it?
While there's no harm in sticking to your regular fridge, garage-ready refrigerators will grace you with undeniable convenience and are worth it. For starters, high energy efficiency is the highlight of garage-ready refrigerators. They are generally designed to be energy-efficient, even in the ever-fluctuating garage environment.
A regular fridge will work harder when the garage temperatures are too high, especially during the summer. This will not only dramatically increase your electricity bills but will also make the refrigerator wear out faster. With a garage-ready refrigerator, expect reduced electricity bills and optimal performance in too-hot or cold temperatures.
Additionally, you can say goodbye to making repeated trips to the kitchen to get a cold drink. A separate fridge in the garage also creates space for more food items in your regular fridge. You'll even get to entertain your guests better by keeping beverages within their reach. These features and the dash of refinement that a garage fridge graces your space with make it a worthy purchase.
Does a garage-ready freezer use more electricity?
Efficient as it is, a garage-ready freezer consumes slightly more energy compared to your regular freezer in the kitchen. The slight difference in energy consumption could be attributed to the constantly fluctuating temperature in the garage. A garage-ready freezer works harder to maintain an optimal temperature in an unstable environment, unlike a regular indoor freezer.
Even so, the model and design of your garage-ready freezer determine its level of energy consumption. Additionally, these freezers exhibit advanced technology and energy-saving aspects, such as extra insulation to help offset some bills. If you were to use your regular freezer in the garage, your energy bills would skyrocket. The difference in energy consumption is almost negligible and is accounted for by the convenience of a garage-ready refrigerator.
Why is my garage freezer freezing?
An extremely low thermostat setting is the most probable cause of a freezing freezer. Before you freak out, consider adjusting the thermostat setting to a more optimal temperature. If this doesn't resolve the issue, you might be dealing with a faulty thermostat, and it's best to seek professional assistance.
Otherwise, it could be due to a broken door seal or constantly leaving it open. Doing so lets warm air into the freezer, causing frost buildup. Therefore, consider replacing the door seal and opening the door only when necessary.
The video below describes how you can install your beer fridge in a garage.
Frequently Asked Questions 
Q1. How long does beer last in the fridge?
Generally, sealed beer can last for six to eight months in the fridge without going bad. It depends on how well you store the beer, the type of beer, and the prevailing temperature. Most manufacturers recommend keeping beer in a cool, dry place away from sunlight. When all these factors are in check, beer can last for months in the fridge while maintaining the initial quality. However, fluctuating temperatures in the garage can compromise this lifespan.
Q2. Are beer fridges worth it?
A beer fridge is a worthy investment if you're a sucker for a frosty beer after a long workday or week. With all its perks, especially in convenience and energy efficiency, owning a beer fridge is an ideal way to help shrug off the day or week with a few friends in the garage. However, ensure you go for one that fits in the garage and, more importantly, your budget to avoid inconveniencing yourself in the long run.
Q3. Can you store food in beer fridges?
While beer fridges are primarily suitable for beverages, you can also use them for some food items. Of importance is to ensure the temperature is ideal for keeping the food fresh. However, beer fridges may not suffice as a common storage space for food items. Even their shelving is designed to accommodate beverage bottles of different sizes. However, why not if you intend to use them to store some snacks occasionally?
Q4. How do you store beer bottles?
The best way to store beer bottles is at a cool temperature, away from direct sunlight. Also, although storing beer cans horizontally can help save on space, consider storing them upright whenever possible to maintain the taste and quality. Keeping beer at an optimal temperature, especially if you're storing the bottles in the garage, could enhance the flavor. An ideal way is to store them in a garage-ready beer fridge with ultimate temperature resilience and a wide range of temperatures.
Q5. What is the best temperature for a beer fridge?
A temperature of 35°F or 1.5°C should be ideal for most American Lagers with minimal alcohol percentage. Other flavors such as ales, stouts, wheat, and sour beers taste better when served at slightly warmer temperatures ranging from 40F to 60F. Consider the type of beer and the prevailing temperature to help maintain your beer's flavor profile.
Q6. How much electricity does a beer fridge use?
A standard-sized beer fridge holding approximately 100 beer cans can consume up to 200 kWh annually, depending on usage, energy efficiency, and the fridge type. On the other hand, beer fridges with a larger capacity that exceeds 200 beer cans consume about 600 kWh per year, also depended on the usage and energy efficiency rating.
Q7. Do I need a special refrigerator for my garage?
Yes. You need garage-ready fridges suited for garage spaces. The refrigerators are designed to perform optimally, both in hot summers and freezing winters.
Garages need these special (garage-ready) refrigerators integrated with various energy-saving components and enhanced insulation to handle the temperature variation at different times of the year.
Even though such refrigerators can be costly compared to regular ones, the design makes them preferable for garage spaces and efficient in winter and summer.
Final thoughts
What better way to shrug off the day than chilling in the garage with a cold, refreshing beer? Based on the convenience it brings, it is safe to say that a beer fridge can be a valuable addition to any garage space. With the aforementioned factors in mind, you should be able to settle for a beer fridge that precisely suits your needs.
Therefore, consider getting yourself one of the best beer fridges for garage spaces and raise a cold one to the newest investment in your garage.