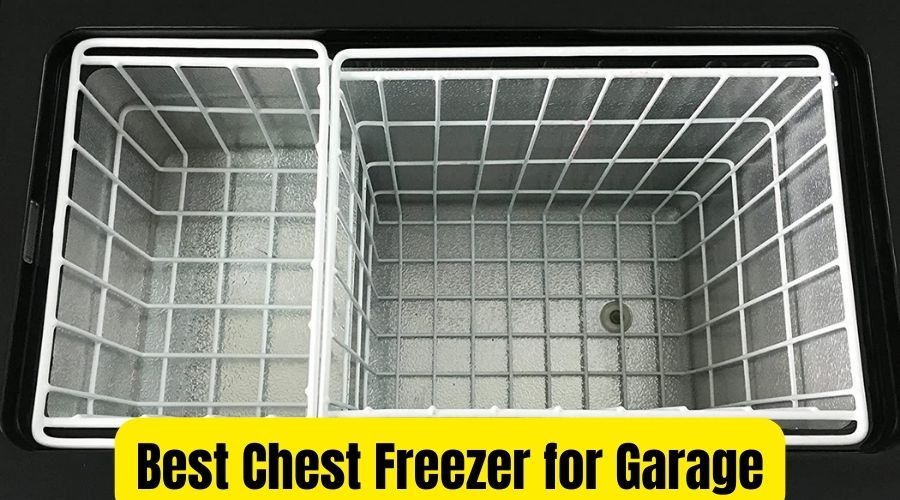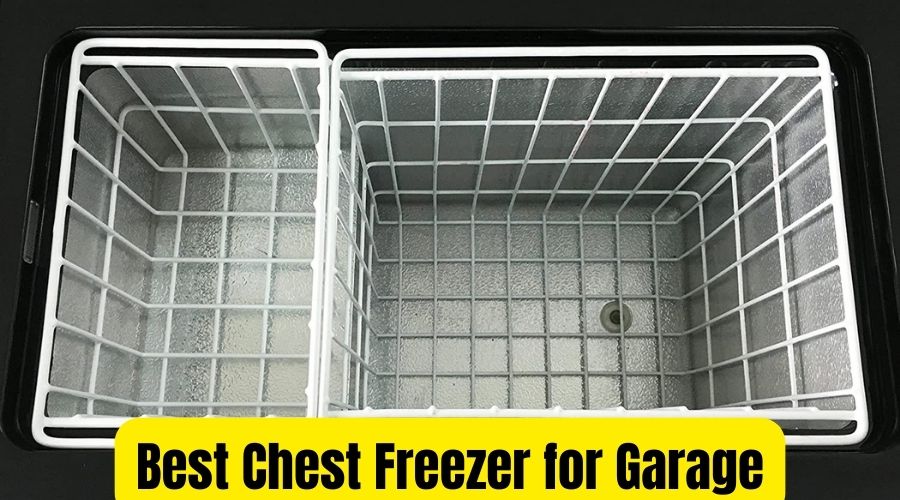 Keeping a freezer in your garage is a perfect way to free up some much-needed floor space in your kitchen. And since most garages usually do not have air conditioning, a chest freezer can be an excellent option.
Chest freezers are typically built with superior insulation that allows them to operate correctly in unfavorable and fluctuating temperatures. They are designed to withstand the severities that come with the changing seasons.
The best chest freezer for garage will preserve your food in extreme cold and extreme heat, which a refrigerator or regular freezer cannot. 
This review piece provides a detailed roundup of the best chest freezers on the market to help you find one for your garage. 
Also Read:
6 Best Chest Freezer for Garage of 2023 At a Glance 
What is a garage-ready freezer? 
A garage-ready freezer is one designed to operate normally in the fluctuating temperatures that characterize uninsulated garages. 
Standard refrigerators and freezers are designed to operate within specific temperature ranges. Such a unit might not work correctly outside of its recommended temperature range. 
Manufacturers typically indicate the highest and lowest temperatures that a freezer can work in on the label. Alternatively, this information will be available on the maker's website or user manual. 
Garage-ready refrigerators and freezers are designed to work on a broader temperature range.
Such freezers can handle frigid environments or hot outdoor temperatures while maintaining optimal temperatures inside. A garage-ready freezer will work in your garage without malfunctioning within temperatures ranging from as low as 0°F to as high as 110°F. 
For this purpose, a garage-ready freezer can provide additional space to keep your favorite foods, including wild game and dessert, fresh all year round. 
Ideally, garage-ready freezers may have one or more of these components to enable them to work in unfavorable conditions without malfunctioning:
A thick insulation

Special compressor

Gasket with a multilayered seal 
When purchasing a freezer for use in your garage, consider looking for a garage-ready option unless your garage is insulated. Attached garages that are included in your home's heating, ventilation, and air conditioning (HVAC) system can also use any standard freezer. 
Once you have identified the freezer you want, compare its allowable temperature range with the extreme lows and highs in your location to determine if it is a suitable option. 
How does a garage-ready freezer work?
When it is hot, the compressor in a freezer works to cool the unit's internal environment. The hotter the temperatures, the harder the compressor will work to create the desired cool environment inside the freezer.
On the other hand, the compressor will not kick on until the temperature outside the freezer is higher than its set temperature. Garage-ready freezers feature thick insulation, specialized compressors, and triple-sealed gaskets to handle the extremes.
This way, they will maintain the internal temperatures at their respective set points despite extreme cold or hot temperatures outside. 
These unique features allow garage-ready freezers to operate correctly in unfavorable conditions that would cause standard freezers to malfunction. 
Best chest freezer for garage reviews 2023
With several brands and models of chest freezers on the market, you may need help finding the best for your needs. For instance, if your garage is uninsulated, you will need a garage-ready option. 
This section reviews the best chest freezers for the garage to help you find your best fit. Read along. 
This is a garage-ready mid-sized freezer, so you can use it to keep your food chilled in the garage even if the space is uninsulated. 
Most users love this Midea Chest Freezer's user-friendly design that makes using it a breeze. It features two removable baskets that make it easier for you to organize your stored items.
Once you open the door, it locks itself in place. This handy feature allows for undisturbed access to the inside of the freezer. You don't have to hold the door, nor will it fall back and interrupt you while organizing its contents. 
A bright LED light comes on immediately after you open the freezer door. This illuminates the unit, making it easier to see the contents or space you need. The light is designed to go out once you close the lid to save power. 
You should be happy to know you can choose from various freezer settings to suit your storage needs. The freezer allows you to set a wide range of temperatures, even converting it into a refrigerator when needed.
The casters on this Midea Chest Freezer make it easy to move around your garage, depending on how you wish to use the space. 
You can also easily defrost the freezer, thanks to a drainage hole on the bottom of the freezer. 
Pros 
A removable basket makes it easy to clean the unit

It has an adjustable thermostat to let you choose your preferred temperature setting. 

The unit is sturdy, making it ideal for use in the garage. 

You can raise the door up to 75 degrees open to simplify access to its storage space. 

It comes with a full one-year warranty and a two-year warranty for the compressor.
Cons:
Some users feel the manufacturer should have included more than one basket with this unit. 
Buy on Amazon
If you want a chest freezer that you can easily keep in the garage and take with you on your family camping trips, this 85-quart option from Whynter is perfect.
It is small and compact enough to fit in your vehicle or motorhome for a trip and is large enough to free up some space in your kitchen refrigerator.
The unit comes with both DC and AC power cords. You can use the AC cord to power it when keeping it in the garage and the DC option for plugging it into your car lighter socket during your trips. 
With adjustable temperature settings on the unit, you can choose to use it as a refrigerator in your garage or freezer for carrying frozen food on camping trips, RVs, or boats. A simple touch of a button is all you need to adjust the temperature to your preferred setting. 
This freezer has two baskets that make it easier to organize food items. Each basket is removable, so it should be easy to access what you need in the unit. 
Pros 
The freezer is convertible into a refrigerator and back, thanks to an adjustable temperature control ranging from -8°F to 50°F.
The compact size of the unit makes it easy to move around. 

Two removable baskets in the freezer allow for flexible and versatile storage options. 

It has a Fast Freeze mode for rapid cooling to -8°F.

An LED temperature display on the unit allows you to monitor the temperature setting easily. 

You can use the two power supply cords that come with the freezer to simultaneously let the DC power kick in as a backup during an outage. 
Cons
The unit is relatively expensive for its size.

Its small storage capacity may also be limited for people with more storage needs. 
Buy on Amazon
If you prefer to be prepared with lots of frozen food all year, you will need ample storage. The Danby DCF072A3BDB chest freezer features a whopping 7.2 cubic feet of storage space, which is spacious enough to store frozen food for a large family.
The chest freezer comes in a matte black or white finish, setting it apart from an average freezer. It has a sturdy build resembling that of a toolbox, making it ideal for the garage. Those solid objects occasionally falling on it won't make it flinch. 
The matte black or white color is also likely to blend in with most garage space décors. 
Most users hail the freezer for its quiet operation. Like many premium Danby appliances, this freezer works quietly in the chosen corner of your garage, so it won't disturb your peace when using the space as an extension of your living space.
You should be happy to know the freezer has a long warranty of 5 years. This limited warranty is one indication that the unit is durable and likely dependable. 
It has two wheels on the rear for easy mobility and two front leveling legs that simplify its installation. The design makes it a breeze to move around from time to time or as desired. 
Pros 
The freezer is garage-ready upon purchase. 

The wire basket in this freezer is adjustable. This helps ensure more customizable storage. 
It is energy efficient and eco-friendly.

It comes in a white or matte black finish that blends in with the rest of your décor easily.

It comes with a 5-year limited warranty

It operates quietly 
Cons 
The unit comes with only one basket, with the option to add more baskets at an extra cost. 
Buy on Amazon
If you only have a small family, you probably need only a small freezer for your garage storage. If that is the case, this 45-quart unit may be ideal for you.
Thanks to adjustable temperature control, you can easily convert the unit from a freezer to a refrigerator to satisfy your cooling needs. You can choose freezing temperatures as low as -8°F to keep your foods chilled or set it to 50°F to use as a refrigerator.
With a bright LED temperature display, you can quickly tell the temperature the unit has been set to. 
It also has a Fast Freeze mode that you can choose for rapid cooling when time is of the essence. 
Two storage baskets occupy the freezer's interior space, allowing you to easily organize your food items. 
The removable wire baskets do an excellent job of making your stored items more accessible. They also make it easier to clean the unit once it has picked up some dirt.  
Despite the small size, the freezer is relatively heavy, weighing in at 52 pounds. 
You can plug the appliance into your AC power while in the garage or use a combination of DC and AC power while on your RV or boat trip. This is because it works with 115V AC and 12 and 24V DC power. 
Pros 
The freezer works with the 12-volt DC outlet commonly found on RVs and boats. 

Adjustable temperature allows you to use it as a freezer and refrigerator

You can use both DC and AC power sources simultaneously to let the DC act as a handy backup. 

Thick insulated walls and lid provide reliable temperature control 

It is ETL approved
It boasts a wide temperature range
Cons 
It is heavy for its size. 
Buy on Amazon
Here is a chest freezer that provides you with plenty of space at a fraction of the price of competing brands. 
The unit is specially designed to add up to five cubic feet of food storage space to your garage in a compact unit.
It features a sleek design and a black color that is likely to blend in with any garage interior regardless of the décor.
The removable wire basket in this unit makes it easy to access and organize your food items. It also simplifies cleaning when it's time to remove the dirt. 
The freezer features defrost drain that is easy to access. This feature, together with the easy-clean interior and gasket, help make your life easier. You will also like the recessed handle that makes it effortless to use.  
One of the features that the majority of users love is the freezer's energy efficiency. Most users agree that the chest freezer is highly energy efficient, with an estimated annual power consumption of just about 218 kilowatts.
Pros 
The unit comes in double-layer packaging for safe delivery.

It is inexpensive for its size 

It weighs less than other brands of its size.

It offers plenty of storage space 
Cons 
The freezer has few bells and whistles, which may be unappealing to users who prefer sophisticated designs. 
Buy on Amazon
This Avanti chest freezer is 16.5 inches wide, making it slim enough to fit tight spaces. If you have a one-car garage, you will likely have limited room in the garage for a freezer. The space-saving design of this unit should come in handy in such a case.
Despite being small, the unit packs a few bells and whistles that you may find useful. It boasts a 7-setting temperature control that you can adjust to conserve energy. Meanwhile, the power indicator light will let you know when the freezer is on. 
This model from Avanti has a removable storage basket for convenience. It allows you to organize your food items and reach them quickly when needed.  
Its manual defrost option helps maintain a more consistent temperature and ensures your frozen food remains fresh.
Pros 
This freezer has a conveniently located defrost water drain for removing water during defrosting. 

It is user-friendly thanks to multiple handy features 

It is easy to organize due to its small size 

It features a removable basket for better access. 

The model comes with a one-year warranty 

It is Energy Star certified.
Cons 
This freezer is not garage ready 

The small profile may mean you are out of luck if you want to keep bulkier food items frozen.
Buy on Amazon
Best Chest Freezer for Garage Buyers' Guide 2023
What to Look for in a Chest Freezer
Now that you have narrowed down to a select few top options on the market, how do you arrive at your final pick? 
Knowing the factors to consider when shopping for a freezer for your garage will help make your work easier. Here are the things to look for in a chest freezer. 
Options for organizing items in the freezer 
You are likely aware that standard refrigerators are designed with shelving that makes organization a breeze. All you have to do is choose a shelf for a specific category of food items and another for a different set of food items. 
Most refrigerators even specify the type of food items to keep in a certain section. For instance, there is a part for fresh vegetables and fruits and another for meats. 
This is where a standard refrigerator beats the pants off a chest freezer. The latter is an upright unit designed to be opened from the top. This design robs chest freezers of the privilege of shelving. 
Instead, these freezers have baskets and dividers depending on the model. Your chest freezer may have anything from one to three baskets, making organization challenging. 
Some people simply throw items randomly into these workhorses and let the freezers do the rest. 
Wire baskets and dividers can do a passable job separating various food types, but they are still limited in this regard. So you must be meticulous in how you use your chest freezer space to keep everything organized. 
Otherwise, the space can easily become crowded and disorganized. Try labeling any bags and keeping like items together for better organization. 
Chest freezers come in various sizes. The bigger the unit, the more capacity it will offer for storage. If you have a ton of things to keep frozen, you will naturally require a bigger freezer with a bigger capacity. 
For a small family with fewer things to keep frozen, you can go for a smaller freezer. A compact freezer size is also ideal for smaller garages with little room to accommodate large units. 
Keep in mind that the amount of space in your freezer will directly determine the volume of things you can keep inside it.
The capacity of a freezer is typically measured in cubic feet. On average, chest freezer sizes can be as little as three cubic feet, while the larger ones measure as much as 22 cubic feet. 
Most standard-size models have internal spaces averaging roughly 15 cubic feet. When choosing your freezer size, consider your storage needs as well as the amount of room in your garage.
Will the garage space be enough? Will the space inside the unit be enough for your needs? Once you answer both questions correctly, you should be able to identify the right fit without a hassle. 
Convenient defrosting: manual or automatic? 
The difference between manual and automatic defrosting is the input required. A machine with automatic defrosting has coils that heat up at specific intervals to melt the accumulated ice, so you do not have to do it yourself.
Freezers with this technology are termed self-defrosting or frost-free. While they do an excellent job of making your life easier, they come at a higher price than their peers. 
On the other hand, units with manual defrosting will accumulate frost until you remove it yourself. The more you use a freezer, the more the frost buildup. 
So you must occasionally unplug the freezer, empty it and then chip away the accumulated frost before draining and cleaning it. Defrosting is recommended as soon as the ice buildup is about a quarter-inch thick. 
Proper defrosting and cleaning are crucial as they help ensure that your frozen foods remain fresh. 
Maintenance involves defrosting, draining, cleaning, and pretty much everything that ensures the unit remains in good condition.
In the garage, tools may fall from time to time, or dirt may accumulate on surfaces. You want to ensure you keep the unit clear of falling objects or vehicle fluids that may affect or damage it. You also want to wipe the dirt off its surface from time to time to ensure it is clean. 
While these basics apply to all chest freezers, defrosting is different. Depending on how much maintenance work you are willing to put in, you can choose between self-defrosting and manual defrosting options.
Frost-free freezers will defrost themselves, making them easier to maintain than manual options that you must defrost from time to time to remove buildup. 
Other components that will influence the ease of maintaining your unit include drain spouts at the base of the freezer and castors for moving the unit around. 
While some freezers have only the most basic features, others have more standout features that can make them more convenient to use. 
For instance, if your unit is garage-ready, it will operate properly in an uninsulated garage despite extremely hot or cold external temperatures. This means the appliance will you're your food perfectly frozen all year. 
You may also fancy a unit with an exterior temperature display or power light to let you know when it is plugged in and keep your sweet treats fresh. 
The other standout feature found on select models is the safety lock. This can be handy as it protects the contents of your freezer from unwanted access.
When shopping for a chest freezer, pay attention to the standout features that matter to you and ensure the model you are buying has them. 
Can you keep a freezer in an unheated garage during winter?
Yes, you can keep a freezer in an unheated garage during winter if the freezer is garage-ready. Still, keeping a freezer in an unheated garage is counter-intuitive and not recommended since freezing temperatures negatively affect the unit's working.  
A chilly environment around your freezer tricks it into thinking it has reached a freezing point inside. This can prevent the unit from keeping your food frozen as required, as the freezer's thermostat will shut off if the temperatures outside the freezer are colder than inside.
The thermostat may shut off more frequently than it should or simply stop working altogether. 
In these conditions, a number of bad things may happen: 
Food in the freezer may start to thaw 

Frost may build around the freezer, covering its insulation and eventually damaging the insulation inside it. 

The freezing mechanism inside the unit may get damaged.

The compressor will work harder than it should, driving your energy bills through the roof. 
Note: 
Garage-ready refrigerators will handle these extremities better than a standard model. However, they also have their thresholds beyond which they can get damaged too. So always check the freezer's temperature range against the cold and high temperatures within which it will work. 
Do you need a special freezer for the garage?
Most garages are either uninsulated or have no air conditioning to regulate indoor temperatures. 
This means the garage can experience significant temperature fluctuations where you keep the freezer. 
Since ambient temperatures affect the working of your refrigerator or freezer, you need a unit built to withstand the unfavorable conditions inside the garage. This is where a garage-ready freezer comes in. 
Such a freezer gives you the extra space to store food items prepped ahead without worrying about them going bad due to fluctuating temperatures. 
The below video compares chest vs. upright freezer. Watch to get more insight when making a purchase decision.
Conclusion 
The freezer compartment in your kitchen refrigerator typically has a limited capacity that easily gets filled up. If you like stocking up on seasonal food items, you may have little luck with this unit. That is where a garage chest freezer may come in handy. 
A garage chest freezer is an ideal solution for freeing up space in the kitchen and adding some much-needed storage room for your family's seasonal treats.
It provides more space to keep your foods frozen and is a perfect way to overcome the limitations of a standard kitchen refrigerator. 
When it is time to buy a chest freezer for your kitchen, we hope this review and user guide helps you find a suitable option.