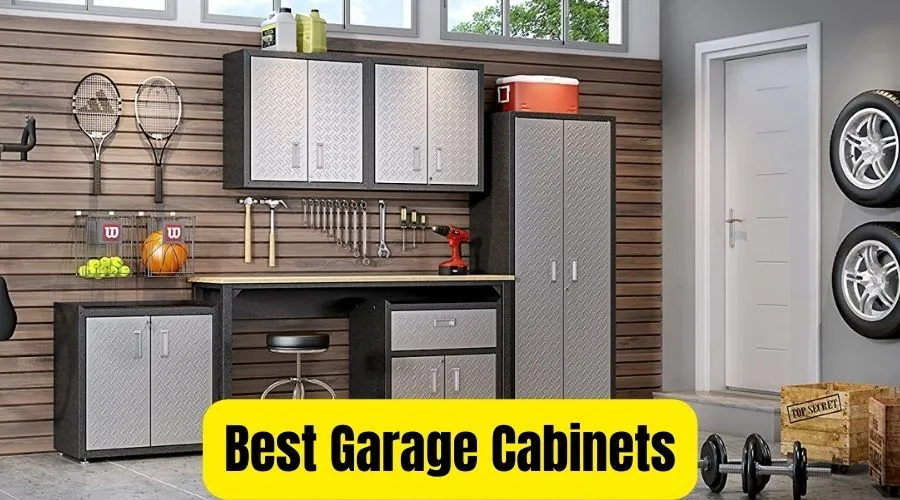 With the garage serving as the ultimate storage location for most homeowners, you need a way to organize all the items in there. You don't want your sports paraphernalia, tools, and equipment tipping over and denting your vehicle.
This is where garage storage cabinets come in. They offer an excellent way to de-clutter the space by keeping your stuff neatly out of sight. This can go a long way in reducing accidents and keeping your things safe. 
But since not all garage cabinets are equal, how do you find a suitable option for your home? 
Read along to learn about the best garage cabinets, the various types on the market, and what to consider when choosing one. 
Best Garage Cabinets at a Glance 2023
Types of garage storage cabinets on the market 
Garage cabinets are available in many different types, so you need to know these types to choose better for your storage needs.
When purchasing a garage storage cabinet, you can choose anything from wall-mounted, customizable, freestanding, modular, overhead, and rolling cabinets.
Your ideal garage cabinet choice should depend on your storage needs. Here is a detailed look at the popular types of cabinets available. 
As the name suggests, wall-mounted cabinets sit against the wall. After buying one, you use a bracket and a set of bolts and nuts to fasten it to the wall. 
This way, wall-mounted cabinets free up a significant amount of floor space by transferring your stuff to a small section of the wall. They are ideal for smaller garages with limited floor space for your vehicle and for moving around. 
These cabinets are mounted on the ceiling using compatible brackets and fastening bolts. Like wall-mounted options, overhead cabinets are ideal for smaller garages with high ceilings. 
By transferring your stuff to the ceiling, the cabinet effectively frees up the much-needed floor space while making the most of the extra overhead space. 
Some overhead cabinets come with built-in lights, which can illuminate your garage at no extra cost. 
These are a primary type of garage storage cabinets featuring a simple rectangular design, two or more doors, and adjustable shelves in most cases. Freestanding cabinets can have a height of 5 to 6 feet.
They get their name from their standalone design. These cabinets do not attach to the wall or other cabinets. Instead, they feature a solid base or sturdy legs for support.
The adjustable shelves on these cabinets allow you to set them to your desired level for better organization of your items. 
Rolling cabinets get their name from their wheels, allowing you to move them around easily. They are ideal for homeowners who use their garages as workshops. 
With a movable cabinet, you can reposition the unit from time to time to bring the tools you need close to where you are working or get the whole thing out of the way. 
Rolling cabinets can be available as a freestanding unit or come in a modular set and are available in various sizes. Nonetheless, their sets of wheels are their main distinguishing feature. 
These are garage storage cabinets designed as part of an elaborate storage system. Their modular design allows you to arrange them in a way that suits your space and storage needs.
Perhaps the most significant advantage of modular or customizable storage cabinets is their flexibility. They give you the utmost control over how you configure your garage's cabinetry.
Best Garage Cabinet Reviews 2023
With the many garage storage solutions to choose from, it can take time to pick what you need. 
For that reason, we have researched and put together the best garage storage cabinets to take the burden off your shoulders. 
When you don't have a ton of space in your garage, the Manhattan Comfort cabinet may be an excellent choice. Its small size allows it to fit in the smallest garage spaces while allowing you enough room to move around.
Since the unit is wall-mounted, it effectively frees up the much-needed floor space in smaller garages. This can be a great way to move things away from the floor so your vehicle can have enough room to park without getting scratched.
This floating garage cabinet allows for more customizable storage with its convenient, adjustable shelf to accommodate tools and items of various sizes. This gives you more options for keeping your small garage space organized. 
The unit boasts a high-quality stainless steel construction that ensures long-lasting durability, so you can save money in the long run.
Its classic silver-gray finish is neutral enough to match any garage interiors. And you won't need to hire a technician to assemble or install it for you; it comes with straightforward assembly instructions to guide you through the process. 
You also get the wall brackets, bolts, and nuts you need to install it. This further makes its assembly a stress-free process.
The convenient design allows you to easily combine more of these units, installing them side by side for added storage. Since it is inexpensive, you will not break the bank to purchase multiple Manhattan Comfort cabinets for your garage.
Pros 
This floating cabinet comes with a door lock and key to prevent unauthorized access to your stored items.

This product is inexpensive. 

It boasts attractive, silver-studded doors and recessed handles to tie up the look.

The floating design allows it to keep your miscellaneous items off the garage floor and onto a convenient space on the wall.

The stainless steel construction is durable. 

It offers a 44-pound weight capacity, which is adequate 
Cons
Installation may be slightly challenging and requires attention to detail. 
Buy on Amazon
The Ulti-MATE garage cabinet kit is the perfect embodiment of beauty and functionality. It is an eight-piece kit that provides you with ample storage space to de-clatter a big garage.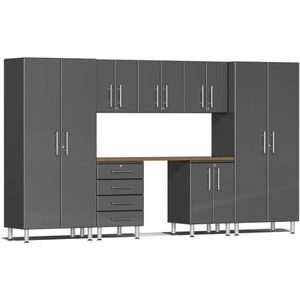 The massive size means you may need only one of these to take care of all your garage storage needs. Notice, however, that the massive size also means it may take up too much space, so we do not recommend it for smaller garages. 
Since it lacks rolling feet, moving it may be a problem. But the modular design should help cancel that limitation. You can assemble the unit in the space where you want it to stay, so you will not need to move it around. 
Just asses your garage and decide where you want the storage unit. Once decided, be ready to stick with that location. 
The modular design further presents you with infinite customization options. You could expand or reduce the unit to fit into your space. 
The cabinet features a unique, recessed bamboo worktop where you can place items for quick access. 
The designer-style 6-inch feet on the unit do an excellent job of keeping it from the ground. This elevated height means your cabinets are safe from ground moisture damage. You should be happy to know the shelves in the unit are adjustable, so you can set them to your desired level. 
The thick one-inch shelves on the cabinet deliver industrial strength giving it a whopping 200-pound load rating. This means you won't have to worry about where to put your overweight tools. 
Its metallic gloss finish should blend in perfectly with most car colors, giving your garage a unified look. 
The cabinets' robust construction helps ensure long-lasting durability. Once you have this unit, your garage storage needs are sorted for years.
Pros 
It features a bamboo worktop.

It has soft-close hinges for quiet opening and closing 

The lock on the unit helps keep your stored items safe

Your purchase includes wall mounting cleat, increasing your installation options 

It comes with a 10-year parts warranty
Cons
The unit is heavy, at 911 pounds

It requires assembly 
Buy on Amazon
Here is one of the most popular metal storage cabinets on the market today, which is not by accident. The unit features a durable metal construction that is sure to last.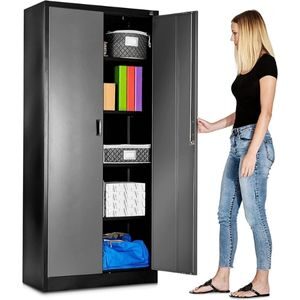 It has a stainless steel body that houses five shelves, each that can hold up to 180 pounds of your tools and equipment. The stainless steel cabinet stands on adjustable feet, so you can choose how tall you want your unit to stand. 
The freestanding cabinet keeps your accessories and tools safe with its strong lock and key system designed to prevent unauthorized access. Each unit comes with its security system pre-installed to simplify things for you.
Customizable shelves will be handy if you have a wide range of things to store in the cabinet. They allow you to configure them accordingly to accommodate items of various shapes and sizes. 
This cabinet tips the scale at 900 pounds when fully packed, which is massive storage for your tools and equipment. 
While the unit requires assembly upon purchase, the maker has included step-by-step assembly instructions to make the entire process a walk in the park. 
Pros 
It has adjustable shelf height for better and easier customization of your cabinet storage. 

The cabinet is lockable to prevent unauthorized access. 
Heavy-duty construction makes the cabinet durable and long-lasting 

It is easy to install, thanks to straightforward installation instructions 

The unit has a large storage capacity 
Cons
It is heavy compared to similar options
Buy on Amazon
Industrial-grade steel construction makes this rolling cabinet super durable and strong enough to house up to 600 pounds of yard equipment, tools, and more.
Since you can move the unit around, dust, dirt, or moisture won't accumulate behind it. You can quickly get it out of the way and clean behind it to keep your garage sound. 
You could also get it closer to your workspace if the garage is your workshop. This means you do not have to strain your back carrying tools around the space—just drag the entire cabinet and bring it closer to where you are working to access its contents. 
The durable all-around steel construction means the unit will last a long time, saving you money in the long run. 
Its grey color should match any garage interior, looking great in any interior space and saving you the trouble of finding matching colors. 
This garage cabinet boasts a height of 72 inches and a width of 36 inches. So it is big enough to accommodate your sports equipment, tools, and more. Just one of these should be enough to solve your garage storage needs. 
Up to three adjustable shelves allow you the privilege of customization. You can move them around to fit your pieces and organize your storage the way you want it.
Pros 
It has a heavy-duty duty steel construction for durability 

Lockable stainless-steel doors help keep your stored items safe with a unique three-point locking system.

UltraGuard fingerprint-resistant coating on the doors helps to prevent stains and smudges while promoting longevity.

The unit is easy to install 

It has high-capacity storage, holding up to 600 pounds of items 
Cons
Buy on Amazon
The Rubbermaid lockable cabinet may be perfect if you have many miscellaneous items, tools, and supplies to keep off the garage floor. The mammoth unit offers a whopping 680 pounds of storage capacity, enough to keep all your sundry items and a lot more neatly out of sight.
The freestanding garage cabinet stands 6 feet tall, making it one of the bigger options on the market. 
The high-density polyethylene construction is sturdy, making the unit long-lasting and durable. 
Each of its four shelves can carry up to 170 pounds worth of tools and supplies, making it ideal for storing your huge cans of paint, tools, and various other items.
You should be delighted to know that the cabinet is rust-proof, making it perfect for a moisture-prone garage with no climate control. It also resists warping, except when exposed to too much heat.
Since the unit is waterproof, it is ideal for safely keeping your metallic tools and equipment that might rust when exposed to water or humid environments.
You can install the cabinet even with little experience. The parts are designed to snap together for stress-free assembly. This means the installation process won't require dealing with sophisticated tools. 
Pros 
Tough resin material makes the unit durable and long-lasting

It is strong enough to hold up to 690 pounds of weight.

It has four shelves for more organized storage. 

It is lockable to keep your valuable items safe from unauthorized access 

The unit is rust-proof and resistant to warping 

It is easy to install without using tools 
Cons 
The shelves are fixed, so you cannot adjust them for customized storage. 
Buy on Amazon
Look no further than this Seville Classics Rolling Cabinet with drawers for a garage storage cabinet that will also double as a workbench.
You can use the drawers to keep your tools and the top as your workbench, solving all your DIY needs in a single purchase. The work surface is a thick solid hardwood that will provide the sturdy platform you need for any DIY task.
And you don't have to worry about the security of your valuable tools, thanks to a heavy-duty stainless steel door on the unit that comes with key lock security.
The unit has wheels for easy mobility. You can quickly move it to the center of your garage to use the worktop for your DIY activities and return it to a corner once you are done for the day. 
Using it as your workbench also means you do not have to look for another workbench that would take up extra space in the garage. 
With a 300-pound loading capacity, the cabinet offers enough storage for your tools and any miscellaneous items you need for your DIY. And since the cabinet shelf is adjustable, you should enjoy modifying it to suit your storage needs. 
Pros 
The cabinet has a sturdy worktop ideal for a garage workshop 

It keeps your items safe with a lockable steel door 

The shelf is adjustable to allow you to set your desired height 

It has rolling wheels for easy mobility 
Cons  
The unit is slightly more expensive than competing brands.
Buy on Amazon
Best Garage Cabinets Buyers' Guide 2023
Features to consider when shopping for garage cabinets 
When shopping for garage cabinets, you will notice that the market is flooded with various types and models. Such a host of options can make it stressful trying to narrow your choices to a specific one.
Having a checklist of the things to consider when shopping for garage cabinets will help narrow your search by reducing your options to a specific few. 
Here are the things to consider when shopping for garage storage cabinets.
While stainless steel is a common material for making garage cabinets, it is not the only material you will find when shopping for these storage solutions. 
Garage storage cabinets also come in wood, plastic, and aluminum. Each material has a set of characteristics that can make it more advantageous and suitable for your storage needs than others. 
Stainless steel cabinets are still the best option as the metal offers durability and unparalleled strength. Aluminum material is equally good, offering incredible strength and durability, making these metallic options the best for a busy garage workshop.
The strong metal means the cabinet can take a hit from falling tools and carry the weight of your power tools and equipment without flinching.  
Wood provides a classic cabinet look, but is vulnerable to moisture. It is the material you want to avoid if your garage has no climate control, as the excessive moisture may cause the wood to warp and get damaged prematurely. 
However, if water or moisture is not a problem in your garage, you may get away with a lower cost and purchase a sturdy wooden unit for most of your power tools and yard equipment. 
Since wood is susceptible to denting and damage from fasteners and tools, it is ideal for a garage that is not busy, preferably with air conditioning. 
Plastic garage storage cabinets are ideal for light- to medium-weight items as they offer moderate strength compared to metal cabinets. While plastic may not necessarily be stronger than wood, it is waterproof, so it resists warping in moist or wet environments better than wood.
Plastic is also lightweight, which can be advantageous where weight is a factor. 
Even though plastic may not be ideal for storing heavy objects, the cabinets are durable and can last a long time when maintained well and kept away from excessive heat. 
The size of your garage storage cabinet will depend mainly on the size of your garage. The number of things you wish to store in the cabinet will also play a role in determining your desired cabinet size. 
So, when shopping for a cabinet, consider the dimensions of the garage space where you want it and use those measurements to decide the ideal cabinet size for you.
You don't want to invest in an oversized storage unit that will not fit in your space. Neither do you want to buy a tiny cabinet that will not provide adequate storage space for your things when you have a big enough garage. 
For smaller garages, a wall storage unit may be ideal. It is an excellent way to free up the much-needed floor space and utilize a small space on the wall. A ceiling cabinet will have the same benefit if your garage ceiling is high enough. 
A standard, average-sized cabinet should cut it for a two-car or medium-sized garage. 
While freestanding and roller garage storage units require no wall brackets to install, other types must be screwed into the wall or ceiling using brackets. Such installations require you to locate the wall studs on ceiling beams to secure the brackets. 
If you choose a customizable, modular, overhead, or wall-mounted cabinet, expect to use brackets that need to be secured onto the wall or ceiling. 
For such cabinets, you will need to use a tool such as a stud finder to locate the beams inside the walls or ceiling. You must find these beams to fasten the cabinet and make the most of its load capacity.
So, ensure you take these factors into account when purchasing your unit. Otherwise, stick with a wheeled or freestanding storage cabinet that will be easy to assemble and install.
The nature of the items you wish to store
Any cabinet will likely suffice if you want to use the cabinet for storing paint cans and similar other miscellaneous objects. But if you have sophisticated power tools and special gear to keep in your garage, you may have to consider the size and shape of the unit you are buying.
Ideally, a cabinet with adjustable shelves will be an excellent choice as it allows you to move things around and accommodate your special storage needs. 
However, if you choose a unit with fixed components, you must check the dimensions of what you want to store in the cabinet before purchasing one. Your storage needs play a key role in restricting your options to a specific type of storage unit. 
As an example, steel cabinets will be the ideal choice for storing larger power tools. Their strong shelves provide the sturdy platform needed to handle the weight. 
The load capacity of the cabinet  
The maximum weight capacity of a storage unit limits what you can keep inside it. On the one hand, overloading your cabinet will significantly reduce its lifespan, if not damage it immediately.
On the other hand, keeping fewer things than a cabinet's weight capacity results in wasted space. 
Notice that larger cabinets often cost more than smaller ones. So spending more money on a larger cabinet and not utilizing that extra space is akin to wasting money on a storage space you don't need. 
Therefore, once you have determined the volume and weight of things you wish to store in a cabinet, go for one that offers an equivalent load capacity. The idea is to match your storage needs with the cabinet's load capacity. 
Metal cabinets will typically have the highest weight capacities. However, sturdy plastic and wood cabinets can also measure up and match the weight capacity of competing steel or aluminum units, so your options are not limited by the material. 
Additional security, aesthetic, and efficiency features
Other than the primary functional features of a garage cabinet, the units can also have various features added to boost security, aesthetics, and efficiency. 
For instance, you will want cabinets with the best door locks if the safety of your stored items is essential. Good locks help prevent unauthorized access to your cabinets, keeping the contents safe. 
Such protection can also protect your family by ensuring no one can access potentially dangerous items like blades and power tools without your supervision. 
Other units also feature a recessed or integrated workbench or built-in lighting. When purchasing cabinets, consider which of these added features suits your needs, then choose the one with the best combination of features important to you. 
The video below shows how to build a Cabinet box. You can follow the video to learn how to build a cabinet box by yourself if you do not have extra penny to spend on cabinet storage system.
Final Thoughts on the Best Garage Cabinets
All things considered, the best garage cabinets will depend largely on your garage size and storage needs. Nonetheless, some cabinets offer a better combination of features that make them suitable for a wide range of use scenarios. 
Our top choice of the best garage storage cabinet is the Seville Classics Rolling Cabinet which offers unbeaten durability, strength, security, neutral color, a sleek design, and mobility owing to its wheeled design.