If you intend to use your garage for purposes other than keeping your vehicle, keeping the space comfortable throughout the year is essential.
For instance, if you turn the garage space into a game room, music practice theater, or gym, you will need to insulate it to make it conducive. 
With insulated garage doors now available for purchase, you can choose the best insulated garage doors to seal your home against energy loss. This can go a long way in keeping cold air out during the chilly winter months, helping you keep your energy bills low.
But which insulated garage doors are best?
Read along to find out. 
Also Read;
Best insulated garage doors at a glance  
Types of insulated garage doors 
The best insulated garage doors are available in different types. This means you do not have to reconfigure your garage to accommodate a different door type if it is already designed for a specific kind. 
You can choose the type that best fits your garage design or change to a different one that offers the best insulation for your home. 
Here are the door types with excellent insulated panels to choose from. 
Insulated sectional garage doors

 
These are double-skinned doors with thick insulation foams in their core that rise vertically and split into many sections. 
The standard insulated door usually has four sections along its height. Each section consists of steel panels with 40 to 67-mm thick insulation filling the gap between them. 
The insulated sectional door also features an embedded rubber seal in each joint section to provide insulation between the individual panels.  
The doors are made of galvanized steel, guaranteeing strength and durability. The galvanized steel construction of each section provides the greatest levels of strength and stability, making sectional doors the most superior insulated garage door types.  
The doors can provide various U values depending on how well they are installed. Correctly installing the doors means considering the floor levels and side panels and adequately sealing them for the best results. 
Ideally, the sectional door installation involves placing rubber weather seals around the frame to provide weather protection in these overlapping areas. The door must also be installed behind the structural opening to allow the panels to overlap the garage piers and lintel. 
2. Insulated roller garage doors
These are aluminum roller garage doors with insulation inside each slat. The insulation in the slats adds to their strength while also upping their U value. 
Roller garage doors have roughly 20mm thick insulation, even though the exact U value of each unit may be hard to determine. You can expect these insulation values to vary from one roller door to another since many factors determine them.
Some roller door makers also use thinner slats, offering less insulation than standard roller doors.
When buying these doors, you want to look at the company's reputation to ensure you are getting a good quality aluminum roller door filled with insulation foam. Such an option will be sure to provide sound insulation levels.
Still, the door must sit behind the structural opening of the garage the same way sectional doors do to offer maximum insulation.
In any case, a roller door will provide less protection against energy loss or transfer than sectional doors since it has gaps between slats, even though tiny. Since one door has at least 21 slats, you can expect significant room for energy loss due to the numerous gaps. 
3. Insulated side hinged doors
Side-hinged garage doors are uncommon in residential setups today, but insulated ones are still some of the best. The very mechanism of a side-hinged garage door makes it capable of providing high insulation levels. 
These doors can be made of traditional timber, GRP, or aluminum with insulation stuffed between metal panels. 
If the door is made of timber, the wood itself will provide insulation depending on its thickness and how well the frame is designed. 
If the door is made of aluminum, it typically features 42mm thick, high-quality sectional garage door panels filled with foam insulation. 
Ultimately, the door is a pair of strong, high-quality insulated side-hinged doors. Many manufacturers avail these insulated hinged doors in various colors, designs, and sizes. You can also find the insulated door with double-glazed windows to improve lighting inside your garage.
If you opt for installed timber or GRP instead of aluminum, ensure you get the correct seals for the door for maximum insulation. 
4. Insulated trackless overlap doors
This type of insulated garage door is relatively recent and may be uncommon in many regions. They comprise two insulated panels with counterweights at both sides that lift them using a thick steel cable. 
This mechanism operates the door by lifting the panels and sliding them into the garage one above the other without using any tracking. 
Insulated trackless overlap doors are pretty secure and offer significant insulation as each panel is insulated. The door panels are made from dual-skin steel sections with 40mm thick insulation.
The CFC-free insulating foam sandwiched between the steel panels provides both insulation and strength. 
5. Up and over-insulated garage doors
These garage doors have a single galvanized door panel with spring-mounted lever arms at both sides. Up and over garage doors can operate electronically or manually. 
Most of these doors generally offer less than optimal insulation since the entire panel moves through the garage door subframe when closing and opening. This means it must have a decent gap all around its perimeter to operate, creating a significant gap in insulation. 
However, adding insulation boards to the rear of the door panel can help boost insulation. Various weather seals are available for use to insulate the underside of an up-and-over door to seal the gap in that part. 
Nonetheless, insulated up-and-over doors are likely to provide the least insulation of all the types discussed. 
Best Insulated Garage Door Reviews 2023 
Insulated garage doors are beneficial during the hot summer months and the chilly winter season. The doors can keep the frosty air out of your garage in the cold winter months and help keep your air conditioning bills low in summer by preventing energy loss. 
They can go a long way in helping keep your garage space comfortable year long, ideal for those who use their garages as an extension of their living space. 
This manufacturer offers a wide range of insulated garage doors, including various types of steel, fiberglass, and contemporary aluminum. 
The doors offer R-values ranging between 4.36 and 16.22. The R-value of your garage door indicates the door's ability to slow thermal transfer or the loss of heat through the door material.
If the R-value is high, the door has a slower thermal transfer, which makes it a good choice. The lower the R-value, the more energy you lose through the garage door. So when buying an insulated garage door, you want to go for a higher R-value to maximize your insulation.
The for Wayne Dalton Garage Door Weather Seal shown has a high R-value of 16 hence highly recommended for garage door insulation.
The door with a greater R-value will better mitigate the transfer of cold or hot weather conditions between the inside and outside of your garage. 
Wayne Dalton is a reputable company known for making stylish and sturdy garage doors, so you can enjoy peace of mind when buying from this collection, knowing that you are getting a tested quality.
With their high-insulation models providing as high as 16.22 R-value, the doors are worth a try. Most of the doors are also designed to allow for adding a weather seal at the bottom to reduce the transfer of hot or cold weather conditions further. 
With all the garage doors from this manufacturer treated to galvanized steel and a polyester coat, your door won't require any touch-ups. You can choose the unit in your preferred color, and you will be good to go. 
You can get high-quality insulated sectional doors from Wayne Dalton for your home or business. So the brand can be your one-stop shop for all your insulated garage door needs.  
Pros 
The doors have high R-values. 

They are manufactured by a reputable company, Wayne Dalton. 

Most of the doors allow you to add a weather seal at the bottom for increased insulation. 
Cons 
The doors may be unavailable for purchase on some online stores.  
Buy on Amazon
Clopay garage doors are the best insulated on the market, with R-values as high as 20.4. The company's aluminum and steel doors feature a composite and wood finish, giving them unique insulation properties not found in any other insulated garage door brands.
This US-based manufacturer uses a proprietary Intellicore insulation technology across its entire range of doors to boost the R-value and strength of these products. 
The technology is a proprietary polyurethane foam injected into the garage door. Once inside the core of the garage door, the foam then expands, filling the entire space. 
These doors may be suitable if you use the garage space for music practice or anything requiring no noise disturbance. The high insulation density makes it highly effective in dampening noise, preventing its transfer into or out of the garage. 
Clopay garage doors are among the few products with the Good Housekeeping Seal, providing you with a sense of security knowing that you are buying a high-quality product. 
Your purchase includes standard extension springs and a host of other accessories for installing and operating the door. Your insulated door purchase also comes with windows that can significantly increase your home's curb.
Included windows can go a long way in making your garage brighter by letting in natural lighting.  
The above shows for Clopay Garage Door Rubber Bottom Weather Seal, one of the most reliable and energy efficient unit from the Clopay Garage Door brand.
Pros 
The insulated doors are made in the United States

They feature a proprietary insulation technology that guarantees consistent quality across the product line. 

The high-density insulation also offers soundproofing to your garage.  

The doors with Intellicore insulation are generally more robust and durable than comparable brands. 

The doors feature a painted steel surface called Clopay ultra-grain, reducing maintenance or the need to stain or paint the door at an added cost and time. 

Clopay's traditional overhead doors are compatible with automatic garage door openers to simplify operation. 

The garage doors feature beautiful faux wood overlays over a steel base for added aesthetic appeal, strength, and durability.
Cons 
The door price does not include installation. 

If you need a low-headroom conversion kit, you must purchase it separately. 
Buy on Amazon
One of the great things about Amarr is that it includes a directory of all the company's dealers in different regions. This makes it easier to schedule a purchase from the dealer nearest to you.
The company specializes in steel doors, some designed and finished to match natural wood. The unique manufacturing technique results in insulated steel doors with a natural wood appearance and R-values as high as 19.40. 
Amarr doors are constructed with heavy-duty, low-maintenance steel, making them incredibly durable and tough. Thanks to two or three layers of steel accompanying the insulation in each door, Amarr garage doors are incredibly energy efficient.
Each insulated door has vinyl-coated polystyrene, which significantly contributes to higher R-values.
These doors also boast an innovative three-section design instead of the standard four sections used by other manufacturers. This means fewer attachment points and more insulated surfaces. The innovative design also gives the garage door a more authentic carriage feel and look. 
Shown above is Amarr Hillcrest Collection 16 ft. x 8 ft. 6.64 R-Value Insulated Steel White Garage Door, one of the most innovative and heavy-duty garage door opener among the Amarr insulated garage door brand. Highly recommended due to it's low-steel maintenance and a more authentic carriage feel. Get this amazing unit at Amazon.com in the link below.
Pros 
The company's polyurethane insulation gives high R-values per inch.

Each of the company's doors has vinyl-coated polystyrene, which boosts insulation. 

An innovative triple-section design sets the doors apart from standard sectional garage doors. 

The insulated steel doors are finished with an authentic wood appearance. This can boost your home's curb appeal. 

Long warranty periods, up to 10 years

The products are made in the United States. 
Cons 
The garage door material is limited to steel; no variety. 
Buy on Amazon
Hörmann or Northwest Door LLC has some of the most comprehensive collections of insulated residential and commercial garage doors. 
While their best doors do not have the highest R-values on the market, their lower-end insulated doors have some of the highest R-values at 9.0. 
The company offers various garage door materials ranging from extruded aluminum, various types of steel, and natural wood—with significantly high insulation levels.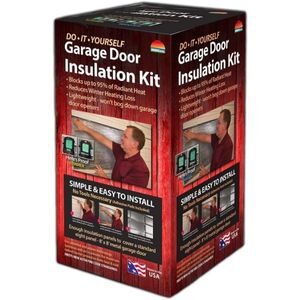 Since the company makes a wide range of commercial and residential garage doors, you can shop for all your insulated doors under the same roof. 
Perhaps one of the most outstanding aspects of the Northwest Door LLC offering is that they let you choose your preferred insulation type for most models. 
The company also gives you the option of choosing your preferred thickness. This puts a lot of power in your hands, allowing for a customized experience. You can opt for polystyrene, polyvinyl honeycomb core panels, or urethane insulated panels—whichever you prefer.
Some of this garage door maker's models have frames featuring 25 percent recycled aluminum. So if you want an eco-friendly option, Northwest Door LLC may be a perfect place to look. You will be happy to know that the company recycles any leftover scraps from their manufacturing practice. 
Shown above is Reach Barrier 3009 Kit Garage Door Insulation, a type of garage door insulation kit among the Hörmann insulated garage door models. Find this easy to install kit at Amazon and create a conducive garage space during the winter. 
Pros 
Thick polyurethane insulated panels for higher insulation value

Custom thickness allows for a more personalized experience in insulation choices. You can customize your insulated door by picking from various colors, designs, and thicknesses. 

The company offers eco-friendly options, with models featuring 25 percent recycled aluminum in their frames. 

Insulated tongue and groove design means the joints are sealed with joint tape and insulating foam to reduce airflow and thermal transfer. 
Cons 
High-end insulated doors may be expensive. 
Buy on Amazon
These are touted as the world's finest, safest overhead garage doors for residential and commercial applications, made of copper metal and steel. 
Martin Garage Doors is home to a wide range of garage door designs and options.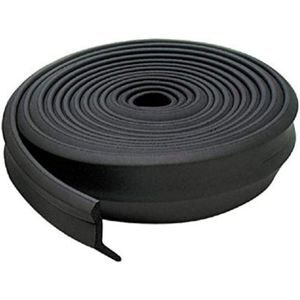 Choose from a rich collection of mid-century and contemporary home styles available. The company offers everything from wood grains and colors to modern styles and designs. 
The colors cut across embossed powder coats and smooth shades, so you can be sure to find something that works for you. 
Martin Garage Doors finishes are designed to meet the needs of homeowners looking for durable and attractive doors that are energy efficient and easy to maintain.
The DURA-LIFT Garage Door Foam Bottom Weather Seal for 16′ Wide Doors shown above is an example of an insulation type from the Martin insulated garage door units.
Pros 
Thick Intellicore insulation helps maximize the doors' energy efficiency 

They are available in a wide range of colors and finishes 

Multiple insulation options, including Intellicore and polystyrene, allow you to choose your preferred choice. 

The doors are low-maintenance, requiring minimal upkeep.
Cons 
The company's doors have a maximum R-value of 14. This is not the most energy-efficient option on the market. 
Buy on Amazon
CHI offers a range of high-quality garage doors with R-values between 7.94 and 17.54. This great energy efficiency is thanks to the polystyrene and or polyurethane insulation provided with the doors.
Each full-view aluminum, steel, or glass and steel door comes with a thick layer of insulation. Some door models are stuffed with up to two inches of thick insulation.
The full-view aluminum doors from this maker offer incredible soundproofing levels, making your garage energy efficient and soundproof. This can go a long way if you use your garage as an extension of your living space. 
With a certified sound transmission class rating of 27, the door can do an excellent job keeping outside noises out and indoor sounds in the garage. 
Pros 
The doors are stylish and high quality, ideal for anyone looking for a modern or contemporary look. 

Full-view models provide soundproofing too.

You can choose from a wide variety of materials.
Cons 
Some door models are expensive. 
Buy on Amazon
Best Insulated Garage Door Buyers' Guide 2023
Why you should consider an insulated garage door
Many benefits come with insulated garage doors, especially for anyone who uses the garage for purposes other than keeping cars. 
If you live in a place that experiences all four seasons of the year, an insulated garage door can stand between you and chilly winters or unforgiving summer months. 
Here are the reasons to consider an insulated garage door. 
Increased energy efficiency
Your garage door's steel or metal parts are perfect conductors that transfer heat or cold. This means an uninsulated garage door represents the most crucial vulnerability when trying to contain the energy from the outside of your garage.
Adding insulation or installing an insulated garage door can turn things around, keeping the warmth or conditioned air in your garage from escaping in winter and summer, respectively. 
The insulated garage door protects against thermal transfer between the inside and outside of your garage. As a result, you can save money on your energy bills throughout the year.
Added privacy from sound protection 
No one needs to know what you do in the garage. If you use the space for music practice or other DIY activities, you can keep passersby or neighbors from keeping inventory of your activities by dampening the sound with an insulated, soundproof door. 
With an insulated garage door, you can get your privacy, keeping everything you do in the garage where it belongs: inside your garage. 
Most insulated doors prevent not only thermal transfer but also the transfer of sound. Since the insulation material increases the density of the door, it effectively improves its STC (sound transfer class).
The denser the insulation on your garage door, the more sound it will absorb, preventing its transfer from the inside or outside of your garage. 
This increased sound isolation can go a long way in helping prevent distractions if you are working on a project that requires silence in the garage. 
Increased garage door lifespan 
Most insulated garage doors have better resilience against denting and other forms of physical damage. On average, such doors last longer than uninsulated options. 
The insulation material increases your garage door's strength and makes it denser and energy efficient. This contributes to a longer service life than an equivalent uninsulated door. 
The door also better withstands weather elements and the changes in the weather that can otherwise shorten the door's lifespan.
Comfortable living all year long  
The added insulation of the garage door ensures the adverse temperatures outside stay outside the garage in the winter and summer. This means you can enjoy a toasty space during winter and a comfortable garage in the summer. 
The insulated door helps ensure your garage space remains pleasant throughout the year despite the changing seasons. 
This is particularly helpful for homes with an attached garage.
Reduced noise disturbance to the rest of the family 
If you use power tools in the garage, they can produce a lot of noise that may bother other family members.
Fortunately, garage door insulation can do an excellent job of dampening the noises, reducing their transfer to the outside, where they might bother other family members. 
This can cause fewer complaints not just from the other occupants of your home but neighbors as well. 
Since an insulated garage door helps mitigate the transfer of cold or hot weather conditions between the inside and outside environments, it can reduce the need for heating or cooling inside your garage. 
This enhanced energy efficiency can help keep your energy bills significantly low. 
Insulated garage door makers offer a wide range of colors, styles, and materials. This makes insulated garage doors excellent if you are looking for something stylish or modern.
Most of the time, they will allow you to customize or tailor your door to match your home's exterior.
Installing such a door can significantly enhance your home's curb appeal by adding a touch of style that is otherwise unachievable with standard, uninsulated garage doors. 
What to Consider when Choosing the Best Insulated Garage Door
Understanding the reasons for having an insulated garage door at your home would not be enough if you do not know what to look for when making a purchase decision. Insulated garage doors have essential features that will help you get the best out of them, but you must understand them to make a better choice.
Some of the essential features include
R-Value
Perhaps the most crucial consideration for choosing the best-insulated garage door. The R-value measures how much resistance the insulation has to heat flow. Notably, the materials with a higher R-value have better or higher resistance than those with a low R-value.
Despite their effectiveness in resisting heat flow, the insulation materials with higher R-value will also cost you more.
Besides, if you are purchasing insulation material for your home improvement, you should consider materials with R-values ranging from R9 to R20. Most insulated garage doors in this review have materials within this range, hence perfect for your home or garage improvement. However, if you need dense attic insulation materials, you may go for those with up to R60.
Interestingly, the R-value in a material also represents its heat resistance per inch of depth. This implies that you can use a fabric with a lower R-value to provide similar insulative properties or resistance as a higher R-value if more of the material is used.
For instance, using one inch of insulation material with an R-value of 40 (R40) will produce the same heat resistance as a two-inch material with an R-value of R20.
Thus, you can purchase a material with a low R-value but use more length to realize the same heat resistance as that of a high R-value material. However, in that case, you must factor in the cost of the additional feet and ensure it won't cost you more compared to that with a higher R-value.
Type of Insulation Material
The second integral factor you would want to consider is the insulation material you intend to use in your garage door. Often, the two types of insulation materials used are polystyrene and Polyurethane.
Essentially, Polyurethane is liquid plastic. The material is made by injection between two panes and expands to fill every cranny and nook. The make-up ensures that Polyurethane has an enhanced insulating power that can achieve an R-value of between 12 and 18.
The high R-values make them better-insulating materials due to their high heat resistance.
Besides, as a construction material, Polyurethane is preferred due to its structure, made of small cells and its composition of a gas occluded inside the cells. Polyurethane's structure guarantees low thermal conductivity.
Thermal insulation offered by Polyurethane is 700% better than that provided by bricks. While compared to glass wool materials, Polyurethane provides 50% better insulation.
Polystyrene material, also known as Styrofoam, on the other hand, offers R-values of 5 to 10.5. This is relatively lower than those provided by Polyurethane which explains why the latter is superior in heat insulation in garage doors.
Despite its low R-values, expanded polystyrene is used among home or garage owners when erecting or constructing buildings due to its inherent durability, strength and thermal insulation properties. This is a go-after material if you want to have an energy-efficient building. The only drawback is that you may need to use more inches of the material to match the insulation properties provided by Polyurethane due to its relatively low R-values.
Despite the low R-values, polystyrene has other significant benefits that can entice you to purchase it. For instance, the material is enormously lightweight, which makes its installation and transportation easier.
Like Polyurethane, polystyrene is also moisture resistant. Polystyrene is a closed-cell material, hence does not easily absorb water.
Suppose you have used this material to insulate your garage door,  you will not have to worry about losing its shape, structure, physical appearance, size, or even its thermal value in the winter. Even when it is subjected to prolonged saturation in water, it will still maintain these inherent values.
That said, polyurethane material still stands out of the two due to its high R-values, making them more heat resistant.
Consider the Brand
When choosing an insulation type, your garage door's brand is of great essence. Every garage door brand has certain variations in its insulation capabilities, quality, price points, styles, and other features, such as intelligent home aptitude.
As such, when you choose less common or reputable brands, you may ultimately experience safety issues, especially if you fail to install the garage doors correctly or do not consult experts.
Thus, when you are looking for well-insulated garage doors that will provide you with the best services you need, you should go for the following exclusive and dependable brands;
Here is a video illustrating the different types of insulated garage doors.
Best Insulated Garage Doors- Frequently Asked Questions 
Q1. Do insulated garage doors really make a difference?
Absolutely. Insulated garage doors do an excellent job of making your garage space significantly warmer. With an insulated garage door, you can see an increase in your garage's indoor temperatures by up to 49 degrees over the outside temperatures.
This temperature difference can mean a much warmer space inside your garage during winter, ideal for those who use the space as an extension of their living space.
Q2. Which garage door type is best?
Garage door types made of steel are the best. These doors are reasonably priced, low maintenance, durable, and available in many styles. You can also paint your steel to match your home's exterior or have it in a faux wood finish for a classic touch. 
Q3. How do I choose an insulated garage door?
Consider the R-value of the garage door when choosing an insulated option. The higher the R-value, the more effectively the door will mitigate thermal transfer. 
Q4. How Much Does an Insulated Garage Door Cost?
The insulated garage doors cost between $200 and $2000, depending on the brand, R-values, and the insulating materials. This is more than the uninsulated garage doors.
Q5. What is the most efficient garage door?
The most efficient garage doors use polyurethane insulation with high R-values. Polyurethane provides the highest level of energy efficiency. An example of such a garage door is a triple-layer door.
Final Thoughts 
The garage door covers one of the biggest openings to your home, making it one of the crucial areas of heat loss. Since the door naturally covers the largest opening to your home, it is extremely vulnerable to adverse weather elements. 
An insulated garage door can help mitigate the transfer of cold or hot weather conditions and help enhance energy efficiency in your home. 
We hope this review and user guide helps you find the best insulated garage door for your home.