When it is time to replace your garage door opener or upgrade your home's garage experience for added convenience, you will want to find the best.
Garage door openers now pack a ton of useful features that increase the security of your home and make them easier and more convenient to operate.  
When shopping for the best garage door opener, you will need to choose from the various types available, including chain-drive, belt-drive, and direct-drive models. You must also consider the security features, horsepower, and other smart features. 
This article reviews the best garage door openers on the market and offers a guideline on choosing the most suitable for your home.
Best garage door openers for heavy doors at a glance 
Also Read:
Best Garage Door Opener Reviews  2022
This section provides a detailed review of the best garage door openers in the market today across various types and models.
1. Chamberlain B970 – overall best garage door opener for homes   
Most garage door openers outperform others on specific features while they miss the mark on other areas. However, the Chamberlain B970 is an impressive garage door opener with all-around performance excellence.
It is feature-packed and comes with some of the handiest smart features for any modern home. The opener has powerful motors crank out enough lifting power for the heaviest residential garage door.
The built-in myQ technology in this smart garage door opener means that you can connect it with your phone and operate it from anywhere.
All you have to do is install the myQ on your smartphone to open you up to the garage door world of smart possibilities. It will not matter whether you are away on vacation; the smartphone integration will enable you to control and monitor your garage door remotely from anywhere in the world. 
The garage door opener has a battery backup to ensure uninterrupted operation even during power outages. This feature can be extremely useful if you live in places that experience frequent power interruptions due to inclement weather or some other reasons. 
It features a steel-reinforced belt drive system that guarantees long-lasting operation. This high-grade material makes it a breeze for the opener to deliver a whopping 1.25 lifting power without producing much noise. 
This makes the B970 the quietest opener with the highest lifting capacity in its range. You should be happy to know that the unit offers superior performance even in extreme conditions, thanks to high-grade materials. 
Pros
It boasts the highest lifting power in its category, thanks to Chamberlain's Max Lift Power System  

The steel-reinforced belt drive on this unit runs quietly and smoothly 

The unit is designed for easy assembly, saving you on the cost of hiring a professional

It has smart features that allow you to connect it with your smartphone and control it remotely. 

It has a superior remote range up to 1,500 feet 
Cons: 
Some users do not like how the belt is exposed. 
Buy on Amazon
If you want a garage door opener that will allow you to monitor your garage better with visual support, the Chamberlain B4643T is the best in the market.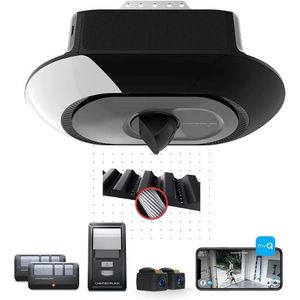 It features a built-in camera that you can integrate with your smartphone through the myQ app and monitor your garage activity from anywhere. The inbuilt camera offers a 140⁰ wide-angle coverage to let you see virtually everything happening in the garage.
This opener takes your home's security to a whole new level by allowing you to hear and see what is happening in your garage from the comfort of your smartphone.
Since the unit features the myQ technology, you can set it to send notifications to your phone each time there is an activity in your garage.
The unit comes with a sturdy belt drive system capable of lifting any residential two-car garage door without breaking a sweat. The strong belt is highly durable, guaranteeing several years of uninterrupted service. 
The Chamberlain B4643T has an advanced LED lighting system built in to brighten the garage's high traffic areas. The lights are motion-activated for convenience. 
Pros 
The opener boasts quiet operation, thanks to its ultra-quiet DC motor

It has a soft start/stop technology that ensures smooth operation, ideal for garages located near living spaces.

Enhanced WiFi connectivity guarantees seamless smart operations 

The system has enhanced memory to support new myQ solutions and features 
Buy on Amazon
If you want to save money on the installation of your garage door opener, this unit may come in handy. It features a powerful 5-piece rail system designed to snap together, making installation a breeze.
The hardware is lightweight and requires no additional hardware. This feature further simplifies its installation.
This smart garage door unit works with the BILT app. This option allows you to get 3D instructions to further simplify the DIY assembly and installation. If you are not confident about some of the installations on the manual, this intelligent 3D interactive service should be a godsend. 
While this unit comes with premium features, it is fairly priced. The premium features do not come at a premium cost, so it is a great way to save money off your purchase and installation. And since it is made of durable, high-quality materials, you can save more money in the long run.
This unit is one of the quietest garage door openers, making it ideal for garages located near bedrooms and other living areas.
Pros 
The Stealth Drive Connect comes with two 3-button remotes pre-programmed to simplify your work. 

A wireless keypad allows the rest of your family to access the garage securely without needing the remote.  

The unit has a multi-function wall console consisting of a light control button and vacation lock for added security. 

The 1.25 horsepower on this model means it is powerful enough to operate the heaviest residential garage door. 

The unit is DIY-friendly, coming with everything you need to assemble and install it yourself.

The opener is compatible with Alexa, allowing you to connect it and operate your garage door hands-free. 
Cons 
The extension kit for 8-foot garage doors is sold separately

Some customers complain about the unit's inability to sense movement and turn on the lights automatically.
Buy on Amazon
This LiftMaster garage door opener is the best jackshaft model on the market. It features a space-saving, minimalist design that helps free up ceiling space. The unit is tiny and mounts on the wall next to the garage door, leaving the ceiling space for other storage needs.
Because of the design, you do not need to install an overhead rail. This also helps reduce the amount of installation work involved. 
Even though this unit is small in size, it packs a powerful motor capable of lifting any heavy two-car garage door. The 8500W jackshaft opener runs on a 24V-DC motor cranking out ¾ lifting power for your garage door. 
The unit comes fully fitted out with security 2.0 MyQ technology. This enables you to monitor and operate your garage door remotely from anywhere with your smartphone. 
Its p3 motors are powerful and reliable, guaranteeing long-lasting performance and dependable usage. 
The motors are designed to run ultra-quietly. Since the design excludes an overhead installation, it effectively eliminates the vibrations and sound associated with such elaborate installations. 
Pros 
The 8500W is highly powerful in a space-saving design. 

It includes battery backup to ensure continuous operation even during power outages.

The opener is smartphone-compatible, enabling you to operate the garage door remotely from anywhere. 

The installation includes smart lights that you can control remotely for added convenience. 
Cons 
This jackshaft garage door opener is not compatible with roll-up garage doors.
Buy on Amazon
The Genie brand excels in designing some of the quietest garage door openers with overhead installation. This QuietLift Connect is among the best in that regard.
It features a smart belt drive operation that runs quietly, making it excellent for residential garages located near living spaces. 
The ¾ horsepower motor in this unit is capable of lifting up to 500 pounds of garage door weight. The DC motor is designed to run smoothly, guaranteeing the quiet operation characteristic of this belt drive unit. 
It is designed to run a 7-foot garage door, but you can buy an extension kit that the company sells separately to operate an 8-foot door.
The belt drive system on this garage door opener is steel-reinforced for additional strength and durability. Given that it is inexpensive, the unit offers great value for money. 
This garage door opener has WiFi connectivity allowing for an endless list of smart capabilities. Since it is compatible with both Amazon Alexa and Google Assistant, you can set it up and use your voice to operate the garage door hands-free. 
Pros 
The unit offers ultra-quiet operation. 

The smart garage system is compatible with Google Assistant and Amazon Alexa, allowing you to operate and monitor your garage door remotely. 

The unit is designed for easy installation. 

It comes with pre-programmed remotes to simplify your work. 

It features a multi-function wall console.

The smart home features are free of charge with no

subscription services 
Cons 
Some users find the Google assistant integration cumbersome 

The unit has no IFTTT option 
Buy on Amazon
If smart lights are your best attraction to a garage door, the Chamberlain's B1381 may be ideal for you.
It features smart advanced corner LED lighting that detects motion and comes on automatically, illuminating the garage. This enhances security, increases convenience, and can go a long way in reducing accidents.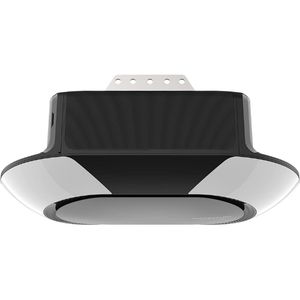 The belt-driven system on this garage door opener boasts quiet operation, making it convenient to use near living spaces. 
With a whopping 1.25 horsepower, this unit is powerful enough to operate any heavy residential garage door.  
The B1381 supports Wink app integration that allows you to link the smart floodlights on this opener with other smart lights in your home. This brings the elegant shine in your home to an entirely new level. 
Since the unit is equipped with the MyQ technology, it supports remote garage door operation from the comfort of your smartphone.
All you need to do is install the MyQ app on your phone, set it up, and start enjoying remote possibilities. This convenient technology allows you to monitor and operate your garage door from anywhere using your smartphone. 
Pros 
It features beautiful, bright, smart LED floodlights

 

The garage door opener is compatible with Amazon Key, allowing Amazon personnel to deliver items safely to your garage.   

This garage door opener is easy to install 

The unit can connect to indoor lights via the Wink app
Cons 
The installation of some smart features can be complex.
Buy on Amazon
The Genie B6172H is the best way to save lots of garage space for other storage needs. For example, if you have items like a bicycle that you wish to keep in your garage, this opener can help you get the overhead space.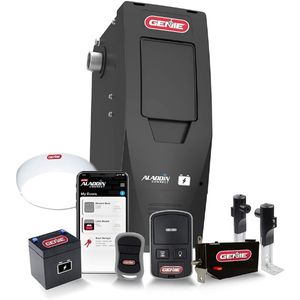 The wall-mount design sits conveniently on the sides of the garage door. This means you do not need overhead rails, so you can put that overhead space to other uses. 
This wall-mount garage door opener from Genie is the smallest available, measuring 6.8 inches wide, 14.5 inches tall, by 9 inches deep. The mere size of this unit helps save you even more space. 
The compact unit houses a powerful DC motor that packs enough power to lift a whopping 850-pound residential garage door. This powerful operation puts it among the most powerful garage door openers on the market. 
A safe-t-pulse in this unit helps monitor internal cable slack to guarantee safe door travel throughout. The technology electronically measures and checks for slack in the cables as the unit operates to ensure optimum performance. 
You should be happy to realize how easy this unit is to install. You will not have to pay a garage door technician to install it. Instead, a convenient user manual helps walk you through the entire installation process. 
Pros 
This garage door opener features Aladdin Connect and WiFi smart technology for enhanced smart operation
. 
An automatic door lock helps keep your home safer 

It offers ultra-quiet operation 

It is the smallest garage door opener, saving more space in the garage  

It offers a painless, straightforward DIY installation

The battery backup helps ensure uninterrupted operation even in bad weather
Cons 
The premium features of this opener come with a premium price tag.  
Buy on Amazon
Suppose you're looking for an incredibly convenient garage door opener that you can use to securely open, close, and monitor your door from just anywhere. Then, you'll find this modernized unit a superb choice. It incorporates smart features that allow you to control your garage door with your Smartphone, Google Assistant devices, Siri, or Alexa with great ease.
What's more, it's compatible with most garage door openers but still, check for compatibility on the Nexx website before buying one. You can authorize multiple people to access your garage or perhaps receive notifications whenever you forget to close your garage. With its reliable and secure real-time activity logging, you can easily monitor every activity.
This piece offers the best in class security encryption!
Pros
Super reliable
Highly secured
Incorporates smart features
Works as advertised
Straightforward installation
No hub required
No monthly subscriptions
Cons 
The setup process is a bit challenging for some users
Buy on Amazon
The Genie 1/2 HPC 3053-TV QuietLift Connect smart garage door opener is yet another elegant piece with a lot of positive feedback. It features a 1/2 Hpc DC motor paired with a steel-reinforced belt for ultra-quiet operation, making it an excellent choice for garages attached to living spaces.
Besides, its integrated Aladdin Connect Wi-Fi Smartphone technology allows you to virtually set and monitor each activity from your Smartphone. It also features intellicode rolling code technology that prevents unauthorized persons from gaining access to your property. Its safety sensors ensure maximum safety while the infrared beam of light across the door opening helps prevent accidents.
Its other additional features include a wall control panel with an independent light button, vacation lock, two pre-programmed and three button door opener remotes for added convenience. It's not compatible with digital assistants for ultimate convenience and security. It's highly recommended!
Pros
Compatible with Google assistant
Effortless to install
Ultra-quiet operation
Excellent warranties
Strong enough
Wi-Fi enabled
Simple and straightforward instructions
Cons
Buy on Amazon
This unique piece is relatively durable, tranquil, and a robust steel-reinforced belt drives a garage door opener with smart technologies to control and manage your home more efficiently. Powered by Chamberlain's Lift Power System, this unit offers the highest lifting capacity in its class. Besides, it's Wi-Fi enabled; hence you can get real-time alerts and know your garage's status from just anywhere.
Moreover, it enlists a wireless keypad and a dual-function wall control for maximum safety and security. It's also engineered with Triband technology for superior performance, range, and less interference. When paired with your home's ISP and Wi-Fi router, this piece offers the highest level of encryption and monitoring. It's highly competent!
The model gives you an exceptional control range. Its superior-range encompasses 2-3 button remote controls that will ensure that you can control up to 3 openers and a remote that covers a range of up 1500 feet for a faster entrance and exist.
Pros
Easy installation
Superior range
Extremely secured
Highest quality
Includes dual function wall control
Incorporates 3-buttons remote
Ultra-quiet and strong
Outstanding warranty
Cons
It needs an integration fee for full functionality
Buy on Amazon
This is one of the least expensive garage door openers with the highest positive reviews. Its wireless keyless entry system can open the garage door using a private 4-digit code that users program directly into the unit. By setting it with a temporary access code, visitors and service personnel can access your garage without giving them your codes.
Moreover, its Security+2.0 and security+ rolling code technology assure a new code is sent every time, which guarantees better safety. Its backlit keypad makes the digits easy and efficient to see even in the dark.
Besides, it's compatible with all LiftMaster garage door openers and boasts a weatherproof flip-up protective cover. Magically open your garage door with this flawless piece!
Pros
Great features
Easy to use
Relatively affordable
Straightforward instructions for programming
Excellent features
Reliable
Cons
It sometimes requires multiple code entry attempts, which is annoying
Buy on Amazon
If you value precision, quality, and extremely quiet operation, you'll find the Direct Drive 1042V004 Garage Door Opener an exceptional choice. Direct Drive 1042V004 Garage Door Opener comes fully loaded with mounting hardware, an interior wall station, safety stations, and two x 2-button transmitters for maximum convenience.
Besides, it's fully backed up with a lifetime warranty and protected with always on-board USA customer service. Its secure rolling code technology ensures a new code is sent every time for added security.
Besides, Direct Drive did their best by replacing the fastening bolt with a maximum flexibility pressure plate. It includes rails for both 7-8 ft. door heights and offers a worry-free operation!
Pros
Excellent warranty
Well-constructed
Relatable features
Ultra-quiet operation
Highly secured
Simple to install
Cons
The remotes are a bit smaller
Buy on Amazon
The Genie 4062-TALNMSV MachForce Screw Drive 2 HPC Garage Door Opener is a refurbished product that has been certified, tested, and approved to look and work like new. It's specifically designed to give you added security and peace of mind by providing you with the ability to monitor and control your garage door from anywhere consistently.
Additionally, this piece allows you to connect to your home's Wi-Fi network, Smartphone, or any other smart devices using Aladdin Connect. It's equipped with a 2 HPC ultra-quiet DC motor that offers the ultimate combination  of speed and power, making it two times faster than either belt or chain drives.
You can also enjoy the added convenience of its two pre-program 3-button remotes for wall control and a fast setup with an independent light control button. It offers unmatched durability making it an excellent choice to open the heaviest garage.
Pros
Powerful
Pretty simple to install
Relatively quiet
Well-built
Excellent features
Pretty fast
Cons
Not entirely the most durable
Buy on Amazon
The Craftsman CMXEOCG471 Garage Door Opener is yet another best garage door opener that stands the test of time for its maximum durability. This ½ HP Chain Drive Garage Door Opener Kit With myQ app is specifically designed for 7 ft. garage doors. It comes with simple and straightforward instructions that ensure easy setup.
It can also be programmed with up to 24 permanent PINs and 24 temporary PINs for limited, single-use access. Its 3-Button remote control allows users to program up to three garage doors effortlessly.
The model also boasts an all-weather cover and has a frequency range of up to 1500 ft. The safety sensors ensure added security by stopping the garage door from closing if something is in its path. It's a solid buy!
Pros
Includes a built-in Wi-Fi
Superior quality
Outstanding customer support
Excellent features
Reliable
Powerful enough
Works perfectly
Cons
It has a short warranty period on parts
Buy on Amazon
The Chamberlain B4545 Secure View Video 3/4 HP Garage Door Opener is one exclusive choice with every little thing you need in a garage door opener. Chamberlain only uses the highest quality hardware and software in creating their products to guarantee optimal performance for years to come.
It enlists a wireless keypad that ensures unmatched security encryption for protection against hacking or Posilock anti-theft.
Moreover, it's easy to install safety sensors detect for obstructions and automatically reverse the garage door before causing any damage or accidents.  The model is fitted  with a motion-detecting control panel that allows easy programming of keypads, remote controls, and lighting accessories. Besides, it automatically turns lights on when motion is detected. Enjoy a brightly lit home with a worry-free operation with this remarkable piece!
Pros
Outstanding features
Provides a superior range
Simple to install
Excellent warranty
Durable
Quiet
Decent quality camera
Cons
Audio quality isn't so great
Buy on Amazon
This powerful, trusted brand from Skylink provides an extremely quiet operation that most shoppers count on when buying a garage door opener. It's a perfect solution for homes with living space above the garage. Besides, it's equipped with a quiet belt drive that delivers reliable and utmost performance.
What's more, it enlists a built-in LED light for long-lasting illumination without the need to replace light bulbs. Skylink also offers online videos with a step-by-step guide to install and operate this garage door opener, making it do-it-yourself friendly and easy to use.
It's also engineered to deliver the highest performance with heavy lifting power, yet optimized for efficiency. This is definitely a smart and solid investment!
Pros
Safe and secured
Wi-Fi enabled
Incorporates smart voice control
Powerful and ultra-quiet
Works as advertised
Includes an anti-break-in drive system
Simple installation
Cons
It seems to forget the close limits after a few times of opening and closing.
Buy on Amazon
Best Garage Door Opener Buyers' Guide 2022
What to consider in the best garage door opener  
Once you have a shortlist of the best garage door openers in the market, the next task is to narrow it down to one or two options to buy, depending on how many garages you are buying openers for. 
Often, you will only be looking for one garage door opener, meaning you must narrow it down to a single final option. 
In this case, you must know the specific features to look for in individual garage door openers. To simplify your work, we have provided a detailed breakdown of the factors to consider when shopping for the best opener for your garage door. 
The horsepower 
The horsepower in a garage door opener determines if it will handle your garage door without much wear and tear on the motor. 
Standard residential garage door openers are usually fitted with motors with ½, ¾, 1, and 1½ horsepower ratings. 
Single-car garage doors and sectional two-car garage doors made of steel or aluminum can work well with ½ horsepower openers. 
However, you will need more lifting power for heavier (especially older) models. ¾ horsepower garage door opener is usually sufficient, but you can go as higher as 1½ horsepower if the garage door is oversized or too significantly heavy.  
Higher horsepower openers are recommended for heavier or oversize garage door models because they work with less and tear on the motor. 
The mechanism 
Traditional garage door openers operate through different mechanisms that determine their types. 
Your opener can have a chain, belt, direct, or screw drive. These mechanisms are an important consideration for residential garages because they determine the amount of noise the unit will produce. 
The mechanism also directly influences how powerful the opener is and how likely it is to be durable. 
For instance, chain drive models rank top in terms of power but are the noisiest. This means you will have to find an appropriate tradeoff when choosing your opener. 
Here are the various mechanisms available with traditional garage door openers that utilize an overhead installation.
Chain-drive garage door opener models  
Chain-drive garage door openers consist of a metal chain attached to the unit's motor. This chain is the mechanism that drives the trolley to lift the garage door when opening it.
Chains are extremely strong, making chain-drive openers the strongest type when coupled with a powerful motor. These models also tend to be inexpensive compared to other opener types.
Unfortunately, chain drive models produce the most noise and vibration during their operation, so they may not be ideal for garages located near living spaces. 
For this reason, you may want to consider the chain drive models for garages detached from living spaces or those in commercial buildings where the noise will not be a bother. 
Belt-drive opener models  
Belt drive models have a belt instead of a chain in their mechanism. This slight difference makes them significantly quieter than their chain drive cousins that they resemble in all other aspects except for the belt. 
The belts move smoothly and produce much fewer vibrations, making them perfect for garages attached to bedrooms or other living spaces. Because chain drive systems have fewer moving parts, they require less maintenance than chain drive openers. 
These openers are also powerful, much like chain drive systems. However, with the combination of power and quiet operation comes a relatively higher price tag.  
Direct-drive garage door opener models 
While belt drive and chain drive garage door openers utilize a stationary motor unit, direct-drive models have the motor unit itself traveling along the garage door track to lower or raise the door.
The unique traveling motor attaches directly to the garage door and glides along a stationary chain for noiseless operation.  
Direct drive units typically feature a sleek design that offers maximum lifting power and durability. The 24-volt DC motor on this opener and its indestructible rails typically need no lubrication to achieve their smooth operation.
This unique design makes direct-drive units some of the smoothest and quietest on the market. They also cost slightly higher due to their relative advantages over other models. 
Screw-drive garage door opener models 
Instead of a belt or chain, screw drive garage door openers feature a robust threaded steel rod in their mechanism. This rod rotates to create the movement that drives the trolley along the garage door track. 
Since they have fewer moving parts, chain drive garage door openers typically offer quieter operation than chain drive models. 
Safety and Security
Any garage door opener manufactured after 1993 has an automatic reversing mechanism. 
This reversing mechanism is a security feature involving a pair of sensors installed on either side of the garage door. These sensors detect the presence of an object in the doorway and prevent the door from closing. 
If you attempt to close the garage door with a person, pet, or object standing in the garage doorway, the door will start closing but then stop and return to the fully open position. This feature is designed to help prevent accidents and damage to property. 
Various garage door brands and models may also come with other security features that vary from one model to another. 
For instance, your garage door can include an automatic door lock feature to keep your home safe even if you forget to lock it up.  
Most garage door openers also have smart led floodlights that come on automatically when they detect motion. This can deter an intruder from trying to gain unauthorized access to the garage. Light also illuminates the place and can help prevent accidents. 
Backup battery 
Most garage door openers now include a backup battery to ensure continuous operation even during power interruptions.
If you live in places that experience frequent power outages, a battery backup would be a godsend. Also, it will come in handy each time there is a power interruption in your area to keep operating your garage door with the opener. 
Smartphone integration  
You will want an opener with added bells and whistles, including smartphone integration and other smart features if you want added comfort. 
Your opener can have the MyQ technology that allows you to operate and monitor your garage door remotely from anywhere using the MyQ app on your smartphone. You can also use the app to schedule the garage door to open and close automatically at specific times for added convenience. 
Other smart features include Aladdin Connect, which allows you to link your garage door with Google Assistant or Alexa and operate your garage door using voice commands. This hands-free experience can be an excellent way to make your home completely smart.  
Remote Control
The remote control feature allows the opener to connect to Wi-Fi to operate from a portable smart device. These are additional factors that spice up the use of these openers. It is a plus if your car is Homelink-equipped. All you need to do is look for a compatible garage opener that can resonate with your car. This feature will activate the opener to open and close the door automatically when you arrive. Additionally, you can select the manual release feature through your remote to open the gate slightly.
Frequently Asked Questions
Is Chamberlain or LiftMaster better?
Both Chamberlain and LiftMaster garage door opener brands offer some great features but target different markets. The LiftMaster brand is widely targeted at users with large garages or professional markets. 
On the other hand, Chamberlin garage door openers are largely aimed at DIYers or people with smaller garages.
Which is better, Genie or Chamberlain?
Both Genie and Chamberlain garage door openers have useful features, but Chamberlain beats Genie with its intellicode security system that prevents unauthorized access. If safety and security features are your main consideration, Chamberlain is unbeatable.
How much horsepower do you need for a garage door?
Standard residential garage door openers typically have ratings of ½ horsepower to 1½ horsepower. However, ½ horsepower garage door openers are typical for one-car or sectional two-car residential models made of aluminum and steel.
Heavier residential garage doors typically work better with more lifting power—often ¾ or more horsepower.
Which is better, chain or belt garage door opener?
Chain-drive garage door openers generally have greater tensile strength than belt-drive garage door openers. They are therefore better for users who are purely looking for stronger openers. However, they are noisier and unideal for garages located near living spaces.
If you want a quieter residential garage door model, go instead for belt drive openers. They offer decent strength and operate more smoothly and quietly. This design makes them better suited for garages attached to living spaces or bedrooms.
Do I need to hire an Expert to Install My Garage Door Opener?
Yes. Mounting the opener is technical, and you'll need a professional for help unless you are very handy. The process is complicated, and most of the time, it is installed by at least two professionals. An expert will come with appropriate tools and experience and ensure your opener works well. Besides, he/she will identify the potential issues that may arise and correct them promptly. Furthermore, the professional will check if the door balances and advise you whether you need to replace the parts.
Can you replace a garage door opener without changing the rails?
I will recommend new rails for a new garage door opener, even if they still appear new. The rails may have the same design and functioning, but the new ones will work better. You will also replace the wireless remote devices, mounting hardware, and wired door controls.
How frequently should I replace the garage door opener?
It is not definite how long your opener will take, but it's advisable to get a durable model. Most door openers take 10-15 years while functioning appropriately. Ensure you perform frequent maintenance to enhance your opener's lifespan. Some maintenance techniques involve lubricating the rails to reduce wear and tear.
A video showing how to install a garage door opener
Conclusion 
Choosing the best garage door opener can increase your convenience and boost your home's security. 
When shopping for a new garage door opener, consider referring to this detailed review and user guide as your guiding tool. 
We hope you find this material useful and it helps you find the best garage door opener for your home garage.
In this section, we'll dive more in-depth on what to look for when shopping for the best garage door opener. As there are many models out there, it is essential to apply the business concept of opportunity cost. Opportunity cost helps to identify the best unit that beats the alternative. Don't worry, though, as we've done comprehensive homework on the features to look into. Here we go: