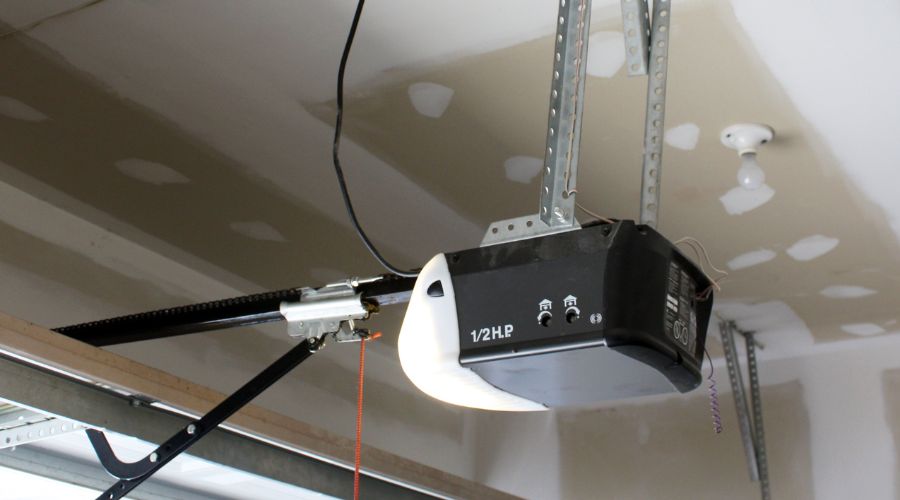 Garage door openers are investment pieces. So when buying one, you want to go for the best you can get. 
Chamberlain and LiftMaster are two household names in the industry, offering some of the most reliable openers on the market. Openers from LiftMaster and Chamberlain provide excellent security, efficiency, and peace of mind. 
However, these opener brands are not entirely the same. Despite being the best in the industry, they have significant differences that may make one more suitable for you than the other. 
This write-up on LiftMaster vs. Chamberlain garage door openers compares the two brands to help you choose better for your needs. 
Also Find out More On;
Are LiftMaster and Chamberlain the same company?
The two brands, LiftMaster and Chamberlain, belong to the same parent company, the Chamberlain Group. The other brands under this corporate head are Grifco and Merlin. 
Chamberlain and LiftMaster brands do not make identical products despite belonging to the same corporation. The products share many bells and whistles that make them great, but they are targeted to different market segments, leading to some key differences. 
Knowing these differences can help you identify which market segment you belong to, so you can choose appropriately. 
About Liftmaster Garage door openers 
LiftMaster openers are designed with heavy garage doors in mind. They are the perfect choice of openers for professional uses, including multi-door systems and heavier garage doors.
Naturally, you should expect to pay more for a LiftMaster product due to its premium features and professional-grade application. 
The openers come with many valuable functional and security features that make them safer and more efficient. Some of the standout features in a LiftMaster garage door opener include a battery backup for uninterrupted operation. 
The openers also have the myQ app that allows users to control their garage doors remotely from any part of the world. If you have an opener with this feature, all you need is Wi-Fi connectivity, and you can tap into it and start operating your door remotely. 
Each new LiftMaster garage door opener comes with a warranty available with each new door opener. 
Liftmaster pros and cons 
The pros 
The openers are powerful and can raise and lower heavy garage doors without affecting the motor. 

They are durable 

They come with lots of handy features that help improve security and efficiency. 

They are easy to operate, with myQ app integration allowing for remote operation.
The cons 
The openers are generally expensive 
Best Liftmaster Garage Door Openers of 2023
If you aim to improve your garage's security and safety, Liftmaster garage door openers will be a perfect choice. The units offer enhanced technologies like the MyQ technology that you can integrate with your phone for remote control and also allows for home monitoring by interfacing with innovations such as Amazon Alexa.
Moreover, the Liftmaster brands produce highly reliable units, and you can use them for heavy lifting of different garage doors, including wooden and metallic types. Such characteristics make the Liftmaster a top choice in the market. Consider some of these examples below.
If you are looking for an environmentally friendly Liftmaster garage door opener with the ultra-quiet operation, then Liftmaster 8500W is your ideal choice. The opener is characterized by immense power, enabling you to lift the heaviest and tall metallic or wooden garage doors, improving its versatility.
Moreover, with Liftmaster 8500W, you improve the convenience and ease of use by integrating it with a smartphone device. The practice ensures you can control the opener anywhere without being in your garage space. Access to the door from Amazon Key improves the security of your garage space, and you will have no fear of losing your garage items.
You do not want to miss out on this smart door opener from the Liftmaster Brand. Check the price below at Amazon.
Buy on Amazon
A unique element of this model from Liftmaster is its smart functionality. Liftmaster 8365W is integrated with MyQ technology that can work with your smartphone to help you determine when your door is shut or open. The prompt notification or communication from the app to your phone enables you to close the door when you forget, enhancing security.
Besides, this model features a ½ horsepower A.C motor, strong enough to lift heavy and tall doors. With the inclusion of an industrial-strength chain drive system, you are not only getting a reliable and durable garage door but also a more efficient opener that will make the operational mechanism of your door a breeze.
Furthermore, with the other security features, such as Posilock and Security + 2.0, unauthorized access to your garage is entirely eliminated.
Some of the essential features that make this door opener outstanding include the following;
An industrial-strength chain drive
MyQ technology with built-in WI-FI that can be connected to a smartphone
It comes with an extra remote.
Characterized by a keyless entry system
Buy on Amazon
About Chamberlain Garage door openers 
Chamberlain garage door openers feature a simpler design than their LiftMaster cousins but have the same handy features as the LiftMaster equivalents. 
These openers target residential users with smaller garage doors and minimum use of their garages. A Chamberlain opener may be a perfect choice if you have a one-car garage with a lightweight door. 
Nonetheless, Chamberlain products are high high-quality openers, except with less lifting power than LiftMaster openers.  
The openers also cost less, with prices ranging from as little as $35 to $200. This price allows homeowners on a budget to acquire a high-quality opener and access some of the best and most helpful modern features in an opener.
Chamberlain openers come with modern remotes with rolling code technology ensuring they are impossible to hack. 
Best Chamberlain Garage Door Openers 
Chamberlain Group is credited for producing high-tech garage door models integrated with smartphone technology. Chamberlain B4613T operates with MyQ technology. You can connect the technology to your smartphone to remotely control the garage door. Through smartphone control, you can monitor all the activities in your garage, independent of your location.
Furthermore, the model boasts ultra-quiet operation that makes it environmentally friendly, supported by its soft stop/start for smooth operation and an ultra-quiet motor.
Since Chamberlain B4613T works with Amazon Key, you are sure the security of your home is boosted, and you will also enjoy convenience and ease of use with the model. Thus, if you are considering purchasing a unit from the Chamberlain group, then Chamberlain B4613T is the perfect bargain.
Buy on Amazon
The everyday technological advancements have made Chamberlain B550 a perfect choice for most homeowners. Integrating the model with the MyQ technology makes the unit a better option for remote garage monitoring. Plus, if you fail to close the garage when you leave, you can get a notification from your smartphone and close the garage using the technology. Quite impressive.
Also, like other famous Chamberlain models, this unit produces an ultra-quiet operation even though it is driven through a belt-drive mechanism. The result is a smooth operational mechanism.
Chamberlain B550 is integrated with reliable security and safety mechanisms, including the security +2 Billion code encryption to protect your garage space from intruders or hacking. The security feature ensures that your garage space cannot be infiltrated without providing a go-ahead. Posi-lock theft protection guarantees this.
Buy on Amazon
Chamberlain's pros and cons 
The pros 
High security, hence enhanced safety
Boasts ultra-quiet operation
Remote control through MyQ technology, hence convenient.
The cons 
Liftmaster vs. Chamberlain garage door openers side-by-side 
The primary difference between a LiftMaster and Chamberlain garage door opener is their target market. While both brands belong to the same parent company, the products are designed for different consumer groups. 
However, openers from both LiftMaster and Chamberlain are high quality, with many valuable features that make them secure and efficient. 
Here is an in-depth look at how the two brands compare in various key features. 
Price of Liftmaster vs. Chamberlain garage door openers
LiftMaster garage door openers are generally more expensive than equivalent Chamberlain openers. Their prices range from roughly $200 to $700. 
The higher prices of LiftMaster garage door openers are due to their greater horsepower. Each LiftMaster opener boasts enough power to lift the heaviest insulated or wooden garage door. It also features the technology necessary for controlling multi-door systems effortlessly. 
So, while you pay more for the opener, you are guaranteed the appropriate value for your money. 
In contrast, Chamberlain garage door openers cost as little as $35 to $200. While the openers have the same valuable features as their LiftMaster equivalents, they have less horsepower and can only operate small garage doors.
Verdict: Chamberlain openers are less expensive. 
Target market 
LiftMaster openers are primarily designed with the professional market in mind. These openers are targeted at consumers with large garages and heavy doors requiring greater lifting power to operate. 
On the other hand, Chamberlin garage door openers are designed for DIYers or homeowners with small garages. 
Ideally, consider a Chamberlain if your garage door is seven feet tall and eight or fewer feet wide. Otherwise, consider a LiftMaster opener if your garage door is more than seven feet tall. The extra power of the LiftMaster opener makes it suited to a heavier door. 
Verdict: Both products excel at targeting specific consumer groups. 
Product design  
LiftMaster products consist of a single-piece trolley system made of steel. This sturdy steel trolley is responsible for lifting the garage door. 
These are professional-grade openers designed to lift heavier or oversized garage doors, typically taller than seven feet. The openers are also designed to suit multi-door systems. 
In contrast, Chamberlain door openers feature a multi-piece trolley system made of a plastic material. This is not sturdy enough for heavy garage doors but does an excellent job on lighter doors. 
This characteristic makes Chamberlain products the most widely used openers for small residential garages. On the other hand, LiftMaster openers are popular in commercial setups and hoes with special garages. 
Verdict: Both brands have excellent designs for their target uses 
Liftmaster Vs. Chamberlain openers: Installation 
The ease of installation is always one of the main advantages of opting for Chamberlain garage doors. These units are characterized by simple design, making their installation and operation straightforward.
Unlike Chamberlain, the Liftmaster garage doors are integrated with more design and will require expert installation. So if you consider the ease of installation, then Chamberlain garage doors take the day. However, if you are a professional and have no problem with complex designs, you would have nothing to worry about, even with Liftmaster, which requires professional installation.
Verdict: Chamberlain garage door openers are easier to install
Rail System
As already noted, LiftMaster openers have one-part rail systems. They feature a super-sturdy single-piece trolley system in their rail assembly designed to raise and lower the heaviest garage doors.
On the other hand, Chamberlain products typically have multi-piece trolleys made of plastic. These are less durable than their Liftmaster counterparts and are efficient at lifting light garage doors, typically less than 7 feet tall.
The rail system in a Chamberlain opener is usually a three-piece assembly trolley designed from highly durable plastic. This is generally sufficient for standard residential garage doors.
Verdict: LiftMaster openers have a sturdier rail system 
LiftMaster vs. Chamberlain: Accessories
The Chamberlain brand comes with numerous accessories to support its operation, including a standard remote control, sensors that monitor the motion of the door and prevent crushing an object, a wall-mounted control, and emergency keys that can manually release the garage door openers, especially when there is a power outage or an emergency in the garage room.
On the other hand, the Liftmaster opener comes with a control panel, universal remote, motion sensors, and an automatic reverse system, among other control mechanisms such as a mini remote control.
The accessories are mostly common with both sets of garage openers. The main difference in the accessories lies with the price, as more pricey models may have numerous accessories compared to those you can acquire cheaply.
Security Features
Every LiftMaster opener features an automatic reverse system that keeps the door from closing if something is on its path. This safety mechanism is designed to protect property and people from accidents related to the garage door accidentally falling on them. 
LiftMaster garage door openers also have a Posilock system, which helps keep the door secure and locked as required. 
Like LiftMaster, Chamberlain openers feature sensors on either side of the garage door. These sensors emit an infrared beam that detects if something is in the doorway, and prevents the door from closing until that obstruction is removed.
This automatic reverse feature is a safety mechanism intended to protect kids, pets, and property from garage door-related accidents. 
Chamberlain garage door openers also have a rolling code technology that guarantees maximum security and helps make it impossible to hack the access code.
Each time you open the door, the access code changes to something else, so a hacker cannot access your home using a code that keeps changing.
Verdict: Both LiftMaster and Chamberlain openers have advanced safety and security features. 
Warranty
Garage door openers from Chamberlain typically come with longer warranty periods, which appeal to a large section of users. The brand's warranty periods range from one to five years, depending on the model bought. 
The only limitation is that Chamberlain does not offer warranty service, which is where LiftMaster is better.
The latter offers shorter warranty periods ranging between one and three years, but with warranty service.
So, while you may be covered for shorter periods when you buy a Liftmaster opener, your purchase will also include a warranty service.
Verdict: Chamberlain openers have longer warranty periods 
Noise output  
Noise output from Chamberlain and LiftMaster openers depends on the mechanism you choose. Both brands have chain drive and belt drive openers that produce different levels of noise. 
Whether you choose a LiftMaster opener or Chamberlain, chain drive options will be noisier than belt drive openers. 
However, openers with chain drive mechanisms will likely last longer than belt drive openers across the two brands. This is a good choice if the garage is located away from the main living spaces where the noise will not bother your family or neighbors. 
Alternatively, you could choose a wall-mounted Chamberlain or LiftMaster opener to enjoy quieter operations. However, these openers will have a limited door height and a weight capacity that you must observe. 
Verdict: It is a tie.
The video below provide a comparative analysis of 3 types of garage openers, Liftmaster, Chamberlain, and Stanley, all from the Chamberlain group.
LiftMaster vs. Chamberlain: Frequently Asked Questions 
Q1. Are LiftMaster and Chamberlain the same brand?
Chamberlain and Liftmaster are two separate brands belonging to the same parent company, the Chamberlain Group. This means the two are not competing brands but different offerings targeting different market sections.
Q2. Is LiftMaster or Chamberlain a better garage door opener?
Neither LiftMaster nor Chamberlain openers are better. The two brands offer high-quality openers with helpful features, except they are designed for different consumer market segments.
If you want a professional grade opener, you belong to the LiftMaster market, while Chamberlain openers are for those with small garage doors or interested in DIY operations. 
Q3. How Much Does a LiftMaster Garage Door Opener Cost?
The cost of a Liftmaster opener varies depending on the integrated features and its horsepower. Most models cost between $250 and $1200. The horsepower rating is perhaps the most essential element because it determines how potent your model is. Thus, pay attention to the size and horsepower when deciding on a model to buy.
Q4. What is the life expectancy of a LiftMaster garage door opener?
LiftMaster garage door openers have an expected lifespan of 15 to 20 years. However, this life expectancy depends on the quality of maintenance the opener gets and other conditions around it. Exposing the opener to suboptimal conditions affect its lifespan, leading to a reduced life expectancy 
Final thoughts 
Both Chamberlain and LiftMaster brands offer first-rate garage door openers with useful features and advanced technology. The two brands belong to the same corporation, so you can be sure to enjoy the same high quality whether you choose a LiftMaster or Chamberlain product. 
However, the brands target different customer segments, so ensure you keep this in mind when choosing an opener to get the right one for your needs.
Choose a Chamberlain opener if you have a small garage door, preferably seven feet tall. This opener will come with simple features, so you should be able to install it yourself with the help of the user manual included with your purchase. 
On the other hand, buy a LiftMaster opener if your garage door is heavy or large, preferably more than seven feet tall. These openers will come with lots of premium features intended for professional installation.