The garage is more than just a storage location for cars, tools, and other personal items for most people. Instead, it is a DIY hotspot and gym where you work out and carry out most of your DIY projects.
In any of these activities, music can keep the place from getting dull and help your focus and drive. However, listening to music on your headphones can be a distraction, and your personal computer or phone will not deliver the desired sound quality.
This is where Bluetooth speakers come in. But which is the best Bluetooth speaker for garage? 
This article reviews some of the best options on the market to help you choose. 
Also Read:
Best Bluetooth speakers for garage at a glance 
Best Bluetooth Speaker for Garage Reviews  2022
Unless you have a month free, it can be difficult to comb through a market teeming with leading brands and top-quality products trying to pick out the best. 
Thankfully, that's what we do best. We have researched the entertainment market and put together a shortlist of the finest Bluetooth speakers that are ideal for use in the garage.
The Flip 6 is the latest in its line, with upgrades from previous models, making it the finest masterpiece in the list of the best Bluetooth speakers you can ever want in a garage.
This 2-way speaker system is engineered to deliver powerful, loud, crystal clear sound. It features a racetrack-shaped woofer that offers exceptional low frequencies for the best bass experience possible.
It also has a separate tweeter speaker that produces crisp, clear high-frequency sounds. These high frequencies blend with the racetrack-shaped woofer's low frequencies and midrange sounds to provide an immersive listening experience.
This first-rate Bluetooth speaker also features dual passive radiators that are optimized for deep bass. Harman's advanced algorithm further helps fine-tune the sound quality. 
Flip 6 is available in 11 distinct color options, so you are sure to get it in your preferred color to fit your personal style. And you can position it vertically or horizontally, whichever orientation you like better.
The durable fabric material available with this speaker and its rugged rubber housing helps keep it safe on your wild, busy days in the garage. 
If you want to repurpose your large garage into a concert hall, Flip 6 has PartyBoost to let you crank it. 
This proprietary feature lets you pair two JBL PartyBoost-compatible speakers together to create a stereo sound. If you prefer a bigger sound, you can connect multiple compatible speakers to achieve just that. 
Pros 
This portable Bluetooth speaker is IPX7 waterproof, meaning that those accidental spills while you work in the garage, will not break your music experience. Neither will they damage your speaker and force you with additional expenditures. 

Enjoy up to 12 hours of playtime with this JBL speaker. This means you only need a single charge to take you through your entire day's project. 
The speaker has eco-friendly packaging to keep your surrounding flora and fauna safe and protected. Both the paper-based box and the inner tray of your Flip 6 are completely recyclable. 

Flip 6 is dustproof, so you will not worry about it getting all covered in dust while you work.

The bold design is beautiful, which does an excellent job of complementing the bold audio from the speaker. 
Cons 
The bells and whistles come at a relatively high cost, as this unit is more expensive than many Bluetooth speakers. 
Buy on Amazon
If sound is your main object in a Bluetooth speaker, the OontZ Angle 3 is your best bet. The speaker delivers impeccable full-range sound. Its maximum volume output is unmatched, given how exceptionally distortion-free it is at its loudest.
We particularly love the compact design with a unique triangular profile. It is beautiful and solid, made from durable materials that are sure to last for ages.  
This Bluetooth speaker boasts crystal clear stereo sound, thanks to Cambridge Sound Works' dual precision acoustic stereo drivers. The company has done an excellent job achieving the highest level of clarity in sound, with accurate midranges and clear highs. 
OontZ Angle 3 utilizes the manufacturer's proprietary passive bass radiator to enhance the bass output for a truly satisfactory low-frequency experience. 
The bass radiator is purposely placed in a downward-facing position to enhance the sound quality further. 
An incredible 100-foot Bluetooth range means you can play your OontZ Angle 3 speakers up to 100 feet away from your device. 
You will also be happy to know that this device connects easily with smart devices like Amazon's Echo and Echo Dot, so you can pair them up and enjoy a hands-free experience.
Being able to control your music using your voice commands can be a godsend when your hands are busy and covered in dirty gloves. 
You can also enjoy music from a wide range of devices, including various smartphone models, iPad, and personal computers. The speakers are designed to connect with a wide range of devices to allow you the freedom to choose your preferred music source each time. 
Enjoy longer battery life with this Bluetooth speaker. A large 2500mAh rechargeable battery capacity delivers up to 14 hours of playtime. This means you will not need to recharge your battery from dawn to dusk. 
And if you work in your garage for shorter hours per day, a single charge will take you days. 
If you care for a different kind of experience, an AUX-IN jack allows you to connect the OontZ Angle 3 to your TV and other non-Bluetooth devices. 
Pros
The speaker delivers unparalleled sound quality. 

It features a slid, durable construction for lasting usage.  

Built-in microphone allows you to make or take personal hands-free speakerphone calls from your smartphone. 

Bluetooth 5.0 built into this unit, coupled with an advanced antenna design, provides greater range and faster pairing. 

This Bluetooth speaker is ideal for the largest garage, with an incredible 100-foot wireless range.  

The device delivers long battery life, up to 14 hours of playback time. 

A built-in volume booster helps ensure louder volume ideal for incredibly large garages.

The unit has 10+ watt power AMP designed to take the sound to newer heights. 

This Bluetooth speaker is IPX5 water-resistant, so you can use it without worrying about those occasional spills while you work. 
Cons
The device has a solid black button that some users find challenging to navigate through.
Buy on Amazon
3.JBL Flip 5—best waterproof Bluetooth speaker 
The JBL Flip 5 is IPX7 waterproof, placing it at the top of the list of best waterproof speakers. It is equally dustproof, making it easy to maintain even when used in a busy garage.
It boasts JBL's superior sound quality comprising a powerful blend of clear high-frequency sounds and exceptional low frequencies. The result is a unique blend of sounds for an immersive listening experience.
Flip 5 is a king of audio output, delivering up to 20 watts of audio power. This is a major boost from its predecessor (Flip-4), with 16 watts of audio output. These additional watts mean a clean, roaring music quality. 
Twelve hours of playtime allow you to get through the entire day with just a single charge. You will not have to pause your work halfway to recharge your entertainment. 
A larger drive size inside the Flip 5 ensures that sounds have more detail and a clearer definition. This means you can enjoy superior sound quality even in a spacious garage.
Like the Flip 6, this Bluetooth speaker comes with JBL's PartyBoost feature. This allows you to enhance your experience by pairing multiple speakers to deliver stereo or surround sound for a wild garage party.
The manufacturer includes an easy-to-read quick start guide to help you make the most of your purchase. It also comes with a safety sheet and warranty card to give you the peace of mind that you are covered against any defects. 
Pros
4800mAh battery pack built into this powerful hardware helps deliver up to 12 hours of uninterrupted runtime. This is enough to finish any garage session on a single charge.

A type-C quick charge feature allows for faster recharge times. 

The speaker is designed to be ultra-portable to make carrying it around easier.

Underwater protection means your speaker can drop inside a bucket of water and survive for up to 30 minutes.
Cons
The device is a bit pricey.
Buy on Amazon
Here is a Bluetooth speaker that is waterproof from the inside out. This means dropping it accidentally inside a bucket full of water while carrying out some home improvement project in the garage will not stop the music.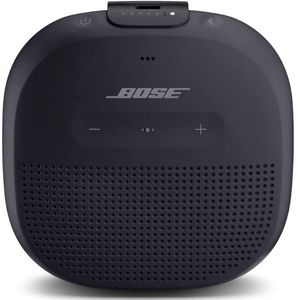 As the name suggests, the SoundLink Micro is tiny yet so powerful. Its small size makes it highly convenient to carry around. 
Perhaps the most remarkable feature of this Bluetooth device is its microphone performance. You only need to press a button on the speaker to answer a call. This feature becomes very handy when you are unable to reach your smartphone in time to take a call.
The beautiful thing about this option is that it lets you communicate clearly, even from a distance. The technology ensures the Bose sound remains crisp and clear even from some distance. 
The speaker is waterproof, so you should not worry about accidental spills or falling into a water bucket. 
The majority of users are especially happy with SoundLink Micro's sound quality. Bose Corporation really did an excellent job packing so much audio power into the small, compact unit. 
Thanks to the company's proprietary technology, the speaker produces a loud, clear sound that enhances your listening experience. Passive radiators and custom mounted transducers help achieve superior sound quality for this compact-sized speaker. 
The soft, rugged exterior of SoundLink Micro and its tear-resistant silicone strap further makes it easier to carry the device around. 
SoundLink Micro delivers up to six hours of uninterrupted playtime. This is enough battery capacity to take you through most DIY projects in the garage. 
Pros 
You can easily connect the device to your smartphone or tablet via its fast-pairing Bluetooth connectivity.

The built-in speakerphone in this device gives you voice access to your phone's Google Assistant or Apple Siri. This means you can use voice commands to operate the device hands-free. 

It works with Amazon's Echo Dot, which further adds to its hands-free experience. 

You can link up multiple compatible Bose Bluetooth speakers using the Bose connect app for enhanced party mode if you want even more sound.

The device is available in multiple colors, so you can get it in your preferred shade. 

The Stereo Mode allows you to separate left and right channels.

The sheer size and waterproof straps of the Bose SoundLink make it highly portable. 
Buy on Amazon
5. JBL Flip 4—best value for the money
Flip 4 is a people's favorite for many reasons. It has got virtually everything you may want in a Bluetooth speaker. It is waterproof and portable, with a durable construction that ensures you will have it entertaining you in the garage for several years to come.
It boasts a massive battery capacity, allowing up to 12 hours of uninterrupted wireless streaming. 
This Bluetooth speaker is probably the best you will find with a noise-canceling speakerphone to enhance your voice call experience while using the speaker. 
The speaker's vertical design is space-saving. If you have a garage with tight spaces, this speaker's design will definitely help. It will take no more than the space for a coffee mug. 
The waterproof mesh helps prevent water damage. Accidents can happen any time as you work in the garage, and it is easy to drop the device in moist areas or water containers. 
Thankfully, dropping this speaker in water will not interrupt its performance or cause it to rust in the long run. The waterproof mesh will ensure it remains safe despite any contact with moisture or water. 
Flip 4 has dual passive bass radiators that create unmatched track sound quality. The radiators do an excellent job filtering out the sounds and playing your songs as you want them.
Pros
The simultaneous Connect feature allows you to pair up multiple compatible Bluetooth devices for a true party experience. 

The speaker has a durable construction to save you money in the long run. 

It offers powerful sound delivery.

The high-speed type-C charging allows for faster recharge times. 

The dual mesh on Flip 4 helps repel water and dust, preventing premature damage. 
Cons
Some users say the battery holds power for fewer hours over time. 
Buy on Amazon
This video reviews some of the top Bluetooth speakers for a garage
The best Bluetooth speakers for garage buyer guide 2022
Having a list of the best Bluetooth speakers to choose from should simplify your options. However, how do you single out the final pick when you must buy only one out of the shortlist? What characterizes your final pick from a list like this one?
Here is a checklist to get you off the hook when you're spoilt for choice and must pick one option from a group. 
 Consider the speaker's music control
Music control includes music selection, such as skipping to the next song, pausing the music, or adjusting the volume. 
Bluetooth speakers typically have buttons for all these functions, so you do not have to go to your phone, PC, or iPad each time you want to control the music. 
Even better, some Bluetooth speakers have built-in speakerphones that you can speak into directly to access your phone's Google Assistant or Apple Siri. Such speakers allow you to control the music hands-free through voice commands.
Some Bluetooth speakers are compatible with Google Home and Amazon Echo, allowing for an even more hands-free experience.
You want to look for these in a speaker to ensure it delivers the most convenient music control and overall user experience. 
Pay attention to battery life
Battery life determines how long you can play music on the Bluetooth speaker before it runs out of charge. While some speakers have up to 14 hours of battery life or longer, others are limited to 6 hours or less. 
If you can afford it, go for the longest battery life, so you do not have to interrupt your entertainment to recharge. Additionally, a speaker with a quick charge option should be a good option as it allows for faster recharge times. 
You may also want to keep in mind that most batteries in these Bluetooth speakers are Lithium-ion. That means you should not drain them completely or leave them to stay without charge. Any of these can damage the batteries. 
Check the Bluetooth version
Later Bluetooth versions carry significant improvements that were lacking on previous versions. Ideally, you want to go for version 2.1 and later. 
These versions feature EDR (Enhanced Data Rate) technology, which allows for more data transmission. This way, the EDR technology ensures better sounds. 
 Consider the Bluetooth range
Bluetooth range refers to the distance between the media source and the Bluetooth speaker. The media or music source, in this case, is the phone or PC containing the songs you are playing on your Bluetooth speaker.
Most speakers have Bluetooth ranges between 20 to 150 feet in open spaces with fewer obstacles. In any case, you may want to go for speakers with greater Bluetooth ranges if you are looking to have more from your PC or phone in the garage. 
Go for good sound quality
Sound quality is how satisfying the sound is to you. It should be crisp clear with nice lows and crisp highs. 
You can just have the vendor play some music on the speakers you consider buying as you listen. However, this can be overwhelming, especially after listening to a couple of different speakers. Don't be surprised when they all start sounding the same.
So, it may help to break this down further. It is okay to trust your ears if they give you what you desire. However, if you are unable to tell a few sounds apart, consider the following features: 
The frequency range
Speakers emit low, mid, and high frequencies. The manner in which they produce these sounds will create the sound balance that significantly determines sound quality. 
You want a speaker that can emit the entire range of sounds that the human ear can perceive—between 20 Hertz and 20,000 Hertz. This is the accepted audible frequency range. 
Notice that anything below 20 Hertz will most likely be felt but not heard because they are too low for the ear to perceive. In contrast, treble frequencies above 20,000 Hz are generally not audible as they are too high for the human ear.
The wider the frequency range, the better. However, ensure it is as close to the standard audible frequency range as possible to avoid missing out on some sounds. 
The wattage
This is the speaker's power output. A higher wattage rating means more power goes into the speaker, so in turn, a lot of power comes out. 
Speakers with higher wattages are louder than those with lower watt ratings. Ideally, you should get the best garage entertainment experience with speakers rated between 15 and 20 watts.
The channels
The channels or systems refer to the number of actual speakers in the unit generating sound. You must have seen numbers like 5.1 or 2.1. The first digit is the number of full-range speakers in the contraption, while the digit after the decimal point is the number of bass subwoofers. 
So, 2.1 systems mean that your Bluetooth device has two full-range speakers and one bass subwoofer. 
Frequently Asked Questions- FAQs 
How far can you install a Bluetooth Speaker?
If you are a garage owner or a DYer and you have bought your Bluetooth speaker for your garage, one of the primary questions you would be asking yourself is the acceptable distance for your unit. 
The operating range for the Bluetooth speakers is limited as these units depend on the frequency that determines how the year perceives the sound. The distance also affects the sound quality, and therefore, you must understand the appropriate distance for your device from your work area. The aspect further implies that your speaker will effectively work only within a given range. 
The acceptable installation distance for the Bluetooth speakers is 3 to 100 meters. 100 meters is the furthest or the highest standard you can reach. However, realistically, you won't need that distance for your garage speaker. Depending on the size of your garage, 5 to 15 meters will be ideal, and you will get the most impressive sound quality from your speakers. 
What is the loudest clearest Bluetooth speaker?
If you intend to purchase the loudest and clearest Bluetooth speaker for your garage, look no further than the soundboks  3 Bluetooth speaker. The Soundboks 3 speaker can deliver up to 126dB of sound, hence perfect for garages attached to homes. You can have it in your house and still get quality music in your garage or use it in your garage, and your family still listens to your music collection.
Besides, it has a perfect bass response.
Can you put speakers in a garage?
It is not advisable to have your speakers stored in a garage. Most garages are characterized by dump or humid conditions. The damp conditions are a danger to your speakers as they can destroy the delicate electronics and promote fungal growth, resulting in a total breakdown of your speakers. 
However, if you have a well-ventilated and dry garage, you can have your speakers stored in the garage.  
Remember, the sound quality is also highly dependent on your garage's temperature variation. For instance, the speed of sound is affected by humidity and temperature. Your speaker's sound would be faster and high-quality in less dense air (hot air). However, in cold air (humid conditions), the sound is slower with compromised quality.
What factors should I consider while buying a Bluetooth speaker for my gym?
When shopping for a Bluetooth speaker, the first element you need to consider is cost. The type or brand you settle on will depend on your budget. However, if you have already decided on the amount to spend, you would be looking for the sound quality and, preferably, the battery life. You need something sustainable and reliable.
Depending on where you want to place it in your garage, you would also look into the frequency or range. 
Conclusion 
Any of the Bluetooth speakers in this review should deliver a satisfactory experience. Still, your personal preferences will likely determine your final choice, so we hope the buyer guide comes in handy.