When it is time to upgrade your home's security, the garage door opener is one of the main things to pay attention to. It controls one of your home's main entrances, which makes it crucial. 
If you have a space-saving mindset, you will not pass up this opportunity to buy a jackshaft garage door opener. Its location on the wall next to the garage door means you do not need a center rail and can use that overhead space for other things.  
But not all garage door openers are created equal, so which one should you buy? Here is a look at the best jackshaft garage door opener. 
Also Read:
The best jackshaft garage door opener at a glance 
What is a jackshaft garage door opener? 
A jackshaft garage door opener is also referred to as a wall-mount or side mount garage door opener. This is because it does not utilize an overhead rail. Instead, it features a wall-mount installation and sits right next to the garage door it operates.
The opener can sit on the left or the right side of the garage door and connect to the garage door's torsion bar to operate the door. 
Jackshaft garage door openers tend to be quieter than overhead installations, including chain and belt-drive garage door openers. This quiet operation makes jackshaft garage doors suitable for garages located near living spaces.
Best jackshaft garage door opener reviews 2022 
To help you find the best jackshaft garage door opener, we put in hours of research on both primary and secondary data. We analyzed customer feedback on Amazon and discussion forums, and carried out our own tests of various openers to help us compile a detailed list.
This side mount opener from Chamberlain comes with premium features and embellishments that can go a long way in making your life easier. The opener boasts WiFi connectivity allowing you to control your garage door from the comfort of your smartphone via its associated mobile app.
The smart features do not stop there. There RJO20 further makes your life easier by offering you the option to set up a schedule for when the lights should turn on and off. This feature can help you save on energy bills even when you are not home. 
The Chamberlain RJO20 also syncs with other smart devices in your home. This means you can use your voice to control the garage door and lights hands-free.  
The opener packs all its massive lifting power in a pretty slim motor profile. Added to its convenient side-mount design, it helps you save a lot of space in your garage. 
Like most modern garage door openers, the RJO20 comes with a pair of sensors among its security features. This means the door will not accidentally close on top of your pet, kid, or their favorite toys in the doorway. 
Pros 
The opener features a convenient space-saving wall-mount design. 

It has an automatic lock feature that keeps your home safe even when you forget to lock the garage door yourself. 

The myQ feature on this opener allows you to remotely control your garage door, set automatic schedules, and get status notifications from anywhere.

Its silent operation makes it ideal for use in garages situated near living spaces. 

The door packs a lot of lifting power for operating big and heavy garage doors.
Cons 
This opener does not include a battery backup, which means all automation is gone in case of a power outage.

 
Buy on Amazon
The 8500W is LiftMaster's latest wall mount option that packs the most advanced features, plus a battery backup to ensure it continues working even during power outages.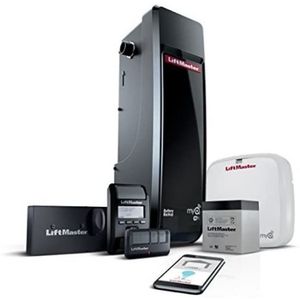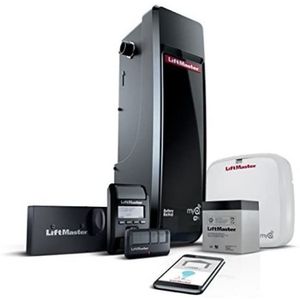 The opener has an automatic lock feature that helps keep your home safer. You can count on it to lock your garage door and make your home inaccessible to unauthorized persons even when you forget to lock it up yourself.
The 8500W also features WiFi connectivity that opens you up to a world of endless smart possibilities. You can connect the door to a compatible smartphone app and operate the door remotely.
Since you can sync your garage door opener to other smart features in your home, you can go hands-free and operate the garage door conveniently using voice commands. 
The LiftMaster 8500W works with Amazon Key. This handy feature allows the opener to open your garage for Amazon delivery personnel automatically. This way, you do not have to be home to receive deliveries from Amazon securely.
Pros 
The opener features a 1500 lumen LED light that automatically lights up your garage upon entering. 

It has a battery backup to enable continuous operation even during a power outage. 

The garage door opener features a sleek, space-saving design that mounts on the side of the door.

This Elite Series model from LiftMaster comes fully equipped with security 2.0, MyQ to keep your home safer. 

The wall-mount design ensures silent operation with no irritating vibrations. 
Cons 
This LiftMaster Elite Series model requires a front mount torsion bar system to work, which can be limiting. 
Buy on Amazon
Here is another wall-mount piece from LiftMaster whose sleek, space-saving design helps free up the overhead space on your garage ceiling. It comes fully equipped with LiftMaster's security 2.0, MyQ, to keep your home safer.
This advanced security feature enables you to monitor and control your garage door and lighting remotely from wherever you are. It also sends real-time notifications to your phone to let you stay on top of the situation. 
The p3 motors on this opener provide reliable, powerful, and durable performance to save you money in the long run. 
Many homeowners also love how quietly this opener's motor operates. It does not produce any rattling sounds that could make it uncomfortable to use near a living space. 
Unfortunately, this garage door opener is not without its share of limitations. If you have a roll-up garage door at home, you are out of luck because it is not compatible with roll-up doors. 
Pros 
This opener is quite affordable, considering all the great features that come with it. 

You can install a home kit add-on and connect your Liftmaster 8500 with Apple's Siri to make your operations smart. With this feature, you can use voice commands to operate the garage door and home lights hands-free.

The battery backup option on this garage door opener means that power outages will not interrupt your operation. 

The security+2.0 rolling code technology helps make your home safer by ensuring your garage door is hack-proof. 
Cons 
This opener is not compatible with roll-up garage doors, which can be a deal-breaker for persons with this kind of garage door. 
Buy on Amazon
If you are low on budget but wish to keep your home safer with some basic but great features, the Genie 6072H opener may be your best bet. It comes with a relatively small price tag to help save you from breaking the bank.
With its HomeLink & Car2U compatibility, you can connect your garage door to your car and operate it without needing a remote.  
The opener features a powerful motor in a compact design that goes a long way in saving you some much-needed space. If you have a tight-spaced garage, this opener may be ideal for you. 
You will be happy to know that despite its compact size, the Genie 6072H will lift an 18-foot, 850-pound garage door without breaking a sweat.
Pros 
The garage door opener has a battery backup to ensure continuous operation even when there is no electricity.   
It packs some handy features, including a wireless wall console, an Intellicode remote, Bluetooth LED light, and a remote door lock to simplify remote operation. 

It features a built-in slack cable detection system, Safe-T-Pulse, that ensures safe garage door travel. 

This garage door opener is low cost, helping you save off your purchase.
Cons 
This Genie garage door does not have many premium features, such as WiFi connectivity fund on the Chamberlain RJO20 or the LiftMaster 8500W.
Buy on Amazon
This 8500 wall mount package from LiftMaster is an upgrade from the company's 3800 series. This means it boasts some much-needed improvements from its predecessors.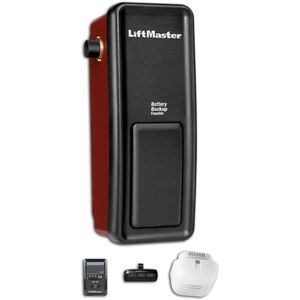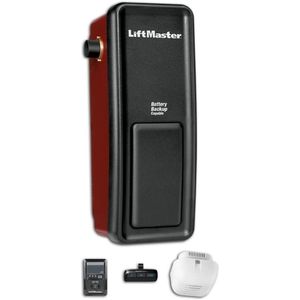 We love how this opener offers more speed in its operation, allowing you to open and close your garage door in less time. It is even more fascinating than it works that much faster without causing any perceptible vibrations or noise. 
For a new installation, you do not have to hire a professional for the work. The opener comes with an easy-to-read user guide to walk you through the installation. It is amazingly easy to install; you do not need any professional knowledge or previous experience to put it in place.
The opener is compatible with the MyQ app, so you can connect the garage opener to your smartphone and unlock multiple smart features. In addition, it will send alerts to your phone and allow you to operate the door and home lights remotely.
This garage door opener has a stylish design, featuring faux wood on both sides. If you are looking for something beautiful and functional, this wall-mount opener may be for you.
Pros
The innovative design helps save you a lot of space in the garage. 

The opener allows you to set specific times for opening and closing of your garage door.

It features an auto-reversal feature that guarantees the safety of your kids and pets. 

Automatic lighting on the motor unit helps illuminates the garage. 

The unit has a built-in battery to ensure continuous operation. 

Its auto-force feature means the unit will self-monitor and adjust its opening and closing force accordingly. This technology helps minimize wear and tear and saves you money in the long run.
Cons
This opener is not compatible with some garage doors.
Buy on Amazon
This 8500 LiftMaster 2-Pack opener comes with all the advancements of LiftMaster's latest models.  It offers silent operation and no vibration, so you can use it near your living space without a problem.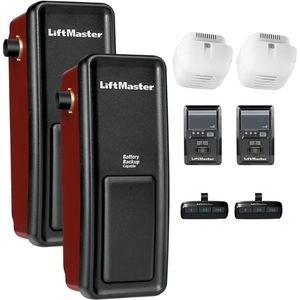 The 2-Pack opener operates on DC motors, with an auto-lubrication feature that ensures smooth running and minimal wear and tear. 
Like most of Liftmaster's latest models, you can download the associated MyQ app and use it to operate the door from the comfort of your smartphone. 
The opener is also designed to make system diagnosis easier. Its lights are designed to come on and stay on to let you know if the protector system has sustained any damage.
You will be happy to know that this garage door opener unit has a rolling code technology, which makes it nearly hack-proof. Since the code changes all the time, any hacker's attempt to crack it will be futile. 
The unique Posilock system in this opener means the garage door will always be properly shut to keep your home inaccessible to unauthorized persons.
Pros
It features mechanically adjustable sensors for added safety 

The 829LM door monitor that comes with this opener notifies you when the garage door is opened or shut. This can mean you are always informed about the garage door situation. 

It has a wireless remote control that makes operation easier. 

The opener is MyQ compatible for smartphone integration 

Auto-lubrication feature ensures smooth operation. 
Cons
Unfortunately, the opener's auto-lighting system works only if the garage door is fully open.

The unit also lacks a built-in battery backup for continuous operation during power outages. 
Buy on Amazon
Best Jackshaft Garage Door Opener Buying Guide 2022
Choosing the best jackshaft garage door opener without compromising quality and efficiency can be a daunting task, especially if you are a first-time buyer. In this guide, we researched and came up with a list of factors you should consider to help you with a purchase decision and why you should go for jackshaft garage door opener units.
Why choose a jackshaft garage door opener 
While overhead installations are relatively more common than wall mount systems, the latter offers some significant benefits that make them a worthy investment. 
Jackshaft garage door opener models are especially advantageous for homeowners with smaller garage door spaces or those who use their garages for a number of other uses. 
Here are some of the reasons why a jackshaft garage door opener may be ideal for you. 
#1. They help you save up on space
Standard overhead options often take up a significant amount of overhead space, which homeowners can save by upgrading to jackshaft models. 
Since jackshaft garage door openers are mounted on the small space on either side of the garage door, they leave the entire ceiling space available to the homeowner for other storage uses. 
For instance, you can repurpose this space and use it to keep irregularly shaped items like bicycles or other or large objects such as canoes. This would not be possible with overhead installations. 
Such installations that feature a motor unit up the ceiling and a rail around the garage often restrict the amount of ceiling space available. Thankfully, jackshaft systems help solve this problem.
#2. The systems have more safety assurance  
Despite the installation standards put in place, having a motor unit hanging over your head or car often presents some degree of risk. The system also becomes somewhat precarious after it has weathered the vibrations of its operation for several years.  
When you transfer that motor unit to the side of the door, you completely solve that safety equation. That is where a jackshaft installation comes in. 
In case of emergency, you can operate a jackshaft garage door opener manually. This provision makes it comparatively safer in such situations. 
Jackshaft garage door openers have also been evolving over the years. Today, these openers come with great safety features, including a reliable automatic reversal system that gives you peace of mind knowing your family will not get hurt accidentally.
Many modern jackshaft models also allow for upgrading to include a 200-watt light for more convenience and added safety.
#3. These systems have flexible installation options
While overhead installations often require at least 48 inches of overhead clearance above the garage door, jackshaft systems need no such overhead clearance. Therefore, they can be ideal for garages with incredibly low or high ceilings.
Since the wall-mount opener system sits on the side of the garage door, it has no overhead space restrictions. It can work with virtually any door height and operate with no issues whatsoever. 
Their design allows them to provide a dependable and efficient opener alternative for garages with non-standard measurements.
If your garage has boilers or pipes near the ceiling, a traditional garage door system may not work for you. In such cases, you would highly benefit from the flexibility of a jackshaft garage door system. 
#4. Jackshaft systems offer quiet operation 
Perhaps one of the main advantages of a jackshaft garage door opener is its quiet operation. Compared to belt or chain drive systems, wall-mount openers are pretty silent and produce no vibrations while operating. 
For this reason, they are ideal for use in places where the garage is located near bedrooms or some other living unit.
In such cases, you can count on the garage door opener to open and close the door without causing any disturbances. 
#5. Jackshaft systems offer more customization options 
Some residential jackshaft models on today's market come with numerous customizable features. These include being able to operate the opener remotely with a smartphone, tablet, or personal computer. 
Many of them also come with an optional battery backup that guarantees continuous operation even during power outages. 
Below are some of the factors you should consider when making a purchase decision 
Durability
Longevity is a crucial factor that you must consider when contemplating buying a garage door opener. In most cases, the motor's power will determine how long your garage door will last while still providing you with the same efficiency and value. A jackshaft garage door with a lower horsepower motor is cheaper but will wear out faster. 
A durable garage door opener should be operated with a motor with higher horsepower. A 1/2 or 3/4 horsepower motor will ensure the durability you desire. The only drawback is that you might be required to go deep in your pocket. However, it will be worth every penny in the long run and will serve you for the years to come.
However, much depends on whether your garage is a single door or a double door. If you have a double door, go for a lower HP motor such as a 1/3HP motor. However, consider a 3/4HP motor for your garage door opener if you operate heavier doors. Your budget is also an integral factor of consideration.
Horsepower
The power an engine produces is called horsepower (HP). Most garage door openers come in different sizes based on horsepower, and jackshaft is no exemption. The three sizes include 3/4 HP, 1/2 HP, and 1/3HP. 
If you intend to buy a jackshaft garage door opener, you must consider its horsepower. However, the choice of the HP size also depends on whether your garage is a double or single door and whether it is heavy or light, that is, the type of material that makes your opener. 
Suppose you have a double-door garage, a 3/4HP motor will be the ideal choice. However, since high prices also characterize higher HPs, a 1/2HP motor will still serve you just right. Hence, consider an opener of at least 1/2 HP for a double-door garage door opener. 
 For a single door, consider a 1/3 HP. The only drawback you must be prepared for with a 1/3HP is longevity. It will not last long, and you might go for a replacement sooner. The 1/3 HP model is, however, cheap. The price of the units increases with the HP rating; hence 3/4HP is the most expensive of the three sizes. 
Moreover, the high HP ratings are ideal for heavy garage doors. 
Warranty
Warranty is an essential element of consideration when buying a garage door opener. The warranties often range from a year to a lifetime, depending on the company and the unit you buy. 
Before making a purchase decision, consider the warranty period and what terms are put on the motor. The motor is an integral part of your garage door opener. You must be careful with your choice and the warranty that covers your unit.
Battery Backups
Regardless of the garage you are operating, home or commercial garage, battery backup is a wonderful consideration when choosing the best jackshaft garage door opener. The battery backup will help you access your garage when there is a power outage.
Particularly, if your area is prone to power outages, you must consider having a battery backup.
Rolling Code Security Technology
The Rolling code is a practical security consideration when choosing a garage door opener. The feature allows you to have a more secure garage door opener. For example, when you use a remote, you can randomly choose a new code. If another individual happens to have seen your older code, they will not access your garage since you can change effectively change these codes.
The video below elaborates on how to select a commercial garage door opener
When should you choose a jackshaft garage door opener? 
Jackshaft garage door openers have traditionally been more common for commercial than residential use. But that is changing as these openers become a more common sight in residential garages across many homes.
That said, there are instances when a jackshaft garage door opener is the ideal alternative over the traditional rail system. Here are three of these instances when you will want to choose a jackshaft opener over a standard overhead one. 
Where the overhead clearance is inadequate 
If a garage has limited depth, it may not have the required 48-inch overhead clearance for a standard installation. That leaves such a garage with one suitable option: a wall mount installation. 
This is a common scenario for garages with plumbing, a boiler, or other fixtures taking up the ceiling space and limiting the amount of depth available.
Since the jackshaft opener will sit on the door side, the limited depth will not inhibit its installation or operation, leaving it as the ideal, go-to alternative.
High garage ceilings 
Garages with non-standard heights reaching up to 12 feet are often better suited for storing other items on the ceiling space. 
However, placing a rail system and motor unit in this space can spoil that arrangement. A standard chain or belt drive opener may limit the amount of overhead space left. 
Therefore, a jackshaft garage door opener usually comes in handy, ensuring that the single or dual car garage has all the ceiling space for its intended purpose: storage. 
Slanted ceilings 
Where the ceiling is sloped, the slant makes it extremely challenging to position an overhead garage door opener as required.
For such cases, a jackshaft system is typically the alternative. It offers smooth operations unaffected by the shape of the ceiling.
Jackshaft opener vs. overhead garage door opener?
You can be spoilt of a practical choice between jackshaft and overhead garage door openers as the operations of these units vary with the various garage setups. 
However, various specific features will help you choose the most favorable units of the two. For instance, the best jackshaft garage door opener would be the most appropriate when you are considering the following; 
 Attached Garage.

If your garage is attached to your home, you need a quiet garage door opener. Jackshaft openers have limited moving parts compared to the overhead, improving their quietness. The absence of chain or screw drive systems also adds to the jackshaft garage door opener's quiet operation. 

Ease of Installation. Consider a jackshaft opener over the overhead type if you do not want to incur extra installation costs. The units are easy to install and operate. You can execute the installation by yourself.
High Ceiling. If your garage has a high ceiling, consider a jackshaft opener. The same applies when you do not have much headroom in your garage space.

Limited space. 

Space-saving designs characterize the jackshaft garage door openers. Unlike overhead door openers requiring a significant ceiling space of at least 48 inches that many homes or garages cannot accommodate, the jackshaft types only need 5-6 inches of the ceiling space.  

Besides, if you install your jackshaft garage door opener on the side of your garage door, you are left with the whole overhead space to store items such as bicycles (overhead storage). 

Improved security-

Jackshaft openers come with enhanced security. Most garage doors are integrated with a release cord that an individual can pull to detach the door from the opener, which allows for manual operations in lifting the garage doors by the owners during emergencies. 

Even though the release cord is convenient, it can be triggered from outside, an insecurity feature. It can promote burglary in your garage space. The jackshaft garage door openers do not have these cords, and hence they cannot be manipulated from the outside.
Frequently Asked Questions
Are Jackshaft garage door openers reliable?
Jackshaft or side-mounted garage door openers traditionally used for commercial applications have become increasingly popular in residential garages for their reliability. The openers also offer smooth operation, exceptional security, and overall long-term dependability.
Are LiftMaster and Chamberlain the same?
Both LiftMaster and Chamberlain garage door opener brands belong to the same parent company called the Chamberlain Group. This explains why the products from these two brands have a lot in common. 
Perhaps the only main difference between LiftMaster and Chamberlain is that they are designed to target different consumer groups. 
How much does a Jackshaft garage door opener cost?
The average retail cost for jackshaft garage door openers is $250-$800. The price varies depending on the features you are looking for in making your purchase decision. I have reviewed these features in the buying guide.
Are LiftMaster openers any good?
I'd recommend LiftMaster garage door openers any time, any day. These units are top in the market with unsurpassed reliability, convenience, durability, safety, and security technologies. I would rate them 5/5.
Conclusion 
After testing various jackshaft garage door openers and reviewing customer feedback, the Chamberlain RJO20 smart garage door opener made it to the top of our list as the best jackshaft garage door opener LiftMaster Elite Series 8500W following closely. 
We hope this review and user guide helped you find the best opener for your garage door. Let us know what you think in the comments section.