Garage floors take a lot of beating from foot traffic, car wheels, bicycles, and all the equipment and power tools stored and used in the garage. These things eventually take a toll on the floor surface and can significantly hurt its aesthetics. 
Thankfully, there are inexpensive ways to fix the concrete floor's injured aesthetics and protect it from further damage. 
One such option is to paint it. However, not any paint will work on the garage floor. You need a type specifically formulated to withstand the abuse associated with the garage floor. 
Read along for the best paint for garage floor. You'll also learn about the different types of garage floor paint and how to choose them. This should help you make the right decision.
Also Read: 
Best Paint for Garage Floor at a Glance for 2023
Types of Garage Floor Paint
As already mentioned, not any paint can work on garage floors. Instead, you can only use one of three paint types—acrylic, latex, and one-part epoxy paint.
Latex and acrylic paints are highly flexible, allowing them to withstand the abuse that garage floors experience. However, epoxy paint is the sturdiest and most durable of the three options.
The product consists of epoxy ester resin in its formula that brings all the valuable properties of epoxy, including mold resistance and resilience against chemicals, scuffing, automotive fluid stains, and chipping.
The acrylic latex paint mixed into the formula is mainly responsible for the color.
This product also bonds to the concrete on garage floors better than standard paint, which helps it resist peeling, chipping, and hot tire pick-up. If you go for a typical latex or acrylic paint instead, you must retouch or paint it at least once every six months or yearly, depending on garage use.
Below, we look at each paint type to help you understand them better
One-part epoxy paints
Epoxy paints are a blend of epoxy ester resin and acrylic latex paints. This mixture gives the product the best of both worlds. 
Notice that regular epoxies are usually available as two-part products, marketed and sold in kits with buckets of a polyamine hardener and epoxy resin. 
Using the product requires mixing the two in a 50-50 ratio or as directed by the manufacturer to achieve the final epoxy product applied to the garage floor.
These products can be water- or solvent-based, with characteristics that vary significantly from one product or formula to another.  A good example of one-part epoxy paints is KILZ 1-Part Epoxy Acrylic Concrete and Garage Floor Paint. 
Buy on Amazon
In any case, true epoxies are durable and highly resistant to scratching, chipping, and peeling. They also offer great resistance to hot tire pick-up. 
One-part epoxies, a blend of epoxy resin and latex or acrylic paint, share the same characteristics as true epoxies. However, since they contain only a small amount of epoxy resins, they are generally less durable than true epoxies. 
However, one-part epoxy products are still more durable than acrylic or latex garage floor paints. They are also more expensive than the two paint types. 
These garage floor paints contain more acrylic resin than latex paints. Surfaces with this type of paint are supple. This quality makes them ideal for garages with no air conditioning.
The flexibility allows the paint to expand and contract with changes in temperature, making such floors less likely to chip or crack.
The high concentration of acrylic resin in these paints makes them more durable than latex paints. They also tend to be brighter colored and more resistant to fading. An example of acrylic paint is Sargent Art Acrylic Paint shown above. 
That comparative advantage comes at a cost, so these paints can cost up to twice as much as their latex cousins. 
Buy on Amazon
Latex paints are water-based products with lower concentrations of acrylic resin than acrylic paints. However, they apply easily, just like acrylic paints do.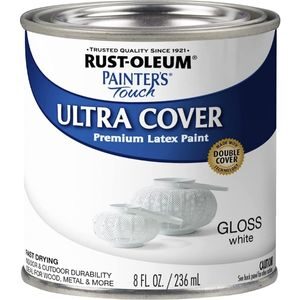 Since they are water-based, you can clean the product used to apply the product easily with soap and water. The paint is also low in fumes and odor, making them friendlier to the lungs and nostrils.
Surfaces with latex paints dry quickly, allowing for faster recoat times. However, these surfaces are less durable and have less-truer colors than acrylic-painted surfaces. 
The biggest advantage of latex paints is their cost. They are the least expensive of the three garage floor paint types discussed here but will not last nearly as long as the most durable option. This means they can be costlier in the long run as they require frequent reapplication. One of the most efficient example among the latex paints is Rust-Oleum 1992730 Painter's Touch Latex Paint shown above. 
Buy on Amazon
Best Paint for Garage Floor Reviews 2023
Selection Criteria/Methodology:  A few garage floor paints have stood out from our research. We evaluated the following products depending on the ease of application, durability, coverage, cost, drying time, and material. Also, we considered the paint types that a vast consumer base in the USA could access. All these units will provide your garage door with added value and lifespan.
Also, the decision on these top choices was based on end-user recommendations, reviews,  and ratings.
Read along to find the few picks that made it to the top of our list and why.
The KILZ one-part epoxy is a well-formulated blend of acrylic paint and epoxy resin. It represents the best way to get the toughness of epoxy resin and the suppleness of acrylic in one durable product.
Since it is a one-part epoxy paint, there is no mixing required. Unlike two-part epoxies that you must mix before applying to your garage floor, this product is ready to apply when you purchase it. 
This ready-to-use quality can make your life easier by simplifying and speeding up the project completion time. 
The KILZ one-part epoxy paint comes in a neutral gray color that will go with virtually any color inside your garage while updating and complementing your concrete floor.
Since the paint is water-based, it will not emit any strong fumes that may irritate your lungs. The formula is also low in volatile organic compounds, making it environmentally friendly. 
It creates a durable coat that protects your floor from wear and physical damage. You can expect the beautiful satin sheen to stand up to high traffic and remain as good as new for years.
The product boasts great resistance to staining from oils and automotive fluids. Ensure you follow the instructions that come with your purchase to apply two coats for better coverage, or let a professional do the work for you. 
The manufacturer claims the product can cover up to 500 square feet of the garage floor. However, this claim is usually rather optimistic, so we would settle for the minimum coverage of about 400 square feet. Notice that this is still a superior coverage to most competing products.
Pros 
The one-part epoxy paint offers excellent value for the money 

It is fast-drying and high-coverage.

It offers resistance against UV damage. 

A water-based formula makes the product eco-friendly 

It creates a durable finish with a beautiful satin sheen. 

The paint dries quickly
Cons 
It requires multiple coats to achieve the desired durability 

Rougher floors may require more paint.
Buy on Amazon
Perhaps one of the most appealing qualities of this product from Rust Bullet is its application method. The formula allows you to use a paint sprayer to simplify the application process, but you can still go with your trusty old paint roller or brush on this one.
Whichever application method you choose, the finish is a durable coat offering incredible resistance to scratching, chipping, and chemical damage. 
Rust Bullet's DuraGrade concrete paint is also resistant to UV damage. So exposure to too much natural lighting from the sun during those prolonged DIY sessions in the summer will not cause your painted garage floor to fade. 
You should be delighted to know that the product can be used indoors and outdoors. This versatility means you can use whatever remains after coating your garage floor on the driveway to give it a facelift and make it last even longer. 
Up to 18 different colors are available to choose from. Regardless of your garage décor, you can be sure you'll find a perfect match. 
This product is highly durable, meaning it can save you a significant amount of money in the long run.
The product requires no basecoat or primer. It does not need a topcoat, either. This quality reduces the number of products you must buy, saving you money and application time. 
And if you like to use products made in the United States, you are in luck. This epoxy-paint blend is manufactured in the US.
Pros 
The product is resistant to UV rays, chemical spills, hot tire pick-ups, and scratches.

It is incredibly versatile; you can use it indoors and outdoors

It is a one-part epoxy, so it will take far less time to use than a standard two-part epoxy kit.

It has plenty of color options to choose from

The paint holds up incredibly well, according to its users

It is easy to apply with a paint sprayer, brush, or roller. 

The glossy finish gives your garage floor a classy appearance 
Cons 
Some users find this product difficult to level, especially during recoating. 
Buy on Amazon
This acrylic paint fortified with epoxy guarantees high performance on concrete garage floors. The paint is highly resistant to hot tire pick-up that might otherwise mar the aesthetics of your garage floor.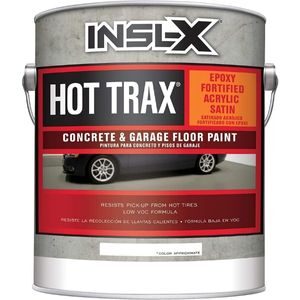 Additionally, the INSL-X Hot Trax Paint is resistant to scuffing and chipping, thanks to the formula's perfectly balanced mix of acrylic and epoxy resins.
Many users find the product to be among the most durable one-part acrylic paints on the market. It is also high-coverage, with a single gallon covering up to 400 square feet of the garage floor. 
Since the manufacturer recommends waiting five to seven days before driving on the painted surface, most people may find this a bummer. The long drying time requires a lot of patience, which may be an issue if you have little time. 
Pros 
The product is moderately priced.

It covers up to 400 square feet, greater than most competing brands. 

It is resistant to chemicals and automotive fluids 

The paint is durable 

The product has a low-VOC formula, making it ideal for use around your family and pets.
Cons 
The INSL-X Hot Trax Paint has a long drying time, which may be unideal for people pressed for time.

It has a long recoating period.
Buy on Amazon
If you want a product that you can apply in less time, the Drylok E-1 may be perfect. It does not require a primer, so you can apply it directly to clean concrete. This means you can also save on the cost of primer.
The paint boasts an incredibly high moisture tolerance, making it ideal for garages used as a workshop or an extension of the main living space.
The dry coat is thick and durable. It resists hot tire pick-up, scratching, and chipping. This means the paint can help you save money in the long run. 
It is a one-part epoxy, which means there is no mixing of two separate products before application. Standard epoxies come in two separate gallons that you must mix to create the final product. 
However, this one-part epoxy paint comes in a ready-to-use form, which is time and labor-saving. 
The paint dries into a semi-gloss finish on your garage floor. This smooth shine can give your garage space an upscale look. The shine can also make your garage brighter and seemingly more spacious. 
This product is a perfect choice for people who wish to remain mindful of the environment. Its low-VOC formula makes it ecologically friendly. 
Thanks to advanced epoxy technology, your garage floor will benefit from the excellent durability and greater protection of the Drylok E-1 from United Gilsonite Lab. 
Dryloc E1 is available in multiple colors, so you can choose the color that best matches your garage décor. 
Pros 
This product boasts extreme water resistance

It retains its color better than most competing products

It is durable and resistant to chemicals, hot tire pick-up, and staining from vehicle fluids like gasoline and grease.

It works for both interior and exterior concrete floors, so you can use it on your garage floor and driveway. 

The product is UV resistant

It cleans up easily with soap and water.
Cons 
The product requires more than one coat for proper coverage. 
Buy on Amazon
Rust-Oleum is a renowned brand with decades of a reputation as a leading manufacturer of finishes. If you prefer to stick with a popular, trusted brand, this concrete and garage floor paint from Rust-Oleum may be perfect for you.
With over 100 years of manufacturing protective paint products, you can be confident that you are getting your money's worth with this tried and true quality from Rust-Oleum. 
This product is a perfect mix of paint and primer explicitly formulated for garage floors. It saves you the trouble of applying a primer before painting your floors. This advantage can go a long way in helping you complete your paint job sooner. 
Many users consider it the best garage floor paint due to its high concentration of acrylic resins. This quality makes it durable and resilient; just the perfect paint for a garage that has no climate control. 
The supple paint coat will withstand changing temperatures without chipping or peeling. 
The acrylic paint formula also ensures the color looks truer and lasts longer on your garage floor. 
According to the manufacturer, you need only one coat of this acrylic paint to achieve the desired coverage. While this may work for some people, some homeowners have challenged that claim. 
Nonetheless, the paint does a decent job of resisting fading and staining. It is also adequately resistant to UV damage, so you won't have to worry about prolonged exposure to the sun during those DIY-packed or fun-filled summer months. 
Pros 
The paint-primer formula makes the application easier and quicker 

The product is fast-drying. It dries to the touch in just an hour. 

It offers great coverage, made specifically for concrete. 

The formula is scuff-resistant.
Cons 
Some users find the one-coat coverage to be inadequate. This is contrary to what the manufacturer claims.  
Buy on Amazon
Best Paint for Garage Floor Buyers' Guide 2023
This section helps you determine the essential factors to consider before you purchase any of the best paints for your garage and why you need to paint your garage. Also, it provides you with a step-by-step process on how to paint your garage, in case it's your first time doing the painting project.
Reasons You Need to Paint your Garage Floor
Painting your garage door is associated with numerous benefits. You are not only enhancing your garage's look or aesthetics by painting the floor but also improving its functionality and lifespan. A painted garage floor improves your garage's general value and gives your home a new look.
Besides, painting ensures that the imperfections and the cracks on your garage floor are completely covered and your bare concrete preserved.
If you are still wondering why you should paint your garage floor, below are some reasons that will completely change your mind about painting your floor. Besides, you do not need to consult or pay an expert for the painting job. I have also provided a straightforward process on how you can prepare and do the painting job by yourself.
Brighten Garage Space
You must have noticed that sometimes you find it hard to see when working in your garage space. You may be wondering why that is so when your garage is well-lit and ventilated.
Essentially, bare concrete floors absorb light while painted ones reflect it. This implies that when your garage space gets dark, the problem may not be with the ceiling lights but your bare concrete that absorbs the light.
Painting your garage floor will improve its brightness. You can choose colors that reflect light, such as white, blonde, greige, light brown, cream, or light grey and brighten your garage without adding more lighting compartments.
Easy Cleaning
You will interact with numerous elements in your garage, including chemicals, oils, grease, tools, and other equipment that may attract dust and make your garage floor untidy.
You do not want to work in an unkempt environment that will be tedious and time-consuming to clean.
Painting your garage floor eases your cleaning process. For instance, unlike bare concrete floors, the painted floors do not allow the oil and other garage chemicals to seep through the floors. Paints, like epoxy, establish an impenetrable seal that keeps your garage floor from stains.
Besides, the cleaning is easy as the dirt and other floor messes will sit on the paint instead of getting soaked, making it easy to wipe them out with a brush, rag, or broom. Bare floors stick the stains, forcing you to spend more on the solvent to eradicate them.
Keeps off Dust from the Garage
Dust always forms on bare concrete floors and can cover every component or piece of equipment in your garage. With continued usage and little maintenance over time, the concrete floors may begin creating dust that might end up in any part of your garage, including the windows.
Painting your garage floor reduces the amount of dust in the garage. For instance, applying epoxy paint may seal your garage floor and ensure the trapped dust on the bare concrete does not wind up in other garage areas. The sealing also prevents the new dust particles from getting kicked up.
Enhance Traction
If you have ever walked on a wet bare floor with shoes, you must have realized how easy it is to slip and fall. You can injure yourself, especially if you are unaware of the status of the floor.
You can prevent such unprecedented accidents by painting your garage floor. Painting your garage floor using epoxy paint can enhance your floor traction and help you establish a safe working environment.
Things to consider when choosing the best paint for the garage floor 
Narrowing your search down to a specific pick requires following the right criteria. How do you determine the right product for your needs?
Not all garage floor paints are equal, so be sure to consider these factors to determine the option likely to work best for you. 
Various garage floor paints have different prices. Ideally, standard two-part epoxies are typically more expensive than epoxy paints. 
Still, since one-part epoxy paints perform better than acrylic and latex paints, they come at a relatively higher cost than the latter two. 
Acrylic paints are the second in terms of price, with latex paints at the bottom of the list in durability and price.
Thankfully, all these paint types are reasonably priced, with only slight differences in price for most cases. 
For instance, latex garage floor paint which is the least expensive option, sells at around 15 cents per square foot on average. On the other hand, acrylic paint costs about double the price, at roughly 30 cents per square foot. 
One-part epoxy, the priciest of the three, may cost approximately $1.50 per square foot of coverage.
While these price differences may be significant upfront, the least expensive option is not necessarily the best. In fact, you should always consider the pricier garage floor paints over the least expensive options.
The secret is, the more expensive products tend to be incredibly durable, saving you money in the long run. When you factor in this longevity, the most expensive paint may be the most cost-effective in the long run. 
It is generally better to pay more upfront for a more durable product and save in the long run than an inexpensive product that you must reapply from time to time. 
Floor material and its condition 
Garage floor paints are meant to go on a smooth surface, often concrete. Ideally, the coverage given is only typically achievable when the floor surface is smooth. The more porous the material, the more paint it will absorb, reducing the coverage. 
You also want to ensure the floor is in good condition before painting it. Applying a coat of garage floor paint on a damaged surface will be a total waste because painting does not fix a damaged floor.
Before painting, ensure you clean the surface and fill any cracks for the best results. Also, while most paint products are perfectly capable of masking stains on the garage floor, it is best to remove any stains before painting, as some can interfere with adhesion.
The garage floor appearance 
The appearance of your garage painted garage floor includes the color, feel, and sheen. While the color can be anything you choose or want, the texture and gloss depend on your selected product.
Acrylic and latex paints are relatively runnier than epoxy paints when applied due to the thicker consistency of epoxy resin in the latter. 
Dry acrylic and latex paints also tend to have lower sheens than epoxy paint, which dries into a shiny, high-gloss finish. Epoxy is also stickier and thicker when applied. 
So if you want a much more polished look, an epoxy product may be ideal. This is especially suitable when you want the space to look bigger. The polished, shiny floor will create a feeling of spaciousness, making the garage appear more spacious than it is. 
If you prefer something subtle and less attention-grabbing, acrylic or latex paint should do. These options may also be available in more colors than epoxy paints.  
So, consider the look you want to determine the product that will deliver that look.
Latex paints are typically the least durable due to their low levels of acrylic resin. Acrylic garage floor paints are relatively more durable than their latex cousins, while epoxy paints perform better than the first two paint types. 
Expect latex or acrylic paint to last about 1 to 2 years before requiring a makeover. These paints without epoxy also require the most frequent reapplication since they eventually tend to chip or flake off.
In essence, latex paints flake off sooner than acrylic paints. This can make them unideal in the long run because their durability is shaky.
One-part epoxy paints perform better and can hold up for between 3 and 5 years on the garage floor without chipping or flaking. They are nonporous, thanks to the epoxy in their formula.
This quality makes these epoxy products more resilient against chemicals, automotive fluids, and physical impact.
Pure two-part epoxies are the most durable of all epoxy products. When applied correctly, they can last more than a decade without showing signs of deterioration. They resist chipping, chemicals, and water better than paints, even though they may be available in fewer colors. 
While some paints require a primer before application, others are formulated to go directly onto the garage floor surface. 
Applying a primer before the paint may mean spending more time on the project than going straight to painting after cleaning the floor. This is why most people prefer products that allow you to skip the primer altogether. 
Nonetheless, you should always clean the floor thoroughly and fix any damaged areas before painting it, regardless of the product you are using. 
Since epoxy products create glossier surfaces when dry, they generally offer less traction. This is why two-part epoxy kits usually include anti-slip compounds to be added to the product to increase traction on the floors. 
On the other hand, acrylic and latex paints are less slick than epoxy and generally do not require anti-skid compounds. They offer good traction when dry, so you can use the floors without worrying about slipping. 
One-part epoxies contain a mix of epoxy and acrylic latex paints, so they are usually less slip-prone than pure epoxy. 
For this reason, one-part epoxies do not usually include anti-slip compounds like sand and fine silica. Still, adding these compounds is optional if you want more traction to reduce the risk of slipping. 
How to Paint Garage Floor
Painting is an integral practice that you can adopt to give your garage floor a completely new look when it is damaged or stained by grease, oil, or rust. Even though it may seem easy on the surface, you must get your painting job correct paints to get the desired outcome.
Otherwise, your paint may not last on the floor and may peel off as soon as it is applied.
This won't be a worry for you anymore. We have a step-by-step process for painting the garage floor and the materials needed to complete your job.
 Needed Materials
Paint Tray
Paint Brush/Paint Roller
Bucket
Pressure washer
Stiff brush
Degreaser
Wet-Dry Vacuum
Detergent
Broom
 Determine the Right Paint for the Garage Floor
Once you have the material, the following essential job is determining the right paint for your floor. In most instances, when you use the wrong paint for the garage floor, such as the basement paint, it may peel off when you drive onto it. The type of wear and exposure the garage floors receive vary from that of the basement. As such, choosing the right paint for the floor is paramount.
This guide has discussed three types of paints; acrylic, latex, and one-part epoxy paint. The paints vary in strength and application. For instance, acrylic and latex paints are more flexible and can withstand various garage floor activities. However, epoxy paint will be ideal if you want a more robust or durable option.
Furthermore, latex paints are water-based, meaning you can clean your tools with water and soap when you are done painting, making latex paints popular among DIYs. Other paints, the oil-based and two-part epoxy require solvents for clean-ups.
Latex paints are easy to apply, dry faster, and are less costly. However, one drawback of these paints is that they may not last as long as epoxy paints. Also, unlike latex paints, which are easy to apply, epoxy paints require a more extensive application. However, they are more durable and expensive than acrylic or latex paints.
So if you are looking for a paint that will withstand the heaviest of the machinery, then you may consider one-part epoxy products such as the KILZ 1-Part Epoxy Acrylic Concrete and Garage Floor Paint.  Otherwise, the other two types of paints discussed in the articles are also up to the garage floor tasks.
Regardless of the paint type you have selected, ensure that you have adequately followed the instructions in the manual. For instance, ensure you have followed the guidelines on preparing the floor surface. Also, consider the weather when painting, that is, at the right temperature, to allow good bonding.
The humidity at the time of application of the paint can also affect the durability of your floor paint. Read the manual to determine the appropriate time to apply the paint.
Prepare the Garage Floor
Before you paint your garage floor, ensure that you have adequately cleaned it and repaired any damage, such as its surface cracks. First, ensure that the floor is free of any item and you can access all the corners. Use a solution of trisodium phosphate and a stiff or wire brush to scrub the whole floor, eliminating any foreign matter on the floor's surface.
If repainting the floor, use a scraper to remove loose paint and other stubborn elements such as rust. With the wet-dry vacuum at your disposal, remove all the debris and dust from the loose paints from the floor and use a pressure washer to clean the whole floor's surface. Allow your floor to dry.
However, if your floor is stained with grease or oil, only scrubbing or cleaning with water and soap will not eliminate the stains. In this case, you must apply a degreaser or solvent. Apply a degreaser on the stained areas and scrub them using a stiff brush. Use a clean rag to wipe off the removed paint residues.
Remember, you did not want a discolored floor after your painting job. If left on the floor surface, the grease or oil stains will cause discoloration of your garage floor; hence must be removed before painting. Kerosene and mineral spirits are examples of degreasers that remove oil-based paints and other adhesives. If you want to use the degreaser on metal surfaces, choose trichloroethylene.
The last step to preparing your floor is checking for any damage to the floor. Assess whether your floor has cracks or holes. Use hydraulic cement or a concrete patch to fill the gaps or fix the cracks. Ensure you have fixed the damage to the correct garage floor level. Use a broom to clean any cement or concrete patch that remains.
Step 1: Sand/Etch the Floors
The first step to ensuring that your paint effectively adheres to the concrete is to roughen the surface through sanding. Use a power grinder or sander to create a rough surface that sticks to the paints easily, especially when painting over old paint or you do not want to use chemicals. Use a vacuum to remove the sanded debris and dust.
Besides, you can achieve a rough texture on your concrete surface using an etching product such as muriatic acid.
Etching is a deep cleaning process to enhance the bond between the concrete surface and the paint. If you do not etch the floor before painting, you may create a surface that will peel off sooner than expected due to loose bonding between the paint and the floor surface.
You may need a professional to help with this process. However, the process is still straightforward if you do not want to spend an extra penny on your painting job.
First, make a solution of one part muriatic acid to three parts water (1:3) utilizing one gallon per 100 square feet of surface (10X10-fit surface area).
Next, using a stiff brush, scrub the Muriatic acid solution on the concrete floor and allow it to stay on the floor for about 5-10 minutes until the bubbling stops. Wear protective equipment such as gloves and gumboots when applying the solution.
Rinse the solution with clean water once the bubbling has completely stopped, and allow the floor surface to dry. Observe the surface after drying and confirm it does not affect the performance of the primer and paint.
If you have effectively executed the etching process, your floor surface will have a good texture, promoting the bonding between the paint and the concrete surface. This is the sole reason for etching the surface. Ensure that you have removed the residues or powder left after etching using a vacuum or a clean rag before you finally sweep the whole floor with a broom
Regardless of the product you use, ensure that you have effectively followed the guidelines on product usage and take all the necessary precautions.
Step 2: Apply Sealant and Primer
Sealing and priming is the next step once you have cleaned your floor and allowed it to dry. Sealing helps waterproof the floor and prevents moisture from seeping through the concrete. When you repair your damaged floors for cracks or holes, certain pores or imperfections might result on the floor surface. Sealants help cover the pores on your floor surface before painting and cover the imperfections like patched or repaired parts of the floor. Use a roller or sprayer to apply the sealant and allow it to dry before you apply a primer.
A primer is a preparatory coating on the floor before painting. Priming enhances the adhesion of paint to the surface, improves the paint's lifespan, and offers additional protection for the painted surfaces. It is necessary to enhance the lifespan of your concrete garage floor through priming. Priming before painting also helps block out stains and odors. However, the primary role of priming is to allow the paint to stick. Once you have applied the primer on your floor and allowed it to dry, you can begin painting.
Step 3: Apply First Coat
Evaluate whether your garage floor is dry before you apply the first coat. For most manufacturers, the first coat should be thin. You can ensure this by adding some water before the application. One advantage of this practice is that the concrete will quickly absorb the paint.
At this stage, you can use a roller or a paintbrush. However, a paintbrush will give you the most desirable result applying the paint to the concrete surface. Apply the thin coat onto the whole floor surface. Allow it to dry. This can take up to 24 hours, depending on the weather conditions.
Step 4: Apply the Second Coat
Again, the second coat can be applied using a roller or paintbrush. Unlike the first coat, the second one should be thicker and applied to full strength. Ensure you start painting at the far end corner towards the garage door, so you are not stuck to the middle and destroy the already painted surface. Depending on the type of paint used, clean the tools with soap and water if the paint is water-based or use a solvent if it is oil-based or epoxy.
Step 5: Apply the Third Coat
Wait for 24 hours before you apply the third coat. In some instances, the third coat would not be necessary, especially if you created an excellent floor texture at the preparation stage and the paint has effectively bonded with the concrete floor. However, if that is not the case, you can apply the third coat. This should be the final coat. Clean all the tools used after the last coat application.
Note: You can give your garage floor enough time to dry, say up to five days before you start driving or moving heavy equipment on the floor surface.
Watch the video below to learn garage makeover with Rock Solid floor Paint
Frequently Asked Questions-FAQs 
Q1. What kind of paint should I use on my garage floor?
The two basic types of paint used on garage floors are acrylic and latex. Alternatively, use a blend of acrylic latex and epoxy paint, which offers better durability, strength, and chip resistance than pure acrylic or latex paints. 
Q2. Is it better to paint or epoxy the garage floor?
Epoxy performs much better than paint on garage flooring. They are far more durable, strong, and resistant to scratching, chipping, and peeling. Their incredible strength makes them perfect for garages where the floor must take a beating from tools and stand up to hot tires, automotive fluid spills, and more. 
Q3. Does Painting a Garage Floor Worth It?
Yes. Painting is perfect for garage floors, improving their lifespan and value. Garage floors endure certain heavy activities that expose them to hefty wear and tear over time. Painting helps protect the floors from damage and enhances their durability.
Besides, painting gives your garage floors a completely new look, improving your garage's value and aesthetics, hence worth every penny.
 Q5.

How Long Does Epoxy Garage Floor Last?
If you own a commercial garage, epoxy floors can last between 3-4 years, while in residential garages, your garage floor epoxy can last up to 10 years, more or less, depending on usage and maintenance.
Best paint for garage floor: final verdict 
While paints are not the perfect coating or protection for garage flooring, they can go a long way in reversing the clock on an aging garage floor. 
Better still, the best paint for the garage is formulated to withstand physical impact and offer long-lasting performance, especially if the formula has epoxy added.
Since picking the best garage floor paint from so many options on the market can be challenging, we recommend the KILZ one-part epoxy as our best choice. The product is a well-formulated blend of acrylic paint and epoxy resin, making it incredibly strong and durable.
We hope this review and user guide helps you out. Happy painting!