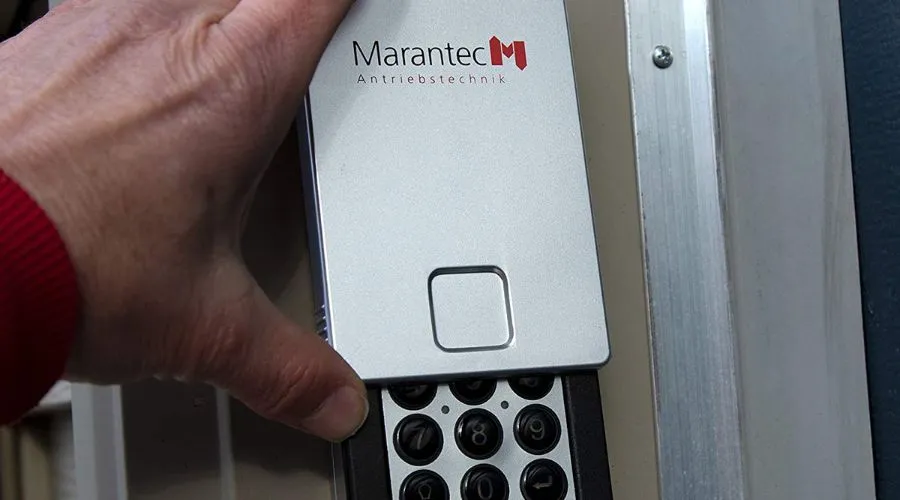 Garage door openers provide a convenient and secure way to access your home through the garage. One of the most convenient ways to operate the garage door is by using remotes. But these can be misplaced. This is where garage door keypads come in. 
The keypads provide a keyless way to enter your garage, allowing your family or delivery personnel to access the garage without needing you to be present. 
Most models have advanced security features such as rolling codes that deter burglars or temporary PINs for guests or delivery persons. 
The best garage door keypad offers these features and a lot more that can make your life easier. Read along for a detailed review and user guide to help you through your selection.
Also Read:
Best Garage Door Keypads at a Glance of 2023
Do I need a garage door keypad? 
Several reasons make garage door keypads a necessity. If you are still deciding whether to install a keyless entry pad for your garage, here are the reasons to consider installing one, even if you rarely use it. 
A garage door keypad allows your family easy entry
Suppose your spouse returns home from work or your kids return home from school and no one is home; a keyless entry pad can grant them easy entry. 
They will not have to keep track of a key. All you have to do is give them the entry code to punch into the keypad. With that, the garage door will open for them, allowing them to access the home without a hassle.
You can misplace house keys but not the keypad
The keyless entry pad can be a lifesaver when you lose your standard entry method: the keys.
You simply won't be locked out of your home if your garage has a keypad. This can save you from having to break your door and put up with costly repairs. 
The keypad can allow one-time access when most needed
You may want to permit a guest, delivery personnel, or servicemen into your home without being physically present. 
A garage door keypad allows you to grant such people a one-time PIN to use on the garage door. Once used, the PIN expires, so the person cannot use it to enter your home in the future. 
This provision ensures convenience without compromising the security of your home. 
The keypad is a handy backup to your remote 
Garage door remotes get misplaced all the time. Their tiny size makes them susceptible to getting lost. When you lose your remote, a keyless entry pad will still let you into your garage. 
If you cannot find your remote, the keypad can stand in as your method of operating the garage door until you replace the lost remote. 
Best garage door keypad reviews 2023
Most garage door keypads are designed with the best convenience and security in mind. These units are also incredibly dependable. 
However, not all garage door keyless entry systems are created equal. Some work better than others, and some may be more suited to your needs than the rest. 
Which garage door keypad is best for you? How do you choose the best from the many options on the market? Here is a detailed review of the best models to help you choose better for your garage door. 
The GK-R has a weatherproof flip-up cover that protects the device from the elements, such as UV rays, rain, and snow.
The keypad lights up to illuminate the dials so you can operate it easily in the dark.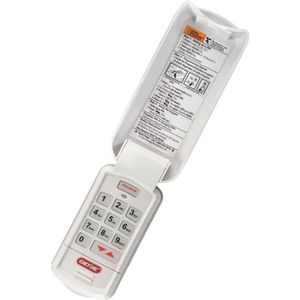 For security, it features Genie's Intellicode technology, which sends a different code to the opener each time you use the keyless pad to operate the garage door. This code never stays the same, so a hacker has no chance of gaining unauthorized access to your home via the garage.
You will be happy to know you can operate up to three garage doors with this single unit. If you have multiple Genie openers, you are in luck because you will not have to spend a dime on additional keyless entry pads. Just one will do it for your entire home. 
The pad allows you to set up a temporary PIN that others can use in your absence without compromising your home's security.
This system's Auto Seek Dual Frequency function goes a long way in preventing frequency interference. Once programmed, your garage door opener will respond to the keypad even where nearby frequencies might interfere.
Pros 
The unit is easy to install and use. 

A temporary pin helps keep your main entry code private. 

The keyless entry pad works with many popular garage door opener brands thanks to its universal design. 

You can program the keypad in minutes without any technical skills required. 

Just one pad can operate as many as three garage doors simultaneously.
Cons
It can work only with garage door models from 1995 and later. 
Buy on Amazon
2. LiftMaster 878MAX—best keypad for Liftmaster garage door openers 
LiftMaster's 878MAX keypad simplifies the installation process of previous models to a straightforward four-step process; no more pointless button prompts.
With a much-simplified installation, you can complete setting up your garage door keyless entry pad in a fraction of the allocated time. Some users finish the installation in as little as five minutes. 
The unit is backward compatible, so it will work with all the previous series openers. You can use this keypad to operate any LiftMaster garage door opener made since 1993, whether it has a Green, red, or purple learn button.  
It boasts the company's security+ that makes your home inaccessible to burglars. And since the keypad is completely wireless, you will not need additional cables that might prolong the installation or affect its operation due to damaged wires in the walls. 
The keypad has a one-touch close feature that makes it easy to use. Just press a button, and the door operates. 
You can also set a temporary password to allow in your friends or servicemen without having to be physically present. This makes it highly convenient. 
Pros 
The keypad is battery-operated, so a power outage will not keep you from opening and closing your garage door. 

It is easy to install, program, and use. 

A weather-resistant cover helps protect the keypad from damage 

Thanks to a lighted keypad that ensures visibility in low light conditions, you can easily use the keyless entry pad in the dark.

The one-touch close function makes it easy to close the door by pressing only a single button.
Cons
The unit can only operate one garage door 
Buy on Amazon
If you want the peace of mind from knowing everything will go as expected, the LiftMaster 877max may be best for you. 
This keyless garage door entry pad is tried and tested, with hordes of established users relying on it to produce the same results each time for ages.
Its wireless design means that no damaged cables will affect the unit. It just needs to send a code to communicate with the opener to operate the door. 
And since it uses the Security+ rolling code technology, the code sent to the opener will be different each time you use the keypad. This makes the system impossible to hack and gain unauthorized access into the garage. 
Thanks to the temporary password option that comes with this installation, you can let in friends or service people to your home without disclosing your primary access code. This option helps keep your home safer as the people you issue with the one-time code cannot use the code again in the future. 
Your purchase includes a 9-volt battery that runs the unit. This way, you are assured of uninterrupted operation even during power interruptions. 
Pros 
A weatherproof flip-up cover protects the unit from potentially damaging weather elements such as rain. 

Since the keypad buttons are lit, you will have no problems operating the unit in the dark. 

The one-touch close feature allows you to close the door conveniently 

The same keypad controls up to two separate openers

This keypad is compatible with all LiftMaster openers manufactured since 1993.

The device is made of sturdy material, making it durable. 
Cons 
You must change the battery periodically to continue using the keyless pad.
Buy on Amazon
4. LiftMaster 387LM—best universal option 
Most garage door keypads that claim to be universal are typically not as universal as they claim, but the 387LM from LiftMaster is exceptional. It works perfectly with several brands and models of garage door openers made since 1993, making it truly universal.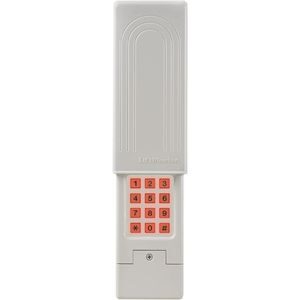 Its wireless design is a big advantage that adds to the reliability and security of the unit. Since no wires run through the garage walls, there is no risk of damaged cables interrupting the working or the keypad. 
The material is durable, with a weatherproof slide-up cover that guarantees its protection from the elements. 
Notice that most garage door keypads typically flip up to expose the buttons section. However, this one features a unique design involving a cover that slides up instead. This feature sets it apart from the rest. 
The Security+ rolling code technology on this keyless entry system adds a crucial layer of security to your home. You can enjoy peace of mind knowing that the keypad will send a different code to the opener each time you operate it. 
Pros 
The sliding cover can fit in tight spaces where a flipping option may be a problem. 

 The unit's slim design makes it more aesthetically appealing as it is less conspicuous on the side of your garage door.

The installation is a simplified process suited to a beginner.

It is also easy to program and use. 
Cons
It works with only one garage door at a time. 
Buy on Amazon
If you have many garage door openers in your home, you do not have to buy a corresponding keypad for each of them. The Marantec garage door keypad allows you to control up to four garage doors at the same time with just a single unit.
This multi-door operation can go a long way in saving you money if you have multiple openers to operate.  
The unit boasts straightforward installation and programming, so you will not require any special knowledge to set it up. 
Its temporary PIN function also means you can allow a delivery person to drop a piece of cargo securely in your garage without disclosing your primary passcode.
The device has a beautiful grey and black design that makes it stand out from competing models from other brands. 
It offers advanced security and safety with its multi-bit code designed to work only with Marantec openers operating on the brand's strong 315 MHz frequency. 
Your purchase comes with a detailed instruction manual to walk you through a straightforward installation and programming process. This means you do not have to incur any additional costs hiring someone to do the work for you. 
Neither do you have to go through the hassle of looking for the information online. Additionally, a spacer kit that comes with the device makes it easy to mount onto metal surfaces. You also get the battery and mounting screws with the unit upon purchase.
Pros 
The unit has a one-button close function for convenience 

It features a weather-resistant cover protecting the button area from the elements and ensuring its durability. 

It boasts a solid and dependable 315 MHz signal. This is stronger than most keypad models on the market. 
Cons 
The keyless pad will not work with brands other than Marantec garage door openers.
Buy on Amazon
If you are a homeowner on a tight budget, you probably will not want to spend too much on a garage door keypad. In such a case, this universal opener from X X-House may be the perfect choice for you.
It is highly cost-effective, coming at a fraction of the price of competing models, even though it has most of the features found in pricier brands. 
Even more importantly, this model is compatible with nearly all major brands, including LiftMaster, Chamberlain, and Genie, so it should work with your opener. 
The keypad is easy to set up and program, with instructions for programming Chamberlain-compatible models applying to it.  
The unit features backlit keys to allow for convenient operation in any light. Once you set up your 4-digit entry code, you can easily operate the door by entering it each time you want to access the garage. 
Thanks to the unit's two-channel support, you need just one keypad to operate two doors simultaneously. The device allows each channel to control its own receiver independently, so you can program your two doors with their respective PIN codes for secure access. 
Pros 
The keypad has a temporary PIN code option for guests and delivery personnel.

It is easy to install and program 

It comes with straightforward installation and setup instructions

It can operate two doors at once, thanks to its dual-channel support.   

It is compatible with a wide range of brands and models 
Cons 
This model lacks special security features other than PIN codes, both temporary and permanent.

You must also change the batteries periodically to keep using the keypad 
Buy on Amazon
One of the ingredients that define a good garage door opener is how easy it is to use. With this Craftsman, that's what you get. The issue of locking yourself out is no longer a threat once you buy this kit. It has a keyless entry that allows you to reach your garage minus any remotes or keys. Indeed that's a bonus.
Entering the garage is quite simple. You only have to open the protective cover, insert your PIN and proceed. This kit can store up to a maximum of 24; that PINS alone proves how secure it is to have such a tool.
The lighted keypad allows you to press the buttons with a clear view, even if it's in dark areas. That means you will execute all your operations securely without prior mistakes. You can't even compare it with other openers, which need to be pressed hard for them to work.
Furthermore, you will notice that a new entry signal is sent each time you initiate the keypad. This feature assures you the utmost security, mainly preventing unwanted persons from hacking your garage door.
Pros
It is ideal for homeowners.
The price is somehow manageable.
The results are accurate.
Great value.
It works best with the newest features.
Cons
The batteries don't promise longevity.
Buy on Amazon
Overhead door is another effective garage door opener that is used mainly by homeowners. It is designed to withstand harsh weather. This unit is covered with solid plastic that contains additives that prevent it from being affected by sunlight.
Better then, it has an indicator light that alerts you whenever the battery runs low. The battery features a triple lock design that enhances battery maintenance.
In essence, the keypad size is large, with buttons that are easy to read. Note that the keys have lights that are meant to help you see correctly, mainly at night.
With the Overhead keypad door opener, you can reach your garage without the use of remotes or a key. Also, it allows you to operate up to three garage doors.
Moreover, you can securely remove the covers without interfering with the keypad. That prevents your battery from losing charge before it is used. The better part being, the installation is as simple as you would expect. All the tools are provided, plus you will not need anyone else to help you do it.
Pros
Works great.
The price is worth it.
Can withstand harsh weather.
It can work with many brands.
Features the best characteristics in the market.
Cons
The batteries don't last for long.
Buy on Amazon
Best Garage Door Keypad Buyers' Guide 2023
How to choose the best garage door keypad 
Now that you have the best garage door keypads on the market, it is time to narrow down to your final pick. 
This part can be challenging, but knowing what to look for can put you on the right path. That said, consider the following factors to get the best garage door keypad for your home. 
Choose a unit with good security features
Your garage door is a significant entry point into your home. So security should be a crucial feature of the keypad you are buying for your opener.
Thankfully, manufacturers are doing a great job in ensuring their keyless entry pads provide the best defense against unauthorized entry. 
All keypads require a four-digit pin code to operate the door. To keep this code private, most keypad makers give the option for a one-time pin that you can give to an authorized guest to access your home when you are not physically present. This feature helps ensure that the primary passcode remains private only to your family.

Most keypad models have a rolling code that adds a layer of security to the system. This technology means the keypad will send a different combination to the opener each time you use it to operate the door. 
A hacker trying to get hold of the code will be out of luck because it will keep changing every time.  
LiftMaster products market this rolling code technology as Security+ system, while Genie products call it the Intellicode technology. 
While the names may differ, they basically mean the same thing: the device sends a different code to your garage door opener each time you press the button.
There are other keypad brands, still, that allow you to program them with varying lengths of the pin between 3 and 8 digits long. 
This is as opposed to the standard four-digit length supported by most models. It makes it much harder for someone trying to figure out your pin to determine the length before establishing the actual numbers.  
Currently, Genie products such as the GK-R are the only ones with this feature, setting them apart from the competition. 
Check for compatibility with your opener
Many wireless garage door keypad manufacturers market their units are being universal. However, not all products marketed as universal will operate all garage door openers. 
So, ensure you check the specific models that a particular keypad will operate before buying it. Only a few openers, such as the X X-House Universal Garage Door Keypad, can work with several brands.
Most other keyless entry pads marketed as universal usually only work with different models of the same brand. 
Understand that keypads operate on specific frequencies, so it is crucial to get one that runs on a compatible frequency as your opener.
One way to be sure whether the keyless entry pad will operate your opener is to check the opener's model number against the garage door keypads you are considering.
Consider the number the keypad operates
A keyless pad can operate up to four different garage doors at once. The number of garage doors a keypad can operate is usually indicated against the unit. 
The best thing to do is check the number of garage doors you have at home and buy a keypad that can operate all of them simultaneously. This way, you can save on the cost of multiple keypads. 
For instance, if you have three garage doors, buying one keypad that operates three doors will mean you can use the same unit for all the garage doors instead of buying one for each door. 
This option will be cheaper and more convenient than buying multiple keypads designed to operate only one door at a time.
Since these keypads usually sit outside the garage door, installing one that can operate multiple garage doors will be a more practical option. It will allow you to do more with just a single unit instead of several. 
Decide between wired and wireless options
If you buy a wired garage door keypad, you must connect it to your existing opener using physical cables running through the garage walls. 
This setup can be relatively complicated as installing tubing through the walls may require physical modifications to accommodate the wires. Such installation work may need the help of a technician. 
In contrast, a wireless garage door keypad operates in a plug-and-play fashion. All you have to do is mount it on the wall outside the garage door and set it up. This entire process usually takes less than 30 minutes for most models. 
The wireless option also allows you to operate multiple garage doors using the same unit since they communicate via radio frequencies instead of connected wires. 
While a wired option typically uses electrical power, a wireless keypad uses batteries. Each of these two power sources is an advantage as well as a limitation, depending on the situation.
For the wireless unit, you must replace or recharge the batteries periodically, which is a downside. 
On the other hand, using electrical power is only advantageous as long as no power outage occurs. In case of power interruptions, your wired keypad may not work. 
Whichever way you look at it, a wireless, keyless garage door entry pad has far more advantages than a wired one. This is the reason why they are the most common today. 
Consider any added bells and whistles 
Various garage door keypad brands have added features that can make them more convenient, secure, or easier to operate. Any of these may appeal to different users differently depending on their priorities. 
When shopping for a keyless entry pad for your home, consider your preferences and check them against each potential purchase. 
Nearly all top models backlit buttons that make your life easier in low light. The buttons light up each time you press them, allowing you to see them even in the dark. Such a feature can also be a godsend for someone with weak sight. 
Another primary feature that you should find in every leading keypad model is a weatherproof cover protecting it from the elements. 
Away from these basic features, you want to consider the size of the keypad and how its cover opens. Does it slide or flip up? How this happens can determine how easily the unit will fit in tight spaces. 
Also, the color may determine how the unit will blend in with the rest of your décor. 
Your opener also needs a good program memory, allowing it to remember the information you program into it even after going out due to a battery change. This feature can save you a lot of hassle, not having to redo the entire work altogether. 
If you garage door keypad is not working, find the video below to help you troubleshoot potential problems.
Best Garage Door Keypad- Frequently Asked Questions 
Q1. Will a keypad work with any garage door opener?
Not all keypads will work with all garage door openers, but universal keyless pads are designed to operate most models manufactured since 1993 or 1995. Some of these keypads work with multiple brands, while others are brand-specific, working with various models of the same brand as them (the keypads).
Q2. Should I get a garage door keypad?
Absolutely. Garage door keypads are worth getting for your home, considering their many valuable benefits. While they might not make your home 100 percent fail-proof, they can significantly boost the security and convenience of operating your garage door. 
So, what's the best garage door keypad? 
The best keyless entry pad for your garage door should be convenient, secure, and straightforward to program. You will also have better luck with a wireless option than a wired one.
The majority of the units reviewed in this article have these qualities, so any of them should satisfy your needs. 
However, the unit you choose must be compatible with your current garage door opener unless you are installing a new opener as well. 
All said, our choice of the best garage door opener is the Genie GK-R Universal Keypad. It is compatible with most of America's major brands and has tons of handy features to benefit your home.