Wondering why the constant sluggishness in the garage? An efficient garage storage shelf, like the best garage cabinets might just be the missing piece of the jigsaw. While the garage often serves as a utilitarian space in most homes, a messy garage can lead to unproductivity or even become a safety hazard. What better way to contain the clutter than to get yourself one of the best garage storage shelves? 
Tag along as we explore the world of garage storage shelves to help you optimize your garage space in the best way possible.
Also Read:
Best Garage Storage Shelves Reviews 2023
If you're a minimalist looking for a subtle yet practical way to maximize your garage storage space, this FLEXIMOUNTS garage shelving is for you. It features a simple yet efficient design that allows multipurpose use. It's a two-pack wall shelving that comprises heavy gauge steel, strong enough to withstand a load capacity of up to 800 pounds.
The shelving's design is mainly centered around durability to ensure stability. It has a buckle design and even comes with velcros to reinforce the stability of the shelf's brackets.
Additionally, the package includes all the necessary hardware, including durable screws for smooth installation. The installation process is a one-person job and should be fairly simple, especially if you're a seasoned DIYer. You can install it in different ways, including vertical, parallel, corner wall, or staggered fashion, just to mention a few.
Thanks to its sturdy design, you can store your power tools, automotive supplies, pantry items, gardening tools, or even sporting equipment, including bikes and tennis rackets. This shelf guarantees the utmost versatility as you can optimize spaces other than the garage, including the kitchen and laundry room. The shelf is compatible with most wood studs and concrete surfaces but not metal.
Pros
It features storage hook support for hanging your tools
Includes all the necessary installation hardware
It offers a wide range of installation options
Carrying capacity of 800lbs
Cons
It doesn't come with the accessory hooks for hanging your tools
Buy on Amazon
This classic melamine shelf prides itself on its resilience, durability, and versatility. Its design makes it suitable for constructing garage shelves, kitchen cabinets, and closets. Even better, you won't need tools to customize the shelves to suit your needs. The material can come in any size, depending on your preference.
If you value aesthetics, the cabinet shelf melamine got you. It comes in various colors: grey, black, white, and maple. This way, you can conveniently choose a color that complements your space. The shelf requires minimal maintenance because it's easy to clean by wiping off dirt.
The cabinet shelf melamine is ideal whether you're looking to replace missing shelves or add garage storage space. You can purchase several pieces depending on your needs. Unfortunately, it features a weight capacity of fifty pounds, which is most suitable for storing lightweight objects.
Pros
Versatile as you can use it in other spaces other than the garage, such as kitchen cabinets
It offers a variety of colors and designs
It requires low maintenance
Cons
It has a relatively low load capacity of 50 pounds
Buy on Amazon
Look no further if you intend to give your garage space a sense of rawness and authenticity. This MonsterRax Garage Wall shelf features a rugged aesthetic that gives your garage space an industrial appearance while keeping it organized. Its utilitarian aesthetic is but a taste of its greatness. The MonsterRax garage wall shelf also comes with a unique sturdy design.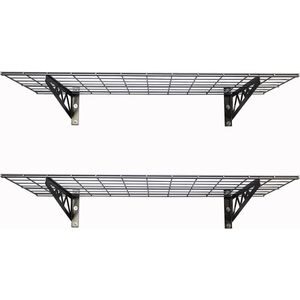 The design comprises heavy-duty steel that enables this robust monster to bear the weight of almost anything, ranging from hardware and household items to power tools and construction equipment. Its installation involves grade 8 case-hardened lag bolts that reinforce its sturdy design. It also includes rear-angled brackets to enhance its stability further and prevent sagging. 
These aspects enable it to withstand the weight of the items you store overhead and those you hang underneath the shelf. It includes a pair of shelves, each featuring a carrying capacity of 250 lbs, totaling 500 pounds. Moreover, the package even includes four accessory hooks to expand your storage space.
Pros
It offers smooth installation
The package includes all the necessary installation hardware
Comes in two different colors to choose from; white and hammertone grey
Highly versatile as it can be used as storage in other spaces apart from the garage
Includes rear-angled brackets that promote garage safety by enhancing the shelf's stability
It features a carrying capacity of 500 pounds
It includes four accessory hooks for convenience
Cons
You may have to purchase separate hardware to mount the shelves on a concrete wall because the installation hardware is more suited for drywall or studs.
Buy on Amazon
The MOLYHOM storage shelf stands out because of its unique contemporary design, enabling it to blend into modern households easily. The shelf is highly versatile; you can use it in your garage, warehouse, living space, and kitchen. Additionally, you can store both lightweight and heavy-duty items, provided you assemble the shelves properly so it's sturdy enough.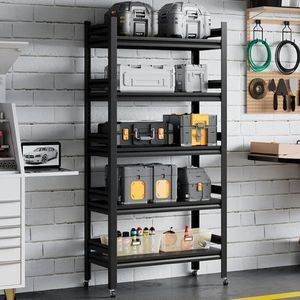 The unit is a five-tier shelf, with each shelf featuring a weight capacity of up to 400 lbs. Each shelf has double layers reinforcing the unit's stability and carrying capacity. It also has side rails that promote garage safety by preventing stored items from falling and causing accidents. At the bottom, tick legs with double layers support the shelf, further enhancing its stability. These features make the shelf steady enough to handle most items you wish to store.
A major distinctive feature of this bargain is the shelves' adjustable height. You can easily adjust the height of each self to fit the items you'd like to store. Additionally, the unit is easily portable thanks to its wheels, which feature a smart locking mechanism. In terms of installation, the package includes a pair of gloves and a rubber mallet to make your work easier. 
Pros
It has side rails for additional support
Its interlocking design offers fast and easy assembly
Large capacity of 400 pounds per shelf
Potable as it features smart locking wheels
Its removable design makes it customizable to two different shelves depending on preference
It has double-layered shelves and legs that enhance stability
Cons
Assembling the unit single-handedly can be quite challenging
Buy on Amazon
This Aiden wall niche might be your perfect match if you intend to add style to your garage walls. It's a two-tire in-wall cabinet with an additional shelf that adds functionality to your unused garage wall space. The recessed design makes it an ideal solution in garages with limited space.
You could store small garage tools, including screwdrivers and nails. It also comes in handy when putting frequently accessed garage items within reach. It is highly versatile, and how you use it mostly depends on the specific needs of your garage space. Additionally, it's not limited to the garage, as it can add a touch of elegance to other household spaces, especially bathrooms.
The manufacturer presents different designs, including a plain or wainscoting backing for you to choose from per your preference. It even comes in different colors, such as white or dark brown, and you could also go for an unfinished design depending on what matches your space.
Pros
It has a lacquer finish that enhances its durability
Easy to clean as you only need to wipe it using a damp cloth
Has a recessed design that saves space
It comes in different colors and designs
Has a straightforward installation process
Cons
Not built for holding bulky garage items
Buy on Amazon
DEWALT is known for its durable products, and the DEWALT DXST4500-W garage storage shelf isn't an exception. The shelf stands out because of its durability and adjustability to suit your garage needs. It prides itself on the ability to withstand a weight of up to 1500 lbs per shelf. And being a three-tier shelf, it guarantees you a total of 4500 lbs, making it an ideal go-to for commercial garage spaces.
Despite bearing such immense weight, the shelf's stability remains uncompromised, thanks to the crossbeams, support straps, and uprights that feature powder-coated steel to maximize durability. Each shelf has five support straps that prevent twisting that could result from storing heavy loads. The crossbeams are also secured with locking pins to make them sturdy enough.
On top of that, the feet comprise glass-filled nylon that protects the powder coat from moisture damage. This feature also prevents the unit from damaging your garage floor as you move it from one place to another. The unit is also designed with your safety in mind, as it comes with grid clips to lock the wire grids in place and a wall-mount bracket for attaching the unit to the wall when not in use to avoid accidents.
Pros
The shelves are adjustable
Easy to assemble as it comes with pre-installed support beams
The package includes all the necessary installation hardware
Customizable as it comes with two stacking plates, allowing you to combine multiple racks to optimize storage
It comes with locking pins and wall-mount brackets to enhance safety
Offers ample storage space
A high load capacity of up to 4500 lbs
Cons
The assembly instructions may be quite challenging to follow
Buy on Amazon
This garage shelving is a simple yet efficient storage option for any workshop or garage space. Its easy assembly is among the unit's major unique aspects because it features a boltless assembly design, meaning you won't need any fasteners to assemble the pieces. It also has free bay connectors to facilitate smooth installation and reinforce stability.
The unit is a five-tier shelf made of alloy steel, gracing you with durability and ample storage space into the bargain. Each shelf has the potential to handle up to 400 pounds of weight, totaling 2000 pounds for convenience. It is supported by rubber feet to avoid slipping and promote stability. To top it off, the unit is coated with moisture and rust-resistant materials to help prolong its lifespan.
Even better is that the unit exhibits the utmost flexibility, featuring a flexible layout and shelf height. This feature allows you to assemble it into two separate units or adjust the height of individual shelves depending on your storage needs. 
Pros
It features a boltless design for easy assembly
Has rubber feet to prevent slipping
It is made of alloy steel for durability
Comprises a rust and moisture-resistant coating
Has an adjustable layout and shelf height
It comes with free bat connectors
It features a five-year warranty
Cons
Although the unit has a durable steel frame, the shelves are wooden and, therefore, prone to moisture damage 
Buy on Amazon
If you're wondering where to store your collection of drills and power tools, consider this unit as your perfect match.  This efficient storage unit graces you with a spacious rack surface for storing various garage items. To sweeten the deal, it features fourteen holes underneath the rack surface, with S-shaped hooks into the bargain to expand your storage space.
Its design makes it ideal for heavy-duty power tools and other garage items. It comprises a strong thick metallic frame and a support frame to guarantee stability. With these aspects, the wall shelf is strong enough to store up to 450 lbs. That way, you can conveniently store garage items on the rack surface and hang your power tools for easy access.
The assembly process should be a breeze, especially if you're a seasoned DIYer because the package has the necessary hardware. The package includes six screws and metal expansion tubes for efficient installation.
Pros
Comprises laser welded metals to reinforce their durability
Highly versatile as it is suitable for use in your living space, kitchen, or laundry room
Comes with the necessary assembly hardware
Includes fourteen holes for handling drills and tools
It comes with ten accessory hooks as a bonus
It features a load capacity of 450 lbs
Cons
The assembly process can be quite challenging, especially if you're not handy due to inadequate assembly instructions
Buy on Amazon
Best Garage Storage Shelves Buyer's Guide 2023
Garage storage shelves are undoubtedly the definition of convenience for any garage space. If you're still on the fence, wondering whether or not to invest in one, tag along as we explore more details on garage storage shelves to help you make an informed decision. 
What are the advantages of shelving?
Despite being one of the most functional spaces in your home, the garage poses significant risks as well. Apart from housing your car, the garage may also serve other purposes, such as storing your tools, old household items, or sporting equipment, just to mention a few. Be it leftover fluids, chemicals, or old batteries, everything goes when it comes to the garage.
Most of these items could be potential fire hazards or cause severe accidents in the garage, and that's where storage shelves come into play. They grace you with a myriad of benefits which include:
More storage space
If your garage lacks storage shelves, it probably has much potential you have yet to explore. Most efficient garage storage shelves are multi-tier, gracing you with ample storage space to store various garage items. Some even have holes and come with accessory hooks for hanging your tools. 
What's more, if you opt for a wall-mount garage storage shelf, you'll have more floor space at your disposal. This means that not even a limited garage space can prevent you from getting a storage shelf. So why wait?
  2. Organization
Being a safety hazard by default, storing items haphazardly in the garage only does more harm. You can use garage storage shelves to store a variety of items. Be it old books, screwdrivers, pliers, power tools, sports equipment; you name it. An efficient garage storage shelf can contain all the clutter, keeping your garage neat while saving you time. You're at liberty to have as many storage shelves as possible, provided they satisfy the needs of your garage space.
3. Garage safety
Regarding safety, garage storage shelves help promote the safety of garage users and items, especially tools. If you have pets or kids running around, shelves could come in handy in storing toys for easy access. You can also safely store sharp or heavy-duty tools that would otherwise cause injury to garage users if left lying all over the place.
Storing your tools in an organized manner away from areas that garage users frequently access could prolong their lifespan. Securing them in one place protects them from impact or moisture damage.
4. Increased productivity
A cluttered garage space can be a significant hindrance to your productivity. Even worse, you may misplace your tools while working on projects, which could easily diminish your morale. With the ideal garage storage shelf, you can efficiently store the items you frequently use within reach to help save time and enhance productivity.
5. Prevents loss of items
Without a proper system of organization, you may find yourself constantly losing items in the garage. Power tools, for instance, can sometimes cost a fortune, and it would help to organize them on storage shelves to avoid occasionally replacing lost tools. By containing even small garage items on storage shelves, you can say goodbye to constantly misplacing items.
6. Versatility
Storage shelves aren't only limited to the garage. They can also come in handy in other spaces, including your living space, hallway, kitchen, or bathroom. Some exhibit aesthetic appeal, adding a touch of style to your space. Even if you intend to use them only in the garage, some storage shelves have wheels, making them easily portable. This means you can easily transport your tools to wherever you're working from, even if you work on the driveway.
What are the disadvantages of shelving?
Every rose has its thorns, and for this reason, you may encounter some drawbacks if you choose to install a garage shelf. This is not to say that you should abort the mission. Instead, it's essential to acquaint yourself with the pitfalls you may encounter in your quest for additional garage storage space to avoid being caught off-guard. With that said, here are some of the significant disadvantages to look out for:
Can be expensive
The more convenient and durable a garage storage shelf is, the more costly it will be. Therefore, brace yourself if you're searching for a heavy-duty garage shelf to hold your robust power tools, construction equipment, or bulky automotive supplies. 
You'll most likely opt for metallic large-sized storage shelves, which tend to be more costly than their metallic or plastic counterparts. On the upside, since they offer the utmost durability and ample storage space, you'll certainly get a bang for your buck.
2. Can be a safety hazard
This mostly follows improper installation or overloading of the shelves. Proper installation, in this case, entails following the manufacturer's instructions regarding how to assemble the shelf in question. It also entails using the appropriate hardware to perform the installation. Failure to do so results in warped shelves that can easily break down and cause injuries.
Additionally, check the load capacity of your garage shelf to avoid overloading it. Otherwise, the shelf can easily topple over, causing injury due to too much weight bearing. In addition, if you go for floor-mount garage shelves, place them away from pathways to prevent accidents. Similarly, if you choose wall-mount shelves, be on the lookout for sharp edges unless the shelf features edge guards.
3. Installation can be challenging
Assembling most garage storage shelves should be a breeze. However, if you choose a large, heavy-duty shelf, that might not be the case. You'll most likely need a hand during assembly to make the process faster and easier. Even so, some come with minimal assembly instructions, which can pose a challenge, especially if you're a novice. 
4. Can be space hogs
This mainly applies in cases of freestanding garage storage shelves. Although most are portable and more stable than their counterparts, they can take up floor space, especially with poor organization. Therefore, wall-mounted storage shelves are a better option if you have limited garage space.
What to consider when choosing best garage storage shelves
Despite all the perks that garage storage shelves can grace you with, choosing one that doesn't suit your needs can nullify your efforts. Therefore, you have to put your needs and those of your garage in mind while selecting storage shelves. These could include the type of items you'd like to store or your garage's design. 
With the many storage shelf brands and designs in the market today, you can be spoilt for choice. However, not to worry because we have compiled a list of the prime factors to consider when selecting a storage shelf for your garage. They include:
The ideal load capacity mainly depends on the type of items you intend to store. The more heavyweight they are, the higher the load capacity you'll require, and vice versa. Some storage shelves have a weight capacity of up to 4000 lbs, ideal for bulky or heavy-duty items. Be sure to look out for the carrying capacity of your storage shelf of choice to avoid overloading it.
Durability/Type of material
The garage can buzz with activity or be prone to moisture, especially during winter. This predisposes the storage shelves to impact, moisture damage, rust, or even mold growth, especially if the shelves are made of wood. For this reason, be sure to go for shelves that comprise durable materials to prolong their lifespan.
Storage shelves made of metal, such as aluminum and steel, are often more durable than wood or plastic. Some are even powder-coated, which goes a long way in preventing corrosion. Therefore, consider opting for metallic storage selves, especially if your garage is characterized by humid conditions or if you intend to store heavy-duty garage items
The ease of assembly should be among the primary factors to consider, especially if you're not handy. Some don't even require bolts or screws to assemble; these are ideal. More importantly, go for storage shelves that come with installation hardware to avoid the hassle of purchasing suitable hardware separately. If you intend to perform the assembly single-handedly, be sure to go for a shelf that is less bulky, easy to assemble and suits your needs. Also, ensure that the shelf has detailed and easy-to-follow instructions for convenience.
Freestanding vs. Wall-mounted shelves
Again, your choice here should mostly depend on your needs and the design of your garage. Although both are ideal storage solutions, each has its benefits and drawbacks. While wall-mounted shelves require assembly and installation onto a wall, freestanding shelves only require assembly and voila! They're ready for use anywhere, including the garage, workshop, driveway, you name it. Most of them are easily moveable and more sturdy compared to wall-mount shelves.
Freestanding storage shelves are an ideal option if you intend to store heavy-duty items. However, they may not be your perfect match if you have limited garage space because they consume your floor space. A wall-mount garage shelf should suffice if you have limited garage space and intend to store lightweight or standard items.
This entails the flexibility and adjustability of your garage storage shelf of choice. If you intend to use the shelf to store items of various sizes, it's advisable to opt for shelves that feature an adjustable height, as these are more flexible. Some are even customizable since you can detach the shelf into two separate units, and these are also ideal.
How to install garage storage shelves
Most garage storage shelves are easy to install. Each shelf is unique, and the installation process may slightly differ from others. For freestanding shelves, all you'll need to do is assemble the unit as per the manufacturer's instructions. On the other hand, wall-mounted shelves require both assembly and installation to a wall. Although the installation process may differ, below is a standard procedure to guide you through the process:
Step 1: Identify where you'd like to install your wall-mount shelf. Preferably, if you're dealing with heavy-duty shelves, the ideal location of hardware installation should correspond to the location of wall studs. In the absence of wall studs, install suitable wall anchors for the utmost stability.
Step 2: Hold the shelf steadily at your chosen location and draw a straight line under the shelf, along its outline, to help you position the brackets.
Step 3: Place the brackets on either side of the line, and identify the holes through which the screwdrivers should be installed. Mark these points/holes using a pencil.
Step 4: Put the brackets aside and install the screws using a drill through the points you marked earlier. At this stage, don't drive the screws entirely through the wall; the only goal is to make starter holes through the studs. Again, if you don't have wall studs, ensure you install wall anchors first.
Step 5: Once you've made the starter holes, withdraw the screwdrivers and reinstate the brackets on either side of the line you drew earlier. Using screwdrivers, fasten the brackets while driving the screws entirely through the wall to secure the brackets.
Step 6: Place your storage shelf on top of the brackets, then secure the shelf to the brackets using screwdrivers, and you're good to go!
More importantly, note that this procedure may vary slightly depending on the type of shelf in question. For instance, a larger shelf may have more brackets to anchor it, so you'll need more starter holes and fasteners. While the above procedure is meant to give you a headstart, ensure you combine it with the manufacturer's instructions for ultimate results.
If you wish to install an overhead garage storage shelve, here is a video providing a simplified step on how you can install overhead garage storage shelve.
How do you clean garage shelving?
The secret to neat and long-lasting garage shelving is cleaning the shelves regularly and eliminating spills as they occur. How you clean your garage shelving depends on various factors, such as the type of shelving, the stains you're dealing with or the detergent you're using. Either way, here is a step-by-step guide:
Clear the entire shelf by safely removing all the items and setting them aside to give you ample cleaning space.

If you're cleaning a multi-tier shelf, start with the top shelf and progress downwards to prevent dirt from falling to the lower shelves you already cleaned.

Start by dusting the shelves using a microfiber cloth or a soft-bristled brush.

If you're dealing with a wooden shelf, wipe the shelves with a piece of cloth to avoid compromising their integrity.

For metal shelves, introduce your detergent and use it as per the manufacturer's instructions. Ensure the cleaner you're using is non-abrasive and suitable for your shelf's material. Also, cleaning wire shelving can be more tedious, and it's best to go in with a citrus-based detergent and vinegar to remove stubborn stains.

Finish off by rinsing the shelves and then drying them with a soft cloth; your shelves should be as good as new.
Frequently Asked Questions-FAQs 
Q1. What is the strongest shelving material?
Metal shelving, such as aluminum and steel, are the strongest shelving materials. Unlike wooden shelves, they can support heavyweight garage items and are less prone to damage. Metal shelves can withstand temperature changes and spills and are even easier to clean, making them last longer than their counterparts.
Q2. Is plastic or metal garage shelving better?
Both metal and plastic shelving are better in different ways, depending on how you intend to use them. However, the garage often houses bulky, heavyweight items, which are better off with metal shelving as it's more durable and sturdy. 
On the other hand, plastic shelving is less prone to corrosion and is lighter and therefore easily portable, only that it can barely withstand heavy-duty garage equipment. If you intend to store lightweight items, plastic shelving is ideal, but metal shelving is your best bet for heavy items.
Q3. Is wire shelving good for garages?
Of course! If anything, wire shelving is among the best shelving options for your garage or warehouse. Not only does it guarantee durability against corrosion by spills in the garage, but it also offers you excellent weight capacity. What's more, it's moisture-resistant and lightweight, making it ideal for parts storage in the garage.
Q4. What is the best garage shelf depth?
An ideal garage shelf should be approximately twelve to twenty-four inches deep. The larger the items you intend to store, the more depth you'll require, and vice versa. A twelve-inch depth should be ideal for small-sized items for easy access, while larger items should do well with a sixteen-depth. That way, you won't have difficulty visualizing or accessing the items you need to use. Some storage shelves are adjustable, and these are even better.
Q5. Are plywood shelves good?
Yes, plywood shelves can work for the garage. However, they can succumb to pressure, so if you intend to store bulky items, you'll be safer with a more durable option, such as metal, unless you're on a tight budget. Consider opting for plywood with tongue and groove patterns locking together, as they tend to be stronger. Even so, ensure you reinforce it to enhance the weight-bearing capacity.
Q6. What are the cons of wire shelving?
Convenient as it may be, wire shelving has its drawbacks. Although durable and stable, wire shelves can't bear as much weight as solid metal or wood shelving. Also, it's not ideal for storing smaller items as they can easily pass through the spaces and get lost or damaged. It's also harder to clean, especially if sticky messes are involved. Lastly, if you value aesthetics, wire shelving won't cut the mustard because it's less appealing.
Wrap-up
It's safe to say that garage storage shelves can be a game changer for any garage space or workshop. They help keep your garage or workspace organized, safer, and goal-oriented. It all starts with choosing an ideal storage shelf by taking into account factors such as weight capacity, durability and your garage's design. Get yourself one of the best garage storage shelves today and say hello to a journey of maximum productivity.