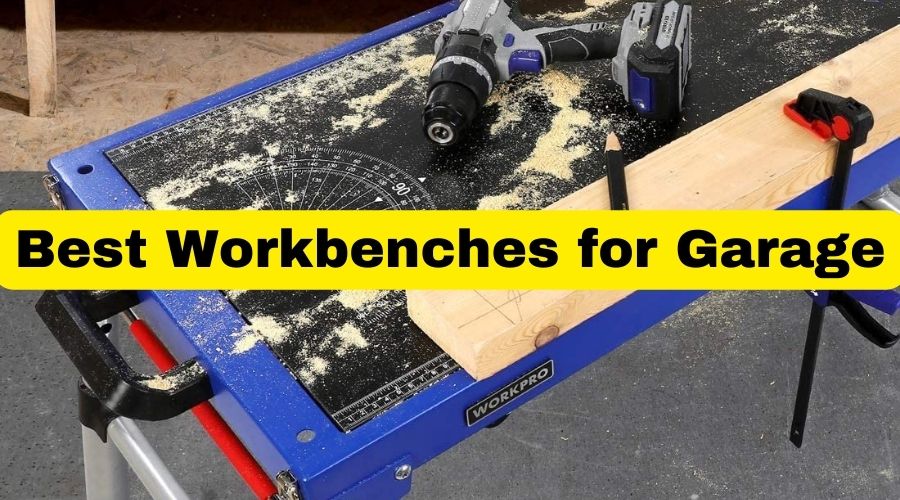 Tired of working on your projects on a wobbly table or the ground? Getting yourself one of the best workbenches for garage spaces is the ultimate way to elevate your garage game and spice up your projects.
But with so many options in the market, choosing the perfect workbench for you can be daunting. Therefore, let's explore some of the top contenders and help you find the garage workbench that is just the ticket for you.
Also Read:
Best Workbenches for Garage at a Glance 2023
Types of Garage Workbenches
As a DIYer, building your workbench grants you absolute satisfaction and gives you precise control over the design of your workbench. Therefore, choosing to go the DIY route is also acceptable when it comes to garage workbenches. However, consider buying a workbench if you're not up for the challenge.
If anything, buying a workbench saves you time, effort, and money that you would otherwise spend purchasing building materials and hardware. The best part is that today's market offers various options, meaning you can easily find a unique design that precisely suits your needs.
Let's look at the various types of garage workbenches to get you started.
Standalone Workbenches
If you're a minimalist, look no further! Standalone workbenches mainly comprise a sturdy tabletop and legs to support your projects' weight. They can be made of metal, wood, or a combination of both, and you won't have to attach them to any surface.
This guarantees you the liberty of working from wherever you please since the workbench isn't fixed. A standalone workbench is ideal if you intend to work on various projects, as you can set them up in different configurations per your preference.
However, a significant downside of these workbenches is their high likelihood of taking up much of your floor space due to their freestanding design.
Portable Workbenches
If you're working with limited floor space, you may want to opt for portable workbenches. Unlike standalone benches, portable workbenches feature a small footprint, making them ideal for small-sized garage spaces. These workbenches exhibit super mobility, giving you the luxury of working from your backyard, driveway, or in limited garage spaces.
Even better is their flexibility; you can easily fold them up after use and store them without taking up much space. Unfortunately, they often comprise lightweight materials and are not suitable for heavy-duty projects.
Workbench Cabinets
Workbench cabinets should be your go-to if you value organization while working on projects. They come in various designs comprising drawers and cabinets, enough to keep all your tools and supplies organized and within reach as you work.
The durability of workbench cabinets is a plus, as they are made of sturdy materials and are resilient to moisture or humidity. Their design makes them suitable for heavy-duty projects as they feature a sturdy tabletop and strong legs.
However, they can be heavy and difficult to move around compared to other workbenches. They can also be space hogs, especially if you opt for large-sized designs.
Ultimately, despite the undebatable convenience of garage workbenches, there's always a catch regardless of the type of workbench you choose. However, it is essential to note that individual workbenches come in different designs, and selecting a design that matches your needs could help you counter some drawbacks. Let's explore some of the best designs at your disposal.
Best workbenches for Garage Reviews 2023
If you're a DIYer searching for a worktable on which you can comfortably complete projects using your power tools, then you've found your perfect match. The WORX Pegasus Folding Work Table can support up to 300 pounds despite its weight of about thirty pounds. It has two clamps that hold materials in place as you work on projects.
As the name implies, this workbench is multipurpose because you can also use it as a sawhorse. In this case, it can support up to 1000 pounds of workload, allowing you to work on a wide range of projects. You won't have to worry about its sturdiness as it comprises strong legs made of steel. Also, if you need a larger surface to work on, you can join two or more similar worktables together.
This workbench is ideal if you have limited garage space and intend to work on simple projects repeatedly. The best part is that the workbench is foldable, meaning you can easily fold it afterward and store it without taking up space. However, working on the bench without power tools especially sawing or nailing, can overwhelm the workbench or cause damage.
Pros
Compact and lightweight design
Collapsible and therefore easy to transport and store
Multipurpose as you can use it as a worktable or sawhorse
Substantial load capacity
Ideal for power tool applications
It comes pre-assembled
It has a three-year warranty
Cons
It may not be suitable for heavy-duty projects and industrial use
Buy on Amazon
This package is ideal if you want to create a sturdy workbench, custom shelving, or just a potting bench. The 90164 2X4Basics Workbench and Shelving Storage System is a versatile and customizable solution to your storage and workbench needs. It allows you to quickly assemble a workbench tailored to your specifications with a powered screwdriver and saw.
The kit includes all the hardware you'll need for assembly, but you'll add the lumber of your choice since it doesn't come with the lumber. The shelf links are strong enough to store your items on the shelves confidently. This system is perfect for your garage, shed, or basement. It comprises heavy-gauge resins immune to damage from impact or solvents.
You can assemble the legs to create a workbench in any length or width up to 8 feet by 4 feet. The kit has six shelf links to expand your shelving and storage space. With its uncomplicated assembly process and customizable design, this workbench is an ideal solution for any workspace or storage needs.
Pros
It offers adequate storage space
It provides easy and fast assembly
High durability due to the heavy-gauge resins
Highly versatile as you can use it as a custom shelf or potting bench
High load capacity. Each frame can hold up to 1000 pounds
Features a lifetime warranty
Cons
You'll have to purchase lumber separately, as it doesn't come with the kit
Buy on Amazon
If you're a meticulous planner looking for a way to create a heavy-duty workspace that's both portable and flexible, the Plan Station Pro WS3800 Portable Workbench is the perfect solution. It features an innovative design that lets you stay organized and maximizes your productivity regardless of where you are. With its compact and easily foldable design, this workstation is perfect for those who need to set up a workspace quickly and efficiently.
Its heavy-duty standing desk is among the standout features of the Plan Station Portable Workstation. With the ability to use two pieces of half-inch plywood at 24″x48″, this desk is both effective and affordable. Whether working on a construction site, in a garage, or in your home office, this standing desk will provide the support you need to get the job done.
But that's not all. The Plan Station is heavy-duty and includes more than twenty pockets and ample room for blueprints and other accessories. With a 48-inch width, you'll have all the space you need to work comfortably and efficiently.
Pros
Serves as a mobile office
Long lasting as it comprises heavy-duty rings and durable nylon fabric
It can be easily assembled within minutes
Versatile design as you can use it for multiple projects
Easily foldable after use, saving on storage
Lightweight and easily portable
Cons
You will need two additional pieces of half-inch plywood to use the product
Buy on Amazon
The WORKPRO 5-in-1 PortableWorkbench is the ultimate solution for all your DIY projects, offering both versatility and mobility in one powerful package. The workbench features quick-folding legs that can be fixed to transform into a dolly for easy movement of heavy materials or tools. The workbench's flexibility is even more convenient, thanks to its telescoping legs that feature three nodes, allowing you to adjust the bench to your preferred height effortlessly.
The workbench also comprises a durable steel frame and powerful legs that lock into place, enabling it to support a load of up to 330 pounds. It also graces you with a multipurpose, detachable work table with a linear scale and protractor on one side and anti-skid grain on the other. That way, you can stand on it while working on projects such as wall painting.
It has two swivel casters and large anti-skid wheels for easy maneuvering while carrying heavy loads. It has an easy-to-assemble miter-saw stand with metal toggle latches and two tool mounts for securing it, enabling you to make precise and accurate cuts.
Pros
Includes storage compartments for easy organization and access to equipment
It comes with additional accessories (three three-head output sockets, one three-head input socket, and a reset switch) for convenience
It has a multipurpose and detachable countertop
It offers a comfortable grip
It has a substantial load capacity of up to 330 lbs
Foldable and easily portable
Cons
Although the wheels offer super mobility, they make it challenging to store the unit against a wall because it keeps rolling away.
Buy on Amazon
The Seville Classics UltraHD Rolling Cabinet is a high-quality workbench that exhibits outstanding durability and versatility. The workbench is made of solid steel and features a sturdy wooden countertop, enabling it to handle a load capacity of up to 500 pounds. Thanks to these features, the workbench exhibits the utmost durability and resistance to scratches and impact.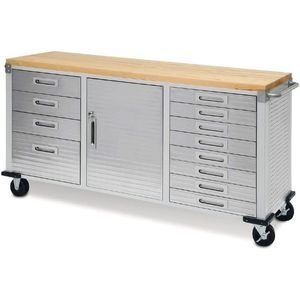 The workbench prides itself on its mobility, as it has wheels, enabling you to move around quickly owing to its heavy-duty casters. On its sides, you'll find a steel pegboard that comes in handy whenever you need to hang your tools. The cabinet has twelve drawers with gliding ball bearings for convenient storage. Also, at the center is a large cabinet, enough to store large-sized equipment.
Pros
Ideal storage workbench
Features a solid wooden work surface
Versatile as you can use it in other areas other than the garage
Easy to move around
It has a high load capacity of up to 500 pounds
Cons
It can be time-consuming and challenging to assemble
Buy on Amazon
The  Olympia Tools 84-906 Workbench is a simple yet durable piece of craft suitable for both DIY and professional projects. It boasts of its versatile utility, owing to its spacious work trough and storage shelf that allows you to organize your tools within reach as you work on your projects.
Also unique is its breathable, chip-resistant, waterproof lacquer finish that contributes to the unit's durability. Its hardwood is sturdy enough to support weights of up to 330 pounds, which should be enough for most woodwork projects. At its base are four strong legs that support and reinforce the workbench's carrying capacity.
The workbench has a large-sized woodblock vise with adjustable machined guides to offer secure and stable clamping for your workpieces. It also includes one felt-lined drawer, a bonus for storing your tools. Although sturdy, heavy projects will likely overwhelm the workbench or cause wobbling.
Pros
Offers utmost durability
Highly versatile
It has a compact and lightweight design
Easily portable
Sufficient carrying capacity
Offers storage space during projects
Cons
It may not be stable enough to withstand heavy-duty projects
Buy on Amazon
The Nessagro WORKPRO Multipurpose Heavy Duty Workbench is a versatile and sturdy option for any garage space. With a substantial load capacity, it can easily handle various projects and tasks. The workbench features a large work surface for convenience as you work on different projects.
Additionally, its lower shelf comes in handy when storing tools or project parts as you work.  It also features a pegboard on which you can hang and organize accessories. The workbench includes drawers for additional storage. They feature tiny ball bearings for convenient use.
Assembly is straightforward because the workbench has clear instructions that are easy to follow. Overall, the Nessagro WORKPRO workbench is an excellent choice for anyone needing a reliable and functional work surface.
Pros
Features a durable design
It comes with easy-to-follow instructions
Easy to assemble
Offers adequate storage space
Substantial weight capacity
Cons
It may not be sturdy enough to withstand heavy-duty tasks
Buy on Amazon
This BLACK + DECKER workbench prides itself on its ability to handle various projects, ranging from woodworking to automotive repairs. The workbench features a sturdy steel frame that supports heavy materials of up to 350 lbs despite its compact size. It has wooden vise jaws that offer a sturdy grip on your workpiece during projects.
Even better is that the jaws are adjustable, meaning you can easily clamp oddly-shaped materials while you work. The jaws are also warp-resistant, which reinforces their convenience. This workbench comprises firm legs that are slip-resistant to keep it steady as you work on your projects.
Its compact and lightweight design allows you to use the workbench wherever you please, as it's easy to carry around. After use, you can quickly fold the workbench and put it away without consuming too much space. These features make the BLACK + DECKER workbench a valuable addition to any garage or workshop.
Pros
Features adjustable jaws for clamping irregular materials
Carrying capacity of up to 350 pounds
Foldable for efficient storage after use
Has slip-resistant legs
Easily portable
It has a two-year warranty
Cons
Assembling instructions may be hard to follow
Buy on Amazon
Best workbenches for Garage -Buying Guide 2023
Benefits of a Garage Workbench
If you are a seasoned pro or just starting, getting yourself an ideal workbench could be one of the best decisions for your garage. Garage workbenches are the definition of convenience regardless of the design. Their prime purpose is to make your work easier, enabling you to complete projects faster, with minimal hiccups.
Other than convenience, there are several additional benefits that a garage workbench graces you with, which include:
Versatility
Garage workbenches come in various designs, and each design exhibits versatile utility. A garage workbench handles them all, whether DIY projects, woodwork, metalwork, or even automotive repairs.
Flexibility
Consider a garage workbench as a mobile office because most of them are easily portable due to their compact designs. Some are even foldable, meaning you can easily place them at the back of your track and set them up anywhere. Others have wheels, allowing you to move them around easily even as you work on projects without constantly moving tools and materials.
Organization
A garage workbench offers a designated space for equipment and project parts. This way, you can easily access your tools, making tour projects seamless while keeping your garage clutter-free.
Safety
Working in the garage is risky, especially when you have tools all over the place as you carry out projects. Using a workbench enables you to keep your tools and project parts in place to minimize the chances of tripping and injuring yourself with sharp tools.
Additionally, working on a stable surface reduces the chances of slipping and cutting yourself as you use power tools. Some models come with clamps to hold your workpieces in place to prevent accidents.
Storage
Many garage workbenches have built-in storage to keep your tools within reach. That way, you can complete projects faster and avoid misplacing your tools constantly. This also helps to save on space, especially if you have a small-sized garage.
Owing to these and more benefits, getting yourself a garage workbench is a practical solution and adds professionalism to your projects and workspace.
What to consider when choosing the best workbenches for the garage
When it comes to garage workbenches, there's no one-size-fits-all solution. Different types and designs of workbenches cater to different needs, budgets, and preferences. Whether you're a DIY enthusiast, a woodworker, or a mechanic, a workbench is perfect for you. With that said, the following factors will come in handy in enabling you to identify a garage workbench that is precisely cut out for you.
The size of projects you intend to work on should determine the size of your workbench of choice. Large and heavy-duty projects would be better off with a large enough workbench to withstand the project.
Additionally, the available space in your garage should also dictate the workbench size. For instance, installing a large workbench in a limited garage space will only result in a cluttered space, predisposing you to accidents and affecting the quality of your projects.
Most ideal garage workbenches feature a weight capacity of at least 300 lbs, which should be enough for standard projects. On the other hand, heavy-duty projects require you to go for a garage bench with more weight capacity. That way, you will not end up with a wobbly workbench that tips over whenever you're working on it.
If you value organization, you want workbench cabinets that offer adequate storage. They feature multiple shelves and drawers to store your power tools and other equipment. Consider opting for workbench cabinets with as many tool compartments as you need for convenience.
However, workbench cabinets can be expensive if you work on a tight budget. If this is the case, you could go for simple portable workbenches with shelves where you can place the tools you'll need for the project to make your work easier.
Your garage workbench's height should be comfortable enough to work on, especially if you're working for prolonged periods. Some garage workbenches have an adjustable height to suit different projects, which is ideal.
The material that makes up a garage workbench determines its durability. Workbenches can be made of plastic, wood, or steel. Plastic workbenches are ideal for light projects as they are lightweight and may not be as sturdy as wood or steel.
Wooden workbenches, however, are durable enough to last you for a long time, only that they may be prone to scratches. Steel workbenches carry the day, especially for heavy-duty projects, because they are durable, waterproof, and stain-resistant.
The most suitable workbenches that check all the boxes can be expensive. Therefore, working with a fixed budget is advisable to settle on a workbench that meets all your needs without making a dent in your pocket.
What makes a good workbench?
A suitable workbench should be one that specifically caters to all your needs to enhance the efficiency of your projects. The main aspects that characterize an excellent workbench include the following:
Sturdy construction includes a strong worktable and strong legs made of high-quality materials to support your project's weight.
Ample work surface – The worktable should be spacious enough to accommodate your projects conveniently.
Versatile utility – You should be able to carry out various tasks with your workbench, ranging from simple woodworking projects to automotive repairs.
Storage space – A good workbench should comprise tool compartments, drawers, or shelves to keep your tools within reach during projects.
Affordability – An ideal workbench can satisfy all your project needs without forcing you to break the bank.
How do I choose a workbench height?
An unsuitable garage workbench height can take a toll on your productivity and hinder the quality of your projects. The ideal standard garage workbench height should be between 34 to 38 inches to be on the safe side. However, note that the perfect workbench height is subjective.
When choosing a garage workbench height, you want to consider your height and the type of projects you intend to work on. A garage workbench that is too high or too low for you will cause discomfort and straining while working. A good garage workbench height should allow you to work comfortably with your arms at a ninety-degree angle and your feet flat on the floor. A general rule of thumb is to go for a workbench height about waist-high for convenience.
Regarding the type of projects, consider going for a workbench that is 34 to 36 inches high if your tasks involve standing for prolonged periods to avoid straining your back. If your projects require you to be seated, go for a workbench with a lower height of 28 to 30 inches to be safe.
Additionally, if you intend to use your workbench as a sawhorse, go for a lower-height workbench for the best results. However, a taller workbench would be ideal for projects that involve cutting or drilling on the surface. If you're still on the fence, you can always opt for a garage workbench with an adjustable height for versatility. It may come at a premium cost, but it is a worthy investment.
A video showing how to build a workbench for your garage.
Frequently Asked Questions 
Q1. What is the best wood to build a workbench?
Due to its heavy-duty and durable characteristics, you can barely go wrong with oak. It is highly resistant to wear, making it ideal for various tasks ranging from woodworking to repairs. They also come with superior aesthetics as a bonus, making them suitable for the workbench top.
Alternatively, you could go for plywood for the working surface, especially if you're on a tight budget. High-quality plywood offers you stability, strength, and affordability in one package. Plywood comprises thin sheets of wood veneer, making it substantially durable and resistant to moisture. Even better, you can spice it up by painting or staining it as per your preference.
Q2. What is the best height for a woodworking bench?
The ultimate height for a woodworking bench is highly subjective as it depends on your size and the nature of your projects. However, a woodworking bench that is 34 to 36 inches high should suffice for most people. Ultimately, the goal is to find a woodworking bench whose height allows you to work comfortably with minimal strain.
Q3. What's the best top for a workbench?
Steel workbench tops are for the win regarding the best top for a workbench. They are durable enough to withstand heavy-duty projects ad offer higher load capacity than their counterparts. However, your ideal workbench top can vary depending on your needs.
For instance, hardwood tops are just as good, only that they can be expensive and are prone to scratches. Laminate tops, on the other hand, are more budget-friendly and scratch-resistant. Plywood also prides itself on its versatility and allows you to customize it per your specific needs.
Q4. How thick should my workbench top be?
The thickness of your workbench top should largely depend on the intensity of the projects you intend to undertake. For instance, if you plan on using heavy materials or working on heavy-duty projects, your workbench top should be at least three to four inches thick to be safe. Anything thicker will be too bulky to move around. Otherwise, if you intend to work on light projects, a workbench top that is one-and-a-half to two-and-a-half inches thick should suffice.
Q5. Should I use nails or screws for the workbench?
Screws are ideal because they are stronger and more secure than nails. They offer a better grip and are, therefore, a perfect match for a heavy-duty workbench that bears a lot of weight. Even better is that they are easier to remove and replace when necessary, unlike nails. A significant advantage of nails over screws is that they are faster and easier to install, making them a viable option when time is of the essence.
Q6. How many lumens do I need for a workbench?
The number of lumens you'll need for your workbench varies depending on the intensity of your projects and the availability of natural light and other light fixtures. You'll need approximately 300 to 400 lux for basic projects. On the other hand, more intense projects require you to have up to 600 lux or more for convenience.
Wrap Up
Finding the best workbench for your garage is a crucial investment for any DIY enthusiast or professional. With many options available, consider your personal needs and other factors such as durability, versatility, and comfort. An ideal workbench can make all the difference in your projects and garage workspace, so don't be afraid to splurge a little – you won't regret it!